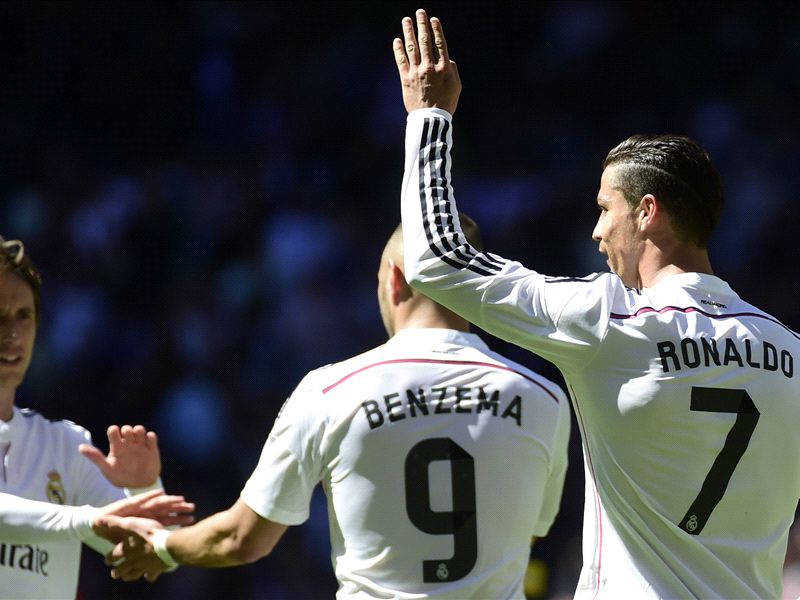 Carlo Ancelotti
admits he would trade
Real Madrid
's 9-1 victory over
Granada
on Sunday for nine 1-0 wins as they remain behind
Barcelona
in La Liga.
Madrid coasted to victory following Cristiano Ronaldo's five-goal haul, Karim Benzema's double, Gareth Bale's strike and an own goal from Diego Mainz.
"Of course I would change this 9-1 win for nine matches in which we won 1-0 in a heartbeat," Ancelotti told reporters. "Players understand our goals and the end of the season is very close now.
"The players were very good today; they were quick-thinking and scored plenty of goals. James Rodriguez in particular was very good. It was hard to notice that he had spent two months out injured. He played well, with quality and intensity."
Ancelotti also reserved praise for Cristiano Ronaldo, who buried recent talk about his form by taking his tally of league goals for the campaign to 36 and went eighth in the division's all-time top scorers.
"Cristiano is improving with the team. It being the first time he has scored five goals in a single game is a boost for all of us," he added.
"Now that the team is fresh it makes no sense to rotate players like Cristiano. Rest for rest's sake makes no sense. Players will only be sidelined if they need the breather."