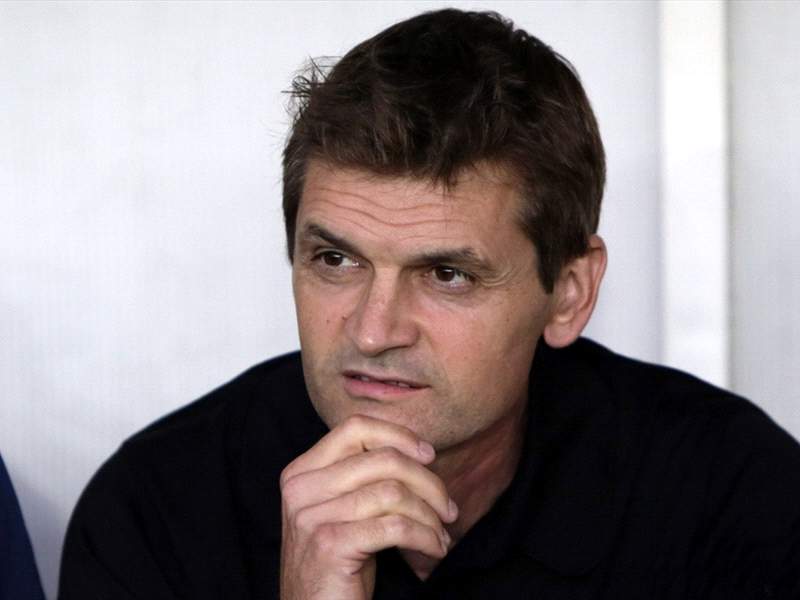 Former
Barcelona
coach
Tito Vilanova
has died at the age of 45 after losing his battle with cancer, the club have confirmed.
The ex-central midfielder was admitted to hospital on Thursday following a downturn in his health which required an operation on his stomach, with club president Josep Maria Bartomeu confirming the trainer was "fighting" for his life.
However, Vilanova, whose post-playing career was plagued by cancer, passed away on Friday afternoon.
Vilanova's public health problems began during his final season as Pep Guardiola's assistant when he was diagnosed with cancer of the parotid gland.
He took over from his long-time friend for the 2012-13 season but suffered a relapse just six months into his tenure as head coach.
He underwent surgery in December 2012, with Jordi Roura taking his place on the bench while he recovered in New York, before returning in March 2013 to see out the rest of the reason and guide Barca to La Liga glory.
However, his continued health problems saw him step down as coach of the Catalans last summer, with Gerardo Martino taking the reins in his place.
Vilanova has largely - and understandably - been out of the spotlight since he left his position at Camp Nou but rumours of his ill health have sadly been revealed to be true. He is survived by a wife and two children.
Following confirmation of his death, Barcelona president Bartomeu said in a statement: "Tito will be a reference as a man and in terms of football for Barcelona forever. We thank him for everything he taught us. Rest in peace."
The Catalan club, for whom he worked for several years before being promoted to head coach in 2012, also sent their condolences to the family of Vilanova.
"The club wishes to express its most heartfelt sympathy to his family, who are being joined in these moments of mourning by Barcelona members and fans all around the world, as well as the rest of the footballing and sporting world.
"The Vilanova family has asked for respect for their desire for the strictest intimacy in the moments after his death."
Barcelona have announced that the funeral will take place on Monday at 20:00CET, while Camp Nou will be open to those who wish to pay their respects over the weekend.