SPECIAL REPORT
By Kris Voakes | International Football Correspondent
Uefa wants it banned, Fifa wants rid of it, while the governing bodies of English and French football have already outlawed it, but third-party ownership remains very prominent within the modern game and the transfer of Radamel Falcao to Monaco has brought the practice into focus once more.
Falcao's switch from Atletico Madrid in the summer became something of an inevitability given the Colombian striker's status as a player part-owned by one of the many investment companies that have made it their business to buy up large stakes in players at a young age in order to make a profit in the longer term.
It is an operation which has seen clubs take on talents they cannot afford, only to then find themselves having little or no say in the eventual sale. The Doyen Sports group, an international hedge fund, has been reported to have held a major stake in the striker, although Atleti have also claimed that they owned 100 per cent of his economic rights during his stay in Madrid. Falcao is listed on Doyen's official website but there is no explanation as to whether the player is simply represented by the group or whether they have had a financial interest in his registration in the past. When asked to comment by Goal, Doyen declined to respond.
Falcao's former club Porto's recorded accounts show charges relating to the player during the year 2010-11 cost the club around €20 million, with much of this being accounted for in the club's statements as "intermediation services".
DOYEN'S PLAYER POOL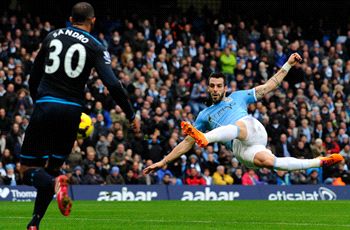 Abdelaziz Barrada
Alex Serrano
Alvaro Bustos
Alvaro Negredo (above)
Baba Diawara
Dorlan Pabon
Eliaquim Mangala
Felipe Anderson
Formose Mendy
Geoffrey Kondogbia
Joshua Guilavogui
Jose Antonio Reyes
Manu del Moral
Marcos Alberto Rojo
Neymar Jr
Ola John
Radamel Falcao
Ruben Perez
Miroslav Stevanovic
Steven Defour
Zakaria Labyad

*Source: Doyensports.com
In fact, in those 2010-11 accounts which cover the sale of Falcao, it is shown that Porto held 100% registration rights for only six players in their first-team squad, such was their reliance on the practice of part-ownership with other clubs and agencies.
Atletico are believed to have followed a similar method when buying Falcao. Before splashing out on the striker, they had been forced to sell players including David de Gea to Manchester United in June 2011 and Sergio Aguero to Manchester City the following month in order to address increasing debts which saw them needing to raise in excess of €200m in a short space of time. Yet within three weeks of Aguero's sale, in mid-August 2011, they had surprisingly agreed to a €40m transfer for the Colombian.
Central to the Falcao deal was Jorge Mendes, the agent of Cristiano Ronaldo and Jose Mourinho. Mendes, along with former Manchester United and Chelsea chief executive Peter Kenyon, were involved in the formation of Doyen Sports. Over the past 12 months, David Beckham's representative, Simon Oliveira, has been added to Doyen's staff as managing director, while Neymar's commercial rights have also been acquired.
The Doyen group was widely reported to have owned at least 55% of Falcao's registration either side of his sale from Porto to Atletico, suggesting that, if the company maintained an interest in the player, the Spanish club's outlay could have been far less than the €40m total fee since they were only paying for Porto's portion of Falcao's rights and Doyen was retaining its share.
Despite this, the Colchoneros' debt level meant that, whatever the fee, it was tough to meet and Porto threatened to report Atleti to Fifa and begin legal action. Soon afterwards, Doyen Sports began to appear as main club sponsor on sportswear at the Vicente Calderon, a surprising step for a company with no obvious customer-facing interests.
Doyen's official website shows the players in which the group may have an interest, yet there is no clarification on just what stake the clubs have in most of its players, such is the unaccountability of agents and third parties within the Fifa framework. There are short news articles explaining that the group paid for 50% of Dorlan Pabon's move to Valencia and had the same hand in Atletico signing Joshua Guilavogui but full explanations of interests in its other players are lacking.
Details seen by Goal via a source close to Atletico show that the Spanish club could well have made very little profit as a result of the Falcao saga.
After a fantastic first season in Spain, the Colombian agreed to join Chelsea but changed his mind and opted to stay in Madrid following pleas from coach Diego Simeone and the board. As a reward for his loyalty, the Colombian was promised a chunk of his release clause, which was lowered, so when he was sold for €60m last summer, only €45m was actually paid by Monaco to Atleti, with the remainder paid to the player himself.
Atletico, then, only made €5m on their initial investment of €40m. In reality, however, they could have made even less because the extra cash may have been paid to Doyen, whose third-party investment in the player meant they were entitled to more than the €22m lent to Atletico for the purpose of signing Falcao in the summer of 2011.
With Falcao gone, Atletico paid Porto another instalment in the summer (of around €7m) and still owe the Portuguese side in the region of €5m, with the final part set to be paid next year - more than 12 months after his exit.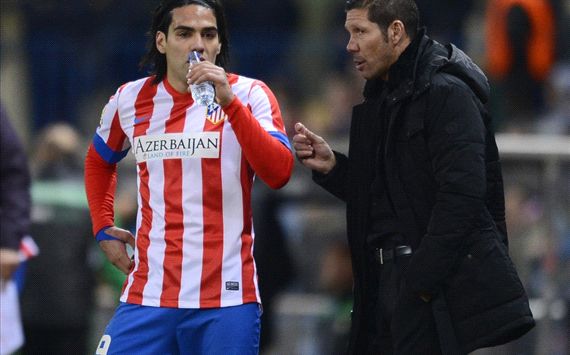 Pleas | Simeone persuaded Falcao to stay at the Calderon for an extra year
In the end, it seems the Rojiblancos made very little from the South American's sale so they were fortunate, perhaps, that they had a ready-made replacement waiting in the wings in Diego Costa.
By the time it came to Falcao's sale last summer, many clubs who had eyed up the 27-year-old had simply been priced out of the market by the cost. Monaco, along with Chelsea and Real Madrid, were among only a small number of clubs able to afford the transfer fee that was needed to buy out the entirety of Falcao's economic rights and so expunge the third-party rights which would otherwise have been against French football rules. When the player's salary demands hit €14m a year, however, Monaco became the striker's sole suitors, partly due to the tax advantages of their homeland.
Whatever the arguments, former Colombia national team boss Francisco Maturana believes Falcao was worth the investment.
"Falcao is a potential candidate for the Ballon d'Or," Maturana told Goal. "From when he was at Porto and Atletico, and now at Monaco, everything he does is top-level quality. I worked with him when he was in the Colombian youth teams and you could see then he had great talent.
"It was his decision to leave Atletico for Monaco. They're personal decisions you have to respect. Monaco paid that money because they considered he was worth that figure and they could afford to do it. I'm sure he can do himself and his country proud there and I've no doubt he can be successful wherever he goes and is already justifying the investment made in him."
Yet the perils of third-party ownership have been also highlighted by many leading footballing figures. Only recently, Lazio president Claudio Lotito was the latest to question such invetsments when the Biancocelesti's attempts to sign Felipe Anderson from Santos were stalled by Doyen's 50 per cent stake in the Brazilian.
Lotito told to Radio Radio: "We won't be conditioned by an attitude of extortion.
"The guy wants to come to Lazio, the clubs agree, but whoever has a percentage of his ownership is using it as a form of blackmail and I don't agree."
Perhaps 'extortion' and 'blackmail' was an extreme description, but it was clear that when Lotito eventually signed up Anderson, but he remained far from happy with how the operation had been administered.
WHAT IS THIRD-PARTY OWNERSHIP?

Investment companies buy a stake in footballing prospects
A club who couldn't otherwise afford a player of notable talent are given the advantage of paying for only a small percentage of the player's economic rights but owning his entire playing rights
Transfers between clubs can be heavily compromised by the wishes of the player's owners
Players of rival clubs can often be owned by the same investment group, making for a conflict of interests
As one influential player agent with regular experience of the South American market, who asked to remain anonymous, explained to Goal that agents will often own the final say in third-party situations.
"No two cases are ever really the same and it is not always the controlling share that decides what happens. When the initial financing for the player occurs, there can often be pre-agreed stipulations as to who makes the football decisions.
"But in any business, he who has the balance of power makes the decisions. Often, the controlling party will have no football background, being from another field of business, and they will often rely on advisors to ensure their investments grow."
This dictation of a player's career by non-footballing decision-makers is a clear concern to football's governors. But while Uefa's general secretary Gianni Infantino recently called upon Fifa to outlaw the practice, the world game's governing body has so far been unable to come to a conclusion over the fairest way to bring an end to the trading pattern.
"This would be unacceptable in society and has no place in football," Infantino told Uefa's official website in lobbying Fifa.
"Footballers [like everyone else] should have the right to determine their own future. Clubs should not rely on third-party investors to acquire players that they cannot afford in the first place.
"In the long term, this is not good for the club or the player."
Fifa has since told Goal that the issue of banning the practice worldwide is being thoroughly investigated following the realisation that present rules put in place, while outlawing influence on clubs from third parties, do not address the problem of investment companies owning players' rights.
"The question of third-party ownership of players' economic rights is a matter which is currently being discussed at various levels of the international football community," a Fifa spokesperson told us.
"Fifa's approach to this matter has been to prohibit third-party influence on clubs, whereby no third party has the right to influence the club's choices in employment and transfer-related matters.
"At the same time, considering that there are currently different regulatory approaches in place in many of Fifa's member associations, Fifa has mandated a research in order to map the various regulatory approaches. The results of this research will feed into the discussions within Fifa's competent bodies at upcoming meetings."
But the vast network of companies involved in a wide range of players, particularly in South America, means that Fifa will need to tread carefully in how it deals with their attempts to abolish the increasingly influential practice.
In the meantime, there may be more Falcao situations, with players being directed to certain clubs not by their hearts or heads, but by their minders.