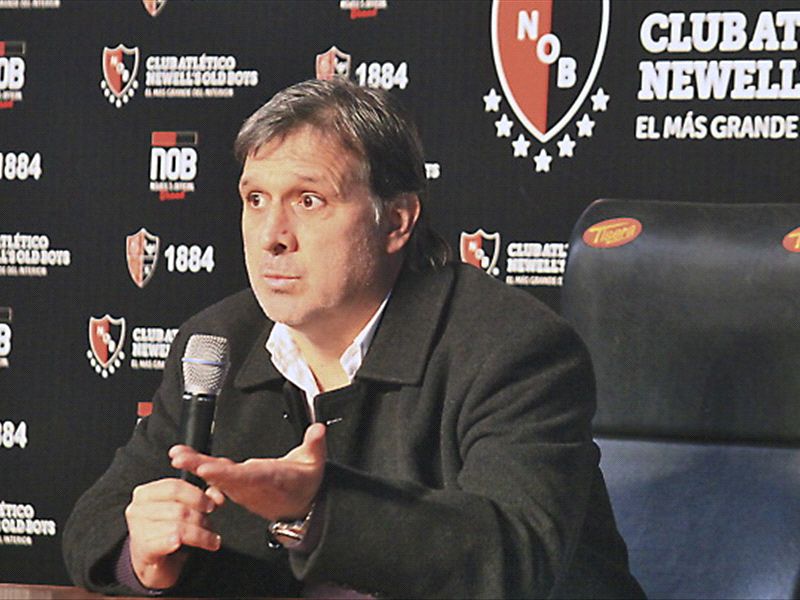 COMMENT
By Ben Hayward | Spanish Football Writer
Other than those with an affinity to Real Madrid, it is surely the dream job for any coach. The chance to lead this brilliant Barcelona team is an opportunity open to very few and Gerardo Martino spoke of his "pride" at being chosen on Tuesday. But with that pride comes responsibilty; there are, in truth, many issues for the 50-year-old to address on arrival at Camp Nou.
The Argentine's first task will be to lift a dressing room still reeling from the news that Tito Vilanova will need to take more time out for treatment of his cancer. Captain Carles Puyol appeared before the media earlier this week and admitted: "We have been hit hard - it was a really big blow."
Puyol and his team-mates were present at Friday's press conference as president Sandro Rosell announced that Tito would be stepping down. Stern and solemn, Barca's players are suffering for their former leader right now and Martino must change that melancholic mood.
The former Newell's Old Boys boss will also need to find his feet very quickly. His appointment in late July means Martino has missed a good part of the club's pre-season preparations, although many of the senior players are still to return following their Confederations Cup exploits earlier this summer.
BARCA'S PREVIOUS ARGENTINE BOSSES


HELENIO HERRERA (1958-60, 1980 & 81)



Highly successful in his first tenure, Herrera won back-to-back league titles. He returned for two short spells, claiming the Copa del Rey in 1981

ROQUE OLSEN (1965-67)



Won the Fairs Cup in his first season in charge and finished third in La Liga, but was dismissed after a trophyless campaign the following year

CESAR LUIS MENOTTI (1983-84)



Menotti spent a sole season at Barca alongside compatriot Diego Maradona, but won only one trophy: the Spanish Supercopa
One of those is Neymar, who remains Barca's sole signing this summer. But with 'Tata' in place, the Catalans now need to strengthen their squad before the season starts in the middle of next month. And the signing of a world-class centre-back remains a priority.
Puyol is now 35 and played in just 22 of his side's 60 competitive games last season. Past his peak and struggling with a long-term knee injury, the Spain defender is approaching the end of his career and a replacement must be brought in. Barca were left exposed at the back last term after the failure to move for a defender and Martino must address the area this summer.
Another player who is beyond his best is Xavi. The midfielder has slowed down over the last couple of seasons and, although still hugely important, he cannot play two games in a week as he used to. His new boss must see he is given the right rest so he can continue to shine, while he must also address the future of Cesc Fabregas,
subject of a second bid from Manchester United this week.
With Xavi in the twilight of his career and Thiago having departed to join Bayern, Cesc is a player Barca could do with keeping for next season and beyond. If Martino feels the same way, he must convince the club to turn down United's lucrative offer and persuade the player that his future lies at Camp Nou. And if not, another midfielder must surely be brought in.
There are other priority positions. Barca have been looking at strikers following the departure of David Villa to Altetico Madrid, while a more defensive-minded full-back would be a useful acquisition after Eric Abidal's exit and the nature of the defeat to Bayern in the Champions League semi-finals last season, when both Dani Alves and Jordi Alba were left exposed. The club will have their own ideas, but Martino must decide who he wants and where. "There will be money for the new coach to sign the players he asks for," Barca's financial vice-president Javier Faus said on Tuesday.
Martino will also be charged with devising a suitable system to get the best out of Neymar and Lionel Messi. Asked about how the two South Americans would gel, he said: "We have to adapt to every situation, recognise it and then become accustomed to it. We hope to understand from inside everything we will have to do at Barcelona."
Finally, he has a point to prove himself. It is rare for a non-European coach to move directly to one of the continent's top teams and South American trainers have not always been successful in the past. Chile's Manuel Pellegrini has done very well, while Helenio Herrera enjoyed spectacular success in the 1960s with Inter after a strong spell at Barca. But Argentina's 1978 World Cup-winning coach Cesar Luis Menotti failed to make a big impression in his sole season at Camp Nou, while Boca boss Carlos Bianchi struggled at both Roma and Atletico Madrid.
Martino is Barca's fourth Argentine coach and fifth South American (Uruguayan Enrique Fernandez Viola won two Liga titles between 1947 and 1950). He inherits a team described up until last season as the best in the world following their host of titles since 2008, with the planet's finest footballer among their ranks in Messi and the most exciting young player around in Neymar. So 'Tata' has a lot to live up to.
Follow Ben Hayward on