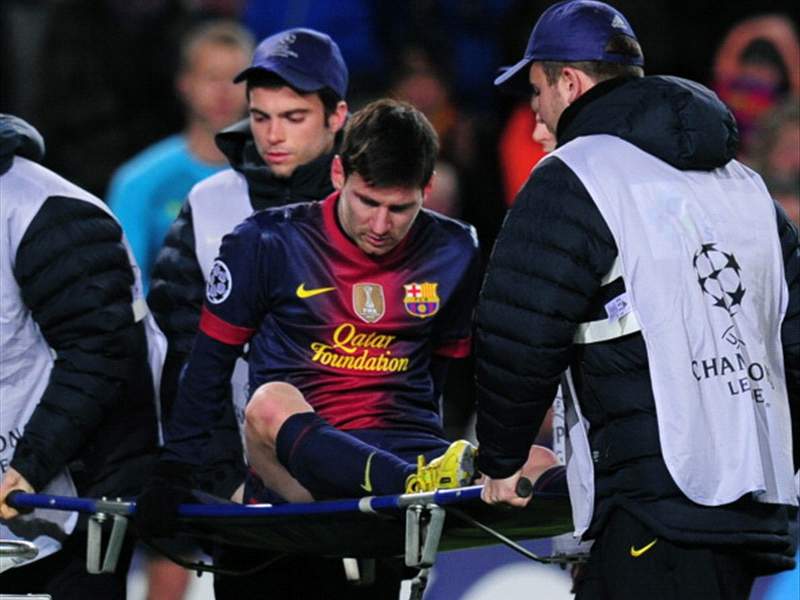 Lionel Messi
is unsure of when he will return from injury after being stretchered off in
Barcelona
's
Champions League
draw with
Benfica
on Wednesday night.
The Argentina international was brought on as a substitute in the second half but was forced to withdraw with a knee problem five minutes from time after clashing with opposition goalkeeper Artur.
Barca boss Tito Vilanova indicated that the knock suffered by the forward was not as bad as first feared after initial medical tests but Messi suggested that he may be unavailable for the league clash with Betis on Sunday.
"I feel good but I don't know if I can play next Sunday," the Ballon d'Or nominee said at a press conference at Camp Nou. "We will see."
The Argentine admitted that he had immediately feared that the injury was serious but was soon reassured by the
Blaugrana
doctors.
He added: "The truth is that I didn't really think about anything because I was in so much pain but I feared the worst. I thought that I might have to leave the ground.
"I feared the worst when the doctors looked at it and examined me but, once they said it wasn't serious, I felt a lot more relaxed."
The Barca No.10 was asked how he felt being played in a game with nothing riding on it but claimed to be happy to be on the pitch, regardless of the game's importance.
"When you go out onto any pitch there is always the risk something can happen to you," he remarked. "[Pep] Guardiola used to play me in these games and as long as I can play and Tito allows me to play in these games, I will continue to do so."
"It would be very nice to do it because I am so close ... but it doesn't worry me"





- Lionel Messi on breaking Gerd Muller's record

Messi is currently just one behind Gerd Muller's record number of goals scored in a calendar year but dismissed his interest in the milestone.
"As I keep on saying, the record is not an obsession for me," he insisted. "I've heard my team-mates saying they are going to help me beat the record but all of the goals I've scored are down to their help.
"I'm not worried about it. It would be very nice to do it because I am so close. If I do it I hope I can hold onto the record for as long as Muller but it doesn't worry me.
"If I can do it, great, if I can't it's no big deal. But now I am so close I'm going to go for it."