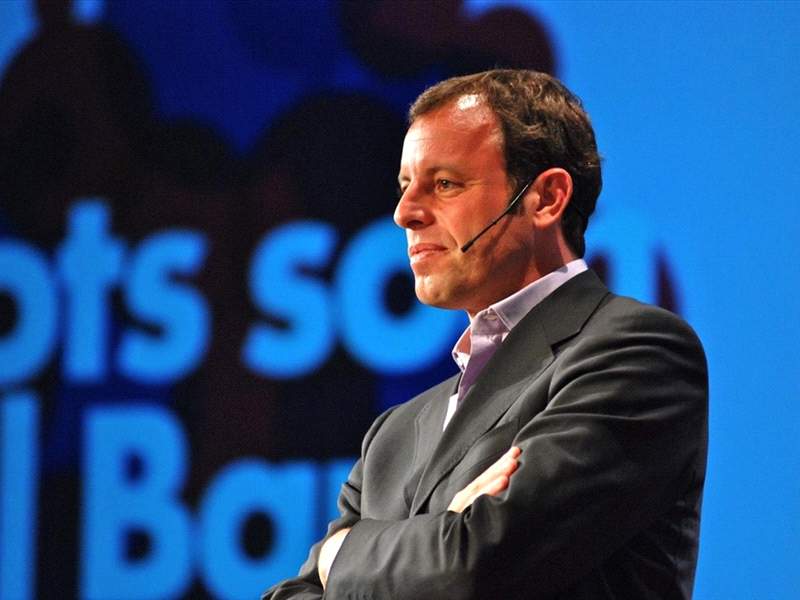 Barcelona
president Sandro Rosell has hinted that a shock swoop for
Real Madrid
stopper
Sergio Ramos
would not be beyond the realms of possibility - but remains unlikely.
The supremo was interviewed by
ESPN
during a visit to the United States and was quizzed on a number of topics, from possible January purchases, which also included his thoughts on Santos hotshot Neymar, to his views on the future of football.
After being benched for
Los Blancos
' recent match against Manchester City, Ramos' long-term future in the Spanish capital has been called into question, while rumours surrounding the Brazil forward's proposed switch to Camp Nou continue to circulate.
"Is Sergio Ramos unhappy at Real Madrid? Never say never, but I do not think so," Rosell told the broadcaster.
"Neymar is one of those special players; the type of player that our fans want. He is able to do that something extra compared to other players.
"However, he is contracted to Santos until 2014 and we will respect his commitment with them. Only until this time will we talk."
In respect to the financial issues that La Liga and many of its member clubs are suffering from, Rosell rejected the recent claim by Jose Maria Gay that the competition will be dead within five years.
"I do not think the league will be dead in five years," he added. "It is true that there are problems that need to be addressed.
"La Liga will remain alive in the coming years, but it's true that we have to rethink everything to try to make it more competitive.
"[Barcelona] are willing to meet with the other clubs in the league to discuss the distribution of money. This has to happen soon, though. Nothing can really be done until 2014 when the existing deals come to an end. From 2014, we will start a new cycle."
Rosell then refused the notion that a European Super League will one day take the place of domestic competitions, though he did suggest that perhaps the current Champions League format could be modified to cater for more teams.
"Domestic leagues are still interesting and they will remain that way even with less teams. The Champions League will become more interesting with more teams," he claimed.
"I think that here in Spain, the Primera Division should be reduced to 16 teams and the Champions League should be increased from its current format of 32 teams to 64."
With Barcelona stars Lionel Messi and Andres Iniesta the favourites to win the Ballon d'Or, Rosell was diplomatic as to who he thought should win the award, while revealing that he may be prepared to offer the Argentine star a contract for the remainder of his career.
"For us it is the same. They both deserve it and I would like to see them both win it," he said.
"On a professional level, I can see [Messi] staying at Barcelona. This is the ours and the fans' dream to see him remain at the club until the last day of his playing career.
"Messi could never become 'sad' at Barcelona. He is very happy. He is from Barcelona and he feels Barcelona in his heart. I cannot see this happening. Maybe this happens at other clubs, but not here."