ANALYSIS
By Peter Staunton
At 6-1 up with the opposition down to 10 men, Jupp Heynckes could have summoned the new sporting director Matthias Sammer from the bench to temporarily fill a defensive midfield role and the 45-year-old with a dodgy knee would probably have held his own. As it transpired, the 67-year-old took the opportunity to afford his latest signing, Javi Martinez a 13-minute cameo against an overwhelmed Stuttgart in Bayern Munich's first home game of the Bundesliga season.
Martinez was immediately granted control of the ball. Repeatedly, his new team-mates sought him out for short passes in and around the centre circle. They were settling him in; giving him as many touches as possible in order to integrate him into the group. It was not the most testing of arenas for a debut but hugely satisfactory nonetheless, coming as it did on what will likely prove to be Bayern's easiest afternoon of the season. "He has already hinted that he can pass. I think this is exactly the player we need," his coach purred afterwards.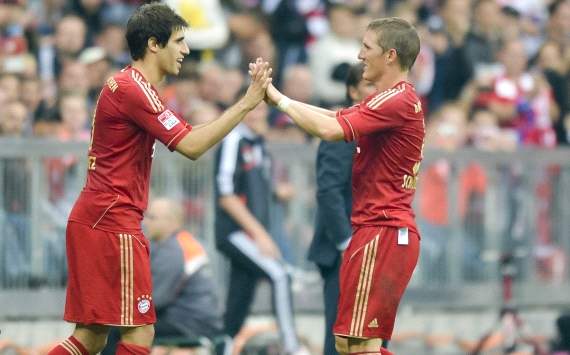 Basque in Bavaria | The World Cup winner makes his bow in the German top flight
In their first home game of the 2011-12 Bundesliga campaign Bayern were beaten 1-0 by Borussia Monchengladbach, who, following the template that most German teams utilise at the Allianz Arena, ground out their victory by astutely defending deep, and making the most of their scant opportunities at the other end of the field.
BAYERN v SCHALKE: 26/2/12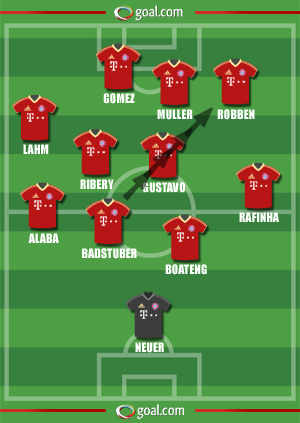 SWITCH: Badstuber's long diagonal was prominent in Bayern's play against Schalke

By and large Bayern manage to stave off those infrequent threats. But from time to time, they cannot conjure a goal despite their territorial dominance and command of the ball, and have to remain alert to counter-raids. Witness Patrick Herrmann's first goal against them during Gladbach's 3-1 win in January's league encounter. Arjen Robben loses possession and one raking pass cuts Bayern to ribbons. Anatoliy Tymoshchuk is too slow shuffling across to block the path of the ball and Herrmann finishes neatly.
Due to their conviction in possession and searing confidence on the ball, the Bavarians are not adverse to placing all of their outfield players in the opposition half whenever the opportunity arises; overloading and looking for that one key pass. Alas, should a move break down, they are immediately on the back foot. Chances are typically conceded by Bayern when they lose the ball up field. That is the precise type of situation Martinez has been recruited to rectify. "The coach and the sporting director are convinced that he will solve our problems," said club president Uli Hoeness.
Bayern's 'overloading' attacking manoeuvres are initiated through the centre of the field from the back. The ball usually goes short from Manuel Neuer to one of the centre-backs and from their custody of the ball is ceded to a central midfielder. With Holger Badstuber shunted awkwardly to left back, gone, for the time being, are those accurate, long-range passes from his left boot to the right wing - Bayern's best out-ball last season. Now, it is all a little more deliberate. The highest degree of importance is placed on the circulation of the ball.
This style of play is inculcated in Martinez. He is a natural fit for the most conservative midfield position in Heynckes' line up. He has the will to defend and the intuition to be eminently positioned when opposition teams break against his. That is not a characteristic inherent in Bastian Schweinsteiger or Toni Kroos. Luiz Gustavo has it, to an extent, but his game lacks Martinez's dimensions.
For that reason, the Brazilian is overwhelmingly likely to be the man to make way for Martinez once he is inured to Bayern's patterns and the former Hoffenheim man can have few complaints. Martinez is a better user of the ball than Gustavo and more responsible in the sense that he wants every second pass and will move to receive it. He closes space with alacrity too. Happily for Heynckes, Gustavo is an upgrade on Tymoshchuk on the Bayern bench.
BAYERN IN POSSESSION: 12-13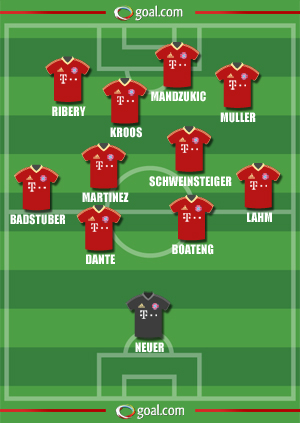 BALL CIRCULATION: Martinez will facilitate Bayern's passing game
According to Spain boss Vicente del Bosque: "Martinez is a complete player who can cover any role he wants to on the pitch. He is a born leader best compared to Patrick Vieira, likewise covering much ground and solving much of any team's defensive midfield problems."
Throughout last season, Martinez featured predominantly at centre-back for Athletic Bilbao. The shape in front of him changed throughout the campaign but his role did not alter. His stint in the centre of defence probably made him a better midfielder too. Rarely had he previously faced the type of coal-face action he was exposed to last term due to his proximity to the opposition's impact players. "He threw himself into it and won a lot of balls in the air," was Neuer's assessment of Martinez's first Bayern practice match, suggesting that the €40m man is not adverse to getting stuck in.

Nonetheless, he is not likely to play much in that position for Bayern, once or twice and perhaps only in emergencies like Tymoshchuk has, but he would by no means be wasted in the heart of defence. His distribution is more consistent than Jerome Boateng's and his range of passing would be well complemented by that of Badstuber. Bayern routinely accrue 70 per cent of possession in their league matches so it would make sense to have an extra passer in the lineup should that be the case.

The price is excessive and Hoeness himself has described it as 'insanity' but, at 24, Javi Martinez is a long-term investment. He has the physical and mental tools to be a perfect fit for Bayern for many seasons. That in itself is value for money.