Goal.com is publishing exclusive extracts from Luca Caioli's new book, Ronaldo: The Obsession for Perfection, which charts the Portuguese forward's spectacular rise from a poor childhood in Madeira to superstardom with Sporting Lisbon, Manchester United and Real Madrid

He has never been on a plane – he has never even left the island. This is the toughest challenge he has ever faced and he is so nervous that he cannot sleep the night before.
His godfather Fernao Sousa is accompanying him to Lisbon. It's 1997, it's the Easter holidays and Cristiano is on his way to a trial at Sporting Lisbon. He would have preferred to go to Benfica, a team both his father and brother love. But his mum has always been a Sporting girl and she has a hunch her son will be as great as Luis Figo. Besides, you can't turn down one of the greatest clubs in the capital. Sporting has the best youth academy in Portugal, counting the likes of Paolo Futre, Figo and Simao among its alumni, while current players include Joao Pinto, Quaresma, Hugo Viana and Nani.
He's convinced he can do well there. He knows he's good and he thinks he can persuade the Green and White coaches that he's good enough. But he's only 12 years old, and when he finally arrives at the youth-team training ground, it's incredibly overwhelming.
Coaches Paulo Cardoso and Osvaldo Silva are there to observe him play. They are not particularly impressed by Ronaldo's physique – he's a scrawny little kid. But once they see him in action it's a whole different story. The boy from Quinta do Falcao gets hold of the ball and takes on two or three opponents. He's relentless – a one man show: feinting, dribbling and driving the ball up the pitch.
"I turned to Osvaldo and I said, 'This one's different, he's something special'," recalls Cardoso. "And we weren't the only ones who thought so. At the end of the training session all the other boys were crowding around him. They knew he was the best."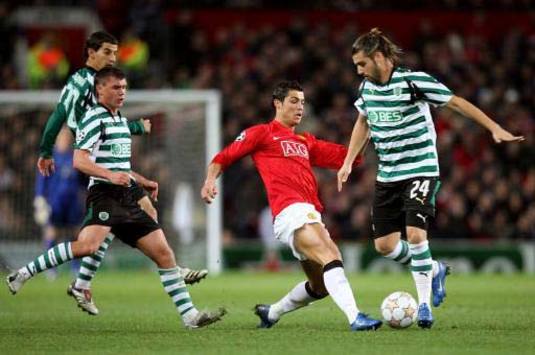 Sporting chance |
Ronaldo in action against his old club for Manchester United
The Sporting coaches are impressed by the trial. They want to see him play again the next day, on the training ground next to the old Jose Alvalade stadium. This time, youth academy director Aurelio Pereira will be there to observe him.

"He was talented, he could play with both feet, he was incredibly fast and when he played it was as if the ball was an extension of his body," says Pereira. "But what impressed me more was his determination. His strength of character shone through. He was courageous – mentally speaking he was indestructible. And he was fearless, unfazed by older players. He had the kind of leadership qualities that only the greatest players have. One of a kind. When they got back to the dressing room all the other boys were clamouring to talk to him and get to know him. He had it all, and it was clear he would only get better."

On 17 April 1997, Paulo Cardoso and Osvaldo Silva sign Cristiano's player identification document. It reads: "Player with exceptional talent and excellent technique. Of particular note is his ability to dodge and swerve, from stationary or while moving." Next to 'enrol' there is a tick in the 'yes' box. He plays as a central midfielder, or 'in the hole' as the coaches say. Cristiano Ronaldo dos Santos Aveiro has passed the test – he can play at Sporting. But first they have to reach a deal with Nacional da Madeira.
| | |
| --- | --- |
| He was talented, he could play with both feet, he was incredibly fast and when he played it was as if the ball was an extension of his body ... He was courageous - mentally speaking he was indestructible. One of a kind | |
Nacional owes Sporting 4,500 Portuguese 'Contos' (€22,500) for Franco, a young footballer who has transferred there from Sporting.

Cristiano's signing could be an opportunity to waive the debt, but €22,500 for a 12-year-old kid is an exorbitant price. "It was unheard of," agrees Simoes de Almeida, the club's former administrator. "Sporting had never paid anything for a youth player."

Aurelio Pereira and the other coaches have to convince the administration that it's worth investing so much in one boy. On 28 June 1997, Pereira prepares a new report, adding the following postscript: "Although it may seem absurd to pay so much for a 12-year-old boy, he has enormous talent, as proven during his trials and witnessed by the coaches. It would be a great investment for the future."

These few lines are enough to win over the club's finance director and the transfer is agreed.


www.corinthianbooks.net
Follow Luca Caioli on

With every extract published, Goal.com will be giving away one copy of Luca Caoili's new book. To have a chance of winning an ebook or hard copy of Ronaldo: The Obsession for Perfection, answer the following question: How much did Real Madrid pay Manchester United for Cristiano Ronaldo? Send answers to competitions@goal.com - the winner will be announced in next Friday's extract.
Last week's winner: Pam Nigel