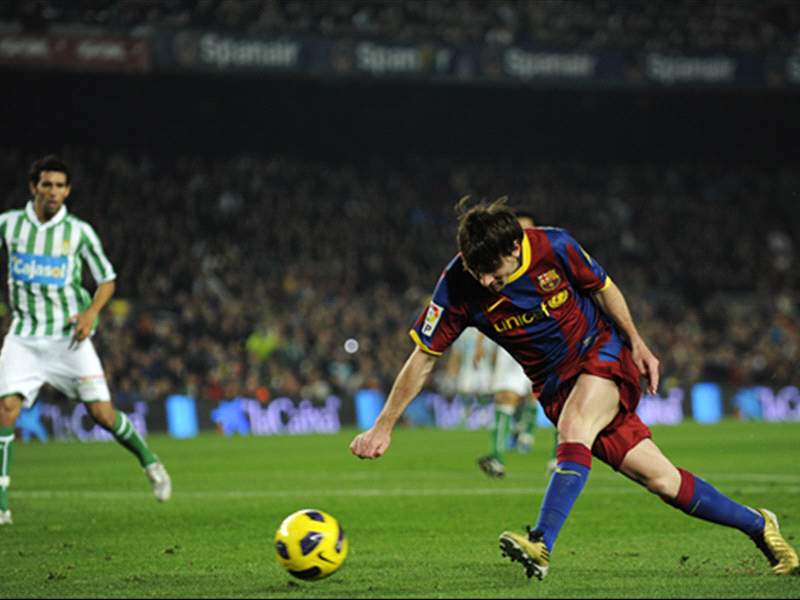 ANALYSIS
By KS Leong
Much has been made of Lionel Messi's spurned penalty against Sevilla last Saturday. Even though Javi Varas should be hogging every lux of the spotlight for his jaw-dropping heroics at Camp Nou, which culminated in his penalty save against Messi, it was the Argentine who has been in the headlines after he was found out for being human.
That he has missed six of his 22 penalties doesn't help his case as it raises questions about his ability to convert from the spot. And the debate is amplified when he fails to score from just 12 yards out because he is the best player in the world, regarded even by some as the greatest ever, and he plays for a club with supposed superhuman talents.
Messi loves to score goals and dazzle the crowd, as much as he won't admit it. Every time he plays poorly or fails to contribute to his team, his body language shows his emotions, never more so than when he is in the Argentina shirt. But he also has this knack of putting a bad game or a mistake behind him quickly - not that he has that many to begin with. And he will be thankful that he won't have to dwell on his unsuccessful conversion against Sevilla for too long as he now has to focus on Tuesday evening's game against Granada.
But how has Messi responded to his five previous spot-kick setbacks? Does this spell bad news for the unsuspecting, modest, promoted outfit? Should Fabri Gonzalez and his players be quaking in their boots in fear of a backlash?
LIONEL MESSI | THE MATCHDAY AFTER THE MISS

MORE ON
LIONEL MESSI


| | | | | |
| --- | --- | --- | --- | --- |
| Date | Opponent | Result | Goals | Assists |
| 03/02/2008 | Osasuna | 1-0 (w) | 0 | 0 |
| 16/11/2008 | Recreativo | 2-0 (w) | 1 | 0 |
| 18/04/2008 | Getafe | 1-0 (w) | 1 | 0 |
| 19/09/2010 | Atletico | 2-1 (w) | 1 | 1 |
| 22/01/2011 | Racing | 3-0 (w) | 1 | 1 |
There's good news and bad news for Granada. The bad news is that Messi has only once failed to score in the next game after missing from the spot, and that was back in early 2008 when he was still in the shadows of Ronaldinho and Samuel Eto'o. Aside from that, the Argentine has always rebounded to play a key part in helping his team win the following game, especially in the last two instances.
Against Racing Santander earlier this year, straight after sending his penalty over the bar against Real Betis in a Copa del Rey clash, Messi promptly returned to the spot and converted against Tono, opting, this time, to stick to the tried and tested as he tucked away his penalty low to his bottom right corner, the same target he was aiming for to beat Varas last Saturday.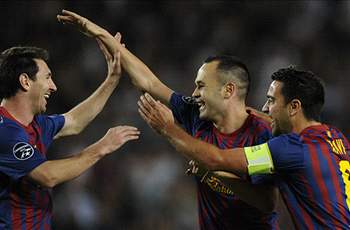 "Lionel will continue to shoot and score
"


- Iniesta warns Granada

Against Atletico Madrid a little over a year ago, after missing against Panathinaikos in the Champions League, Leo tore poor Atleti apart, scoring his side's first goal before providing an assist for Gerard Pique after their opponents had equalised. That was also the fateful day when Tomas Ujfalusi, tired of chasing shadows all game, decided to take Messi out in injury time with a horror ankle-snapping tackle that could very well have cut short the Ballon d'Or winner's playing career.
The good news for Granada, though, is that Messi doesn't seem to be able to score more than a goal. Is that any consolation? Only if they heed Andres Iniesta's warning.
"Those who take penalties are the ones who can fail," Iniesta reasoned, "but Lionel will continue to shoot and score."
Messi is experienced and mentally strong enough not to let yet another penalty failure get to him. Once the whistle goes in Granada's Nuevo Los Carmenes, he will have forgotten about the Sevilla stumble and shift his focus on getting back in the headlines for putting on a majestic, magical, Messi masterclass.
Follow KS Leong on