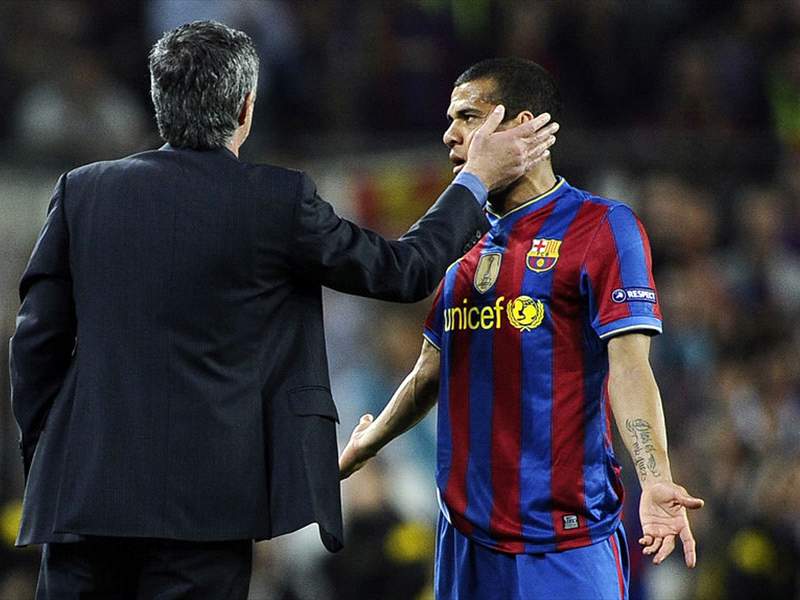 Barcelona
full-back
Dani Alves
says he expected comments from
Real Madrid
coach
Jose Mourinho
over the Catalans' Champions League opponents in Group H because the Portuguese boss always likes to be in the spotlight.
On Monday, Mourinho said he had to look on the Internet to learn about the teams Barcelona were playing in Europe - a suggestion Pep Guardiola's men were up against the continental competition's weaker and lesser-known sides.
He was referring to Czech opponents Viktoria Plzen, who Barcelona beat 2-0 at the Nou Camp on Wednesday night, and BATE Borisov, who lost 5-0 to Guardiola's side earlier in the competition.
However, Alves claims he and his team-mates have come to expect such comments from Mourinho.
"We know what he is like. He is always trying to take merit away from others," he told Spanish media.
"We will just get on with our work and don't want to get involved with any of that. We're inferior in that respect and we like to do our talking where we do it best - on the pitch."
"Journalists love it because it sells a lot of newspapers, but we are focused on performing on the pitch," he added.
Barcelona's win on Wednesday, courtesy of goals from Andres Iniesta and David Villa, helped them stay top of Group H alongside AC Milan.
The Spanish and European champions are in action next when they play Sevilla on Saturday in La Liga.