Real Madrid coach Jose Mourinho believes that both they and Barcelona have an equal chance of winning the Copa del Rey on Wednesday evening, and has also hit back at club legend Alfredo Di Stefano for disapproving of the tactics used against Barcelona.
The two biggest and most successful Spanish clubs go head-to-head in the final of the Spanish King's Cup at the Mestalla, and Mourinho says either side can win the trophy.
"I don't want to say anything out of the ordinary because there is never a favorite in a final," said the Portuguese in the pre-match press conference on Tuesday evening. "Both teams have the same chance of winning. I hope we see a nice match and that everything in the stands and on the street goes down without incident.
"These are typical words before a final, but I truly believe them. I have played in many finals against teams that have been either inferior or stronger than mine, but they have all been evenly balanced. That is the natural tendency of finals."
"This is my first final with Real Madrid, but I am relaxed," added the 48-year-old. "I have experienced many matches like this one, which is why I am a lot more calm than a coach who has never been here before. Our confidence lies in our hard work to reach success in the form of titles. If we win, great. If we don't, we will continue working."
This is the second time in fewer than seven days that Madrid and Barca will lock horns as the two sides clashed in the Primera Division at the Bernabeu on Saturday evening. The league match finished in a 1-1 draw with the capital club coming from a man and a goal down to earn a point.
REAL MADRID VS BARCELONA:
ALL YOU NEED ON GOAL.COM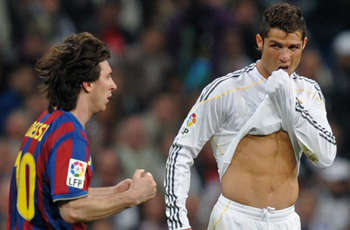 Four Clasicos in 18 days - and you can follow them all with Goal.com:

Apr 16: La Liga
Real Madrid 1-1 Barcelona

Apr 20: Copa Del Rey final
8.30pm BST - Mestalla, Valencia

Apr 27: Champions League semi, 1st leg
7.45 BST - Bernabeu

May 3: Champions League semi 2nd leg
7.45 BST - Nou Camp


However, Madrid legend Di Stefano was not impressed with Mourinho's tactics and in his weekly column in Spanish sports daily Marca wrote, among other things, that "Barcelona were a lion, Madrid a mouse".
Reacting to those stinging words, Mourinho said on Tuesday: "He [Di Stefano] is one of the most significant people in the history of Real Madrid and I am nothing in the history of Real Madrid. But I am the coach and the coach is the one who decides."
"I am the coach," he repeated. "What do you want to do? It's me. The decisions are mine."
The former Chelsea and Inter manager gave insight into his tactical approach for Wednesday's final and explained: "We will play with a centre forward, four on the back line, three midfielders and three forwards. We want to attack and score when we have the ball, while without it we must defend like a team. It implies that the entire team must be active in working both facets.
"This match will have nothing to do with that seen on Saturday. You never know what direction a match may take. We will have to see how things go and only then evaluate. Whoever plays or doesn't play for Barcelona is not our problem. Our game plan was decided yesterday."
Recent reports have linked Mourinho with a return to Italian giants Inter with whom he won the treble last season but once again the former Porto tactician has turned down suggestions of him quitting at the end of the season.
"I am 100% committed to my job, which is why I believe the president chose me," he insisted. "There are those who don't agree with my decisions, but I am the coach and my job is to make them."
Madrid and Barcelona will meet again in the semi-finals of the Champions League.