La Liga
in the new year has already produced one of the shocks of all shocks.
Barcelona
only beating
Levante
2-1? Crisis! Crisis!
Anyone who watched Levante getting smashed 8-0 by Real Madrid in the Copa del Rey post-holidays would've put their Christmas bonuses on Barcelona waltzing nine past the Valencians in the new year. But Barca are one of those sides who usually suffer from the New Year hangover.
The Catalan juggernauts looked out of ideas at times without their talisman Lionel Messi on the pitch, with Andres Iniesta and Xavi playing predictable through balls into the box and Dani Alves, David Villa and Bojan Krkic still yet to shed those Christmas pounds.
But not Pedro. The Canarian was sharp as a whistle, scoring two well-taken goals, and had several opportunities to bag his very first Barca hat-trick.
It was the perfect timing for Pedrito to shine. With Ibrahim Afellay quietly watching on from the stands, the 23-year-old World Cup winner needed to show that he can be the hero of the Camp Nou should Messi have an off-day or a day off, and convince coach Pep Guardiola that he should now be considered every bit an automatic starter as Xavi, Messi and Iniesta are.
Thiago Alcantara's entrance into the game early in the second half after Barca had gone ahead also sparked excitement amongst the home faithful, who were starting to grow listless due to their team's lack of imagination.
The teenager replaced a subdued Javier Mascherano. It was a bold move by Guardiola, removing a defensive midfielder and sending in a playmaker. It was a switch that could've come back to haunt Pep, who looked rather dumbfounded after Levante pulled one back late on to set up a nervous final few minutes, the final few minutes where an extra pair of dirty hands could have diffused the tension.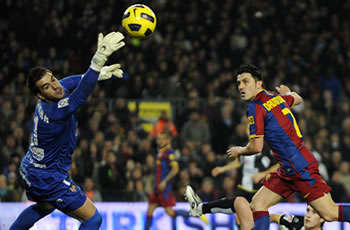 Villa has yet to take flight
for Barca

The truth was that Mascherano was making no impact at all in the game. Levante looked dangerous at times on the counter-attack, and in fact created the better clear-cut chances in the first half against a makeshift Blaugrana defence. But Mascherano had little to do defensively and he couldn't inject any attacking impetus like Seydou Keita would and Yaya Toure did.
Granted, Thiago and Mascherano operate in different positions and play different roles, but young Alcantara's ability to jump straight into the game like water off a duck's back and dazzle with his fancy footwork was a startling demonstration of how calm, comfortable and confident Barcelona's young guns are playing competitive first-team football, experience or no experience, compared to how tentative some of the mega-money signings are when they first arrive.
All this begs the question of whether Barcelona, at this point in their history, where they are producing young talent like no other club can, really need to spend a significant sum of money bringing in players who are more likely than not to be put in the shade by youngsters from their academy.
Barcelona's high profile signings in recent years have been disastrous: Dmytro Chygrynskiy, Henrique and Keirrison (remember them?), Alexander Hleb, Zlatan Ibrahimovic, and to a lesser extent, Thierry Henry, have all been disappointing given their hype and their transfer fees. Not only that, they have been overshadowed by Barca's canteranos Gerard Pique, Sergio Busquets and Pedro to name a few.
Their two most recent arrivals, David Villa and Mascherano, haven't exactly set the league alight either.
Villa remains a mysterious case. He ended 2010 on a goalscoring high, but then again so did the entire Barcelona side who were scoring more goals in competitive matches than most teams were in training. But in terms of his performance, he has looked quite average playing in this untouchable, legendary Barcelona outfit.
Mascherano is still finding it tough adapting to Barcelona's constant touch-and-move style of flowing football. He isn't playing badly – although he hasn't really been tested either – but like Villa, he just looks out of place in the team.
This isn't a scathing criticism on the pair. They will only gel more into the team as the season wears on, but anyone who has watched Barca's youngsters grow and grow over the past few years will be pondering why the club would want to spend any money at all to sign players from abroad.

Barca's Biggest Transfers
Since 2008

1. Zlatan Ibrahimovic - €66m
2. David Villa - €40m
3. Dani Alves - €35m
4. Dmytro Chgrynskiy - €25m
5. Javier Mascherano - €21m
6. Alexander Hleb - €17m
7. Martin Caceres - €16.5m
8. Keirrison - €16m
9. Seydou Keita - €14m
10. Henrique - €10m


It will require more or less the same amount of time for the big stars to enter the Camp Nou and digest the Barca football philosophy as it would for a young La Masia graduate to pick up valuable first team minutes. Sergio Busquets, Pique and Pedro have shown that they can become regular key players over the course of a season. On the other hand, players like Keita, Henry and Maxwell took over a year to establish themselves within the team, while others such as Ibrahimovic, Martin Caceres, and Chygrynskiy couldn't fit in at all.
There's still argument as to whether the canteranos such as Andreu Fontas, Marc Muniesa, Jeffren, Thiago and Nolito can really fill the gaps if there comes a situation one day when Puyol, Messi, Xavi and Iniesta – the four players who really make Barca tick – are all absent. But would Chygrynskiy, Mascherano or Hleb have done any better?
Barcelona sporting director Andoni Zubizarreta proclaimed during the unveiling of Afellay that the club will make no further ventures into the transfer market this winter. It's a good thing, as Barca can't really afford anyone else at the moment, based on their rocky financial standing.
And it's a good thing too that they can't, as they don't really need to.