Real Madrid
coach
Jose Mourinho
has decided not to include
Mahamadou Diarra
and
Royston Drenthe
in his squad to face
Real Mallorca
in Los Blancos' opening game of the new Spanish
Primera Division
season on Sunday.
Pepe, Kaka, Fernando Gago, Raul Albiol and Ezequiel Garay have also been left out of the 20-man squad that will travel to Majorca on Sunday as they are injured. Diarra himself is said to be on his recovery programme but Drenthe's omission is tactical.
Mourinho has been quoted by Real Madrid's official website explaining the reasons thus: "I can't include all my men on the squad list. We have a great squad. Diarra has just recovered from his injury, so he won't come with us. With Marcelo as a starter and Arbeloa on the bench I have no need of Drenthe on the bench too.
"Van der Vaart is a creative player and I believe discarding Garay from the provisional list of players is a smart move on the club's part because he is going to be injured for quite some time.
"We will play better in two months and even better in four. My teams reach their full potential in their second season thanks to a stable working method and the empathy of all the players.
"Nevertheless, a great club has to win titles from the start and we are psychologically ready to do that. It's important to know where our limitations lie because it will make us stronger. We are ready for Sunday's match.
"Players available to me next week will be two goalkeepers, those who are injured, Granero, Leon... I will join Castilla and train with them too. Youth teamers will join us, which is good to motivate them. It's better than organising four-on-four practice games with participating coaches.
"We will hardly have time to prepare for the match against Osasuna. They, on the other hand, will spend 15 days preparing to face us."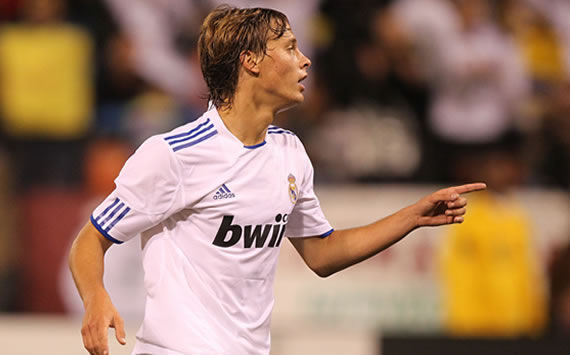 Mourinho also hinted that teenager Sergio Canales could start against Mallorca on Sunday evening, saying: "Canales will play as attacking midfielder. He's had a chance to work with the team longer this summer. He arrived straight after his holidays and after playing in the Under-19 Euro. He has taken part in three or four pre-season games.
"Canales is doing a good job and playing him will help me convey a message to the squad: status within the team does not guarantee playing time. Canales has no prestige, he didn't cost much and he is very young.
"This is a positive message to send. It means anyone can make the starting line-up. Xabi Alonso, Cristiano, Higuain and seven other footballers will also play as starters.
"I don't want to turn Canales into some sort of phenomenon because he isn't one. I don't want to turn him into Guti because he doesn't have his track record. Canales is a young player with great potential who has ambition and is willing to learn and improve."
The Portuguese added: "Lass [Lassana Diarra] is a brilliant team-worker. Playing several months in a row has helped him mature. He is more of an all-around player than when I met him at Chelsea.
"He is also versatile, as he can be a right-back and a central defensive midfielder. I've spoken to him and I believe he is ready to play wherever the team needs him.
"It's not easy for Khedira and Oezil to adapt, but I didn't expect them to showcase their full potential in two days' time anyway. They must remain calm and take things slowly."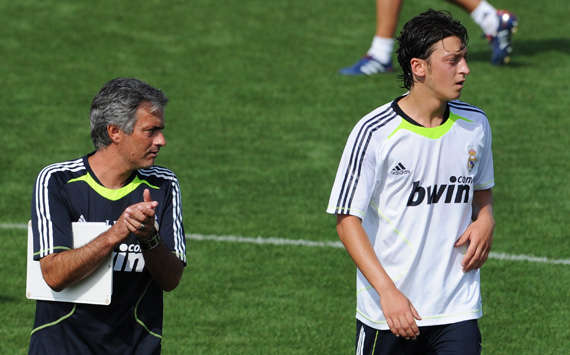 The former Chelsea and Inter coach anticipates Mallorca to be tough to beat but remains confident that Los Blancos can start the new season on a winning note.
"It will be important to win in Mallorca, but it won't be a title-deciding match. The game will be special to all of us and to Mallorca. Facing Real Madrid adds motivation. It will be a strange match because our internationals will join their national teams when it's over.
"We'll play against Osasuna 15 days later. A victory would help us remain calm. Three points are always important because you never know how crucial they may be at the end of the season.
"Mallorca have kept the core of last season's squad, which managed to finish fifth in the league. Laudrup seems to be a good coach and it will be difficult to win, but Real Madrid is Real Madrid and it won't be easy for anyone to defeat us.
"It's hard to pick favourites to win the league title. You never know which teams are better prepared, but I guess it's normal for people to regard us and Barcelona as favourites given our history."
Madrid's squad list for Sunday's game is as follows:
Goalkeepers:
Casillas, Dudek, Adan
Defenders:
Carvalho, Sergio Ramos, Marcelo, Arbeloa, Mateos
Midfielders:
Khedira, Lass, Granero, Xabi Alonso, Canales, Pedro Leon, Di Maria, Van der Vaart, Oezil
Forwards:
Cristiano Ronaldo, Benzema, Higuain.