While he was a pivotal element in Argentina's play during this past summer's World Cup, in not scoring during South Africa 2010, both fans and writers began to relegate Lionel Messi to the back of their minds. The darting Pulga seemed to be getting better and better during the course of last season's Primera Division campaign, but this summer the headlines primarily highlighted other players who excelled in South Africa and the little Argentine, while still contributing extraordinary performances, was largely pushed into the periphery.
On Saturday, the spotlight turned back in the appropriate direction as the unstoppable Messi tallied a hat-trick with astonishing ease to give Barcelona their first trophy of the 2010-2011 season. Incredibly, it was La Pulga's seventh career hat-trick at Barcelona - all at little over a month older than 23 years old. But there was a certain quality in how Messi scored his three goals on Saturday that could very well translate not just into many more multi-goal matches, but also into more frequent displays of such clinical finishing.
Two seasons ago, when Barcelona's trident attack consisted of Thierry Henry, Samuel Eto'o, and Messi, the mercurial Argentine was predominantly fielded along the right wing, giving opposing left-backs headaches as he would either dart right and eye a near post cross/shot, or cut inside across the face of goal à la Arjen Robben to release a blistering shot toward the back post. Messi became so skilled on the right wing that every time he touched the ball it seemed he would score... and he frequently did.
But with the World Cup on the horizon and with Messi struggling to find his Barcelona form in an Albiceleste shirt, Barca coach Pep Guardiola began to utilise his superstar player in a more central role on the pitch. The change was not a seamless one for Leo and when Pep directed Messi back to the right wing, one saw a marked improvement in Messi's ability to threaten the opposing goal and link up with his team-mates. As time went on however, La Pulga began to grow into his new role, adding a new position to his repertoire and becoming an ever-more dangerous player.
At the World Cup, Messi featured in this central role, given free reign by then-Argentina coach Diego Maradona to roam about and exchange positions with fellow attackers Gonzalo Higuain, Carlos Tevez, and Angel Di Maria. While Lionel was unable to find the back of the net himself in South Africa, he quickly demanded the full attention of opposing defences and as they attempted to contain him, Messi was able to exploit the extra room afforded to his teammates to help Argentina win matches.
Now back at Barcelona, Messi has, if one can fathom it, grown into a far more dangerous player with his newfound versatility. His three goals against Sevilla that effectively allowed Barca to lift their ninth Spanish Supercopa in club history (eclipsing Real Madrid's mark) were a testament to his ability to adapt to his new role on the pitch.
Messi's first goal on Saturday was one more typical of a seasoned 'No.9'. Faking a cut back to Xavi in a position slightly to the left of the penalty box, the Argentine drew his marker toward him. Then with a quick burst in the opposite direction, Messi blazed past the central defender as Xavi threaded a perfectly weighted pass through the back line and onto the streaking Argentine's favoured left foot. Palop stood little chance in the one on one opportunity.
But Messi's second goal was truly illustrative of his relatively recent ability to exploit the centre of the pitch. As Dani Alves slalomed forward on another of his marauding runs down the right flank, Messi began to make his move into the box. While Alves quickly cut back, leaving his defender off balance in an attempt to reverse field, Messi held fast momentarily then quickly took his chance and cut toward the near post. Running onto the ball the Brazilian right-back deftly put to space, Leo took the ball on with a single touch of his weaker right foot and neatly hooked the shot over Palop into the top corner. It was a striker's finish and a move that one year ago would not have been in the Argentine's arsenal.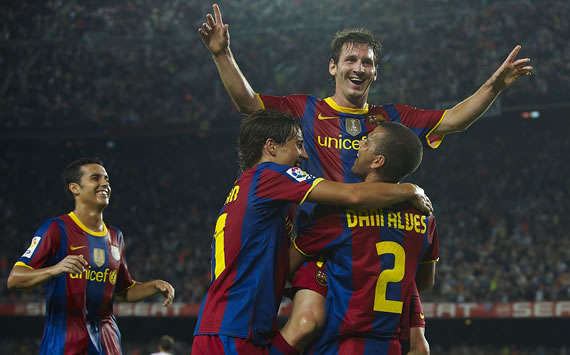 As Messi becomes more comfortable in multiple positions, the headaches he will give opposing defences will only grow exponentially. One does not need to be exceptionally versed in the principles of sport to understand that you want your most dangerous player in the most dangerous position on the pitch. While Messi will surely still find himself on the right wing from time to time making his incisive cuts inside across the box, he will become far less predictable (and subsequently far more threatening) to opposing defences when in the centre where he will be able to dart both left and right, interchanging positions with Iniesta, Pedro, David Villa, and Bojan Krkic, and linking up with his teammates in a dizzying series of one-touch passes.
And it is La Pulga's versatility this season that may well see a striker in the more traditional 'No.9' mould out the door.
Zlatan Ibrahimovic may have come to the Camp Nou last season as the most expensive signing in Barca's history, but the big Swede's style of play may just be a bit too anachronistic for the system Pep Guardiola champions.
Employing a system in which the ball rarely travels above head height, Barcelona stress expedient passing, constructive movement off the ball, and instant control in their play, effectively mooting Ibra's 6ft. 5 in frame. In fact, with such an imposing presence, Zlatan's style of play could arguably be judged simply as being too slow for the style Barca strive to achieve.
Instead, Guardiola's system is more conducive to quicker, speedier, more agile players of much smaller stature, as Messi, Villa, Iniesta, Xavi, Bojan, and Pedro are all under 5ft. 9 in. in height. In fact, all of the aforementioned players save Villa are listed at or below 5 ft. 7 in.
Thus, while Lionel Messi does not fit the modern archetype of a centre-forward in the way the Didier Drogbas, Wayne Rooneys and Ibrahimovics do, his increasing ability to occupy the central attacking role adds a dangerous new dimension to Barcelona's attack. As the season progresses and Messi becomes more and more comfortable in this role, developing a more synchronous relationship with new team-mate David Villa, it is not inconceivable that Leo could supersede his 47-goal mark of last season.
If that happens, it is difficult to see Wesley Sneijder or Cristiano Ronaldo keep him away from the Ballon d'Or crown for too long.