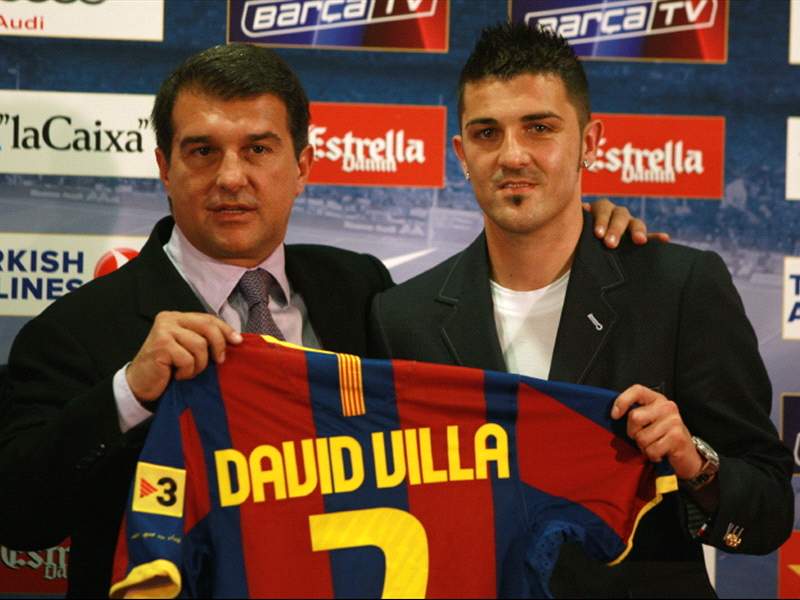 While most of us have tried calling into work sick with a bout of World Cup fever and some of us toss and turn in our sleep, our ears ringing with the buzzing of the vuvuzelas - a deafening but charming hum that sounds like an angry swarm of wasps on a stiflingly hot summer day - in Spain, club football is still grabbing a few headlines.
The most significant headline, of course, is the recent Barcelona club presidential election, as Joan Laporta, having fulfilled the maximum term of eight years as Barca supremo, had to cede his presidency to the newly-elected Sandro Rosell.
An outspoken critic of Laporta's policies, which he claimed were authoritarian and undemocratic, Rosell's election to the Barca leadership comes as something of a slap in the face to Laporta and his administration.
With Jaume Ferrer, club director under Laporta and the candidate who won the exclusive endorsement of the former president, having been handily defeated (he finished last in the voting behind Rosell, Agustí Benedito, and Marc Ingla), Barcelona's socios very clearly made their desires heard with respect to a change in the leadership.
But in the wake of such a break with the establishment, what does Rosell's election mean in terms of the legacy Laporta leaves at Barcelona?
When Laporta ran for the Barca presidency in 2003, he did not begin as the favoured candidate. But with growing charisma and an ultimately unfulfilled promise to bring Manchester United superstar David Beckham to the Camp Nou, Laporta emerged as the victor — along with Rosell, who was his running mate at the time.
With the club in a state of bitter unhappiness, many frustrated by the inability to match Real Madrid's momentous successes in the early 21st century and the club having not won a trophy since 1999, Laporta brought in Frank Rijkaard as coach and, with Beckham having turned down the Blaugrana, found his superstar transfer alternative in Ronaldinho.
With the foundation of the team set, Laporta went on to improve the club's business model, devising strategies to significantly cut down the club debt he had inherited from the previous president and promoting a model that encouraged the development of homegrown players from the Barca youth system, La Masia.
Using this strategy, the Blaugrana won the Liga title in both the 2004/2005 and 2005/2006 seasons and even more importantly won the UEFA Champions League title in May 2006, the club's second European cup in their illustrious history.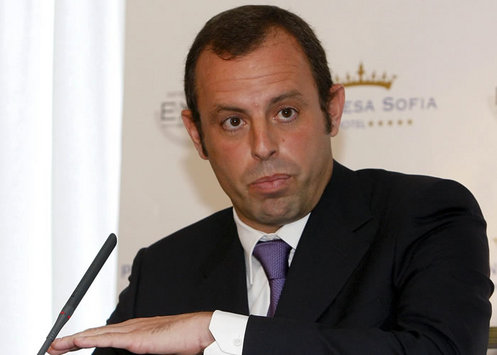 Future looks Rosell | New man already has experience of club's inner workings
Yet Laporta's presidency was not without controversy or scandal. In June 2005, five members of the club's board of directors resigned, including now-president Sandro Rosell. The resigning members accused Laporta of having abused his power as president and having adopted megalomaniacal tendencies.
In October 2005, he faced the breaking of a news scandal when his brother-in-law and member of the board, Alejandro Echevarría, was revealed to be a member of the Francisco Franco Foundation, a fact not very well liked in any region of Spain, let alone Catalunya. After repeated denials by Echevarria and Laporta, contested by documents brought forth by a former member of the board of directors Laporta was finally forced to accept Echevarria's resignation.
Laporta's own political history and views also added to the controversy of his presidency. A self-described Catalunyan nationalist, he has loudly and repeatedly expressed his support of Catalunya's independent autonomy from Spain and very publicly characterised Barca as the ensign for Catalunyan separatism. Such politicisation of the club drew the ire of a number of Barca club members, who accused Laporta of alienating Barcelona fans both within and outside of Catalunya.
But despite the less than pristine record, Laporta won re-election for another four years, as no other candidate was able to secure the 1,804 signatures to contest his presidency. The controversial rule would continue, but in large part it was overlooked as unprecedented success saw Barca experience one of the greatest periods in their history.
With Laporta's appointment of Pep Guardiola as coach, Barca won six trophies in the span of a single year (including another Champions League title and a Club World Cup trophy), won the Liga title again the following year, and dispatched Real Madrid in four consecutive El Clasico matches, the most convincing of which was an historic 6-2 result at the Santiago Bernabeu.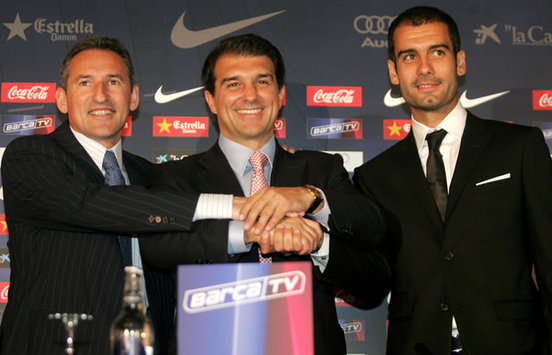 Pepe, my jefe | Guardiola's appointment looks an inspired move by Laporta
Laporta has, for better or worse, led Barca to one of the club's greatest eras in their history. But with the president's two-term limit over, Jaume Ferrer's convincing defeat to Laporta's primary opponent, Sandro Rosell, leaves the former-Barca president exiting the club through the back door.
How he is remembered still hinges on a variety of factors, but principally Rosell's success in his wake.
No less political, Rosell is just as, if not more committed to Barcelona's political representation as the flagship club of Catalunya and has even supported policies that restrict club membership for those outside of the region, arguing that such membership would put the club's Catalan identity in jeopardy.
In terms of sporting policy, Rosell's success will also determine how Laporta will be remembered. While Rosell is a strong supporter of current Barca coach Pep Guardiola, it is widely anticipated that he will do away with wildly successful technical secretary Txiki Begiristain, a man who has sculpted the club's roster to become one of the most exceptional in the world.
In many ways, Laporta's legacy at Barcelona comes down to results. A change in leadership has the potential to bring much instability to a club and, despite the controversy, Laporta leaves Barca in a far better position in terms of finances and success than he did when he initially took power in 2003.
It remains to be seen whether Rosell can ride the coattails of such success, doing his part to sign the transfer target so coveted by Barca fans in Cesc Fabregas (Rosell has publicly declared that Arsenal's asking fee is far too great), or whether we must only wait until January for the
cules
to be calling for a change in the club statutes so that Laporta can assume a third term and step in for another run.