In
Maurizio Sarri
's first meeting with
Gonzalo Higuain
last July, the new
Napoli
boss looked his star striker straight in the eye and stated: "You're too lazy. If you don't change your attitude, you won't become the best centre forward in the world."
It was an incredibly bold opening gambit. Higuain has long been known as an awkward character. Even his brother and agent, Nicolas, admit the forward is "introverted".
Higuain can also be moody and, at his worst, volatile. Nowhere was this better demonstrated than in Ibiza last summer when Higuain become embroiled in an unsavoury exchange with a fan seeking a photo. The Argentine refused, prompting the man to snipe: "You can't even score penalties!"
It was a snide reference to the fact that Higuain had missed a crucial spot-kick in what was effectively a Champions League qualification decider with Lazio at the end of the 2014-15 campaign and another in Argentina's Copa America final shootout loss to Chile. Higuain flew into a rage. "Delete the video or I'll rip your head off!" It was an ugly incident which confirmed two things: Higuain was hurting, and is a man who does not react well to criticism.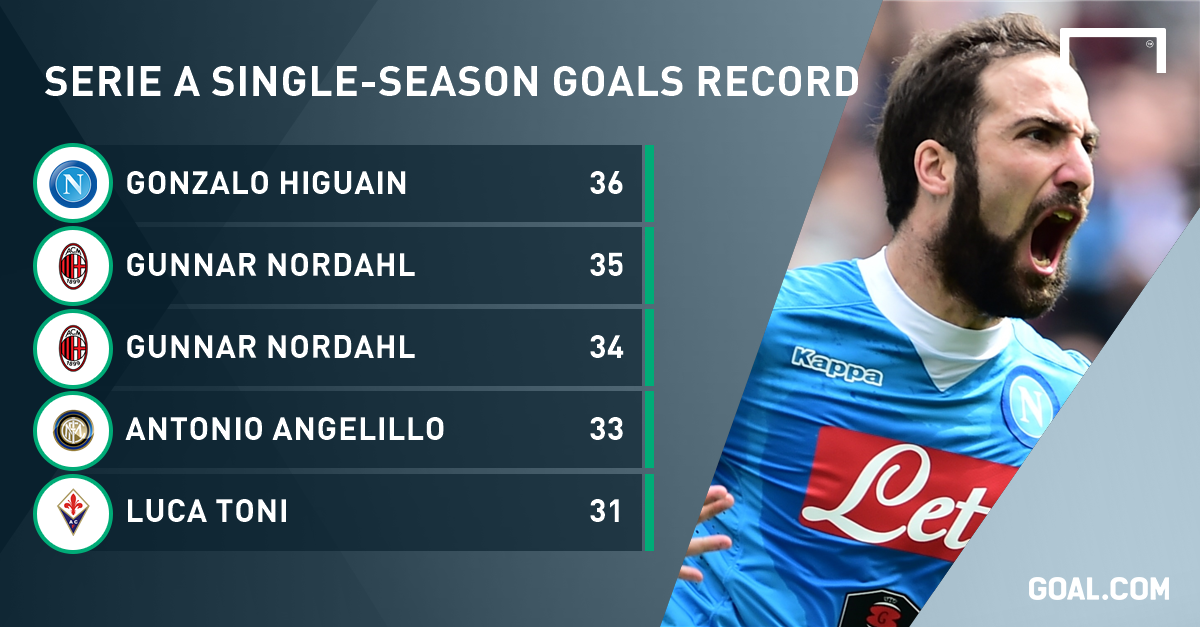 Sarri had, therefore, taken a huge gamble in telling Higuain that he was only paying at "70 per cent" of his potential in that pivotal opening encounter at Napoli's pre-season training camp at Dimaro. This time, though, Higuain reacted to the blunt appraisal of his performances in the best possible fashion. He got himself in peak physical condition and even changed his diet, losing four kilograms before the start of the 2015-16 campaign.
The results have been sensational. Higuain has never been a slouch - he scored 35 goals in his first two years at the San Paolo. This season, he has topped that tally in a single campaign and broken a record that many believed would never be touched.
In 1950, the legendary Gunnar Nordahl netted 35 times in Serie A. That tally has never been equalled and even looked beyond Higuain, who went into the final game of the season against Frosinone on 33. He scored a hat-trick.
---


READ MORE

|
Spalletti denies Totti fight rumours
---
Higuain may have even surpassed Gino Rossetti's overall record of 36 goals (set in 1928-29, the season before Serie A became a round-robin league rather than a competition divided into regions) had he not been banned for three games for his furious reaction to being dismissed in a crucial 2-1 loss to Udinese at the start of April.
Higuain's petulance that day proved that he remains a combustible character but there is no denying that his mindset has changed. Rafael Benitez once described the No.9 as like "a hungry lion in a cage", yet the Spaniard never managed to get the absolute best out of Higuain because he did not understand him. Sarri most certainly does.
"Gonzalo can be a bit sensitive and it shows," the ex-Empoli boss explained. "But it's enough to to strike the right chord with him. A champion of his ability sometimes just needs to feel close to those around him."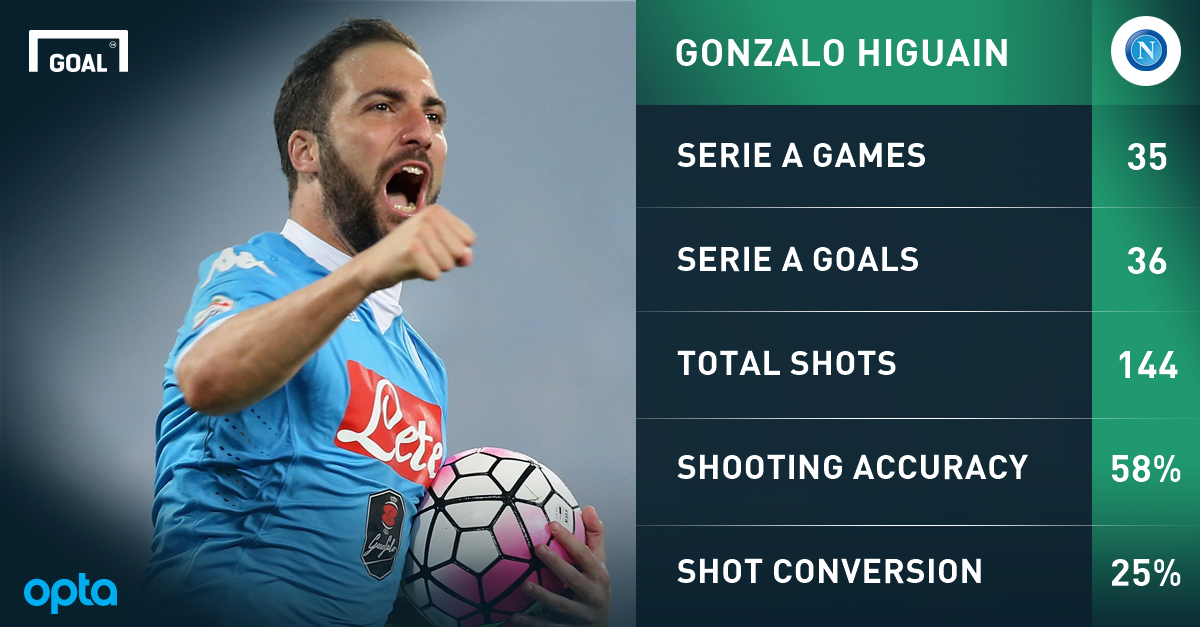 Those words certainly ring true when one considers Higuain's time at Real Madrid. The River Plate prodigy signed for the game's richest club just days after his 19th birthday. He scored freely at the Santiago Bernabeu, playing his part in three Spanish title triumphs, yet was never considered a Galactico.
As a result, he felt slightly out of place; an outsider, unloved and underappreciated. As his brother recently acknowledged, "Gonzalo grew up as a footballer and as a person as the world's biggest club, surrounded by champions. But now he is reaching maturity."
It's hardly surprising. In Naples, Higuain is viewed as something akin to The Second Coming, a worthy successor to his compatriot Diego Maradona, who transformed the
Partenopei
from Serie A also-rans into two-time champions. Higuain has thus far failed to fire Napoli to a third title but he could yet emulate Maradona as the best player in the world.
"If he doesn't win the Ballon d'Or in future then it'll be all his fault," Sarri has claimed. "He'd be a right ****head." And Sarri knows that Higuain is anything but that.
"Up until now, he has projected an image which isn't in line with his character," he argued. "He's not only the best striker in the world, he's also man with genuine feelings."
Essentially, Higuain is a player that just wanted to feel loved. By his club, his fans and, most importantly of all, his coach. "I am happy I decided to stay," he admitted earlier this season. "Sarri has given me peace of mind." And with it, a place in the history books.