COMMENT
By Joe Wright
Just two-and-a-half years after Bayern Munich beat the rest of the continent to sign Xherdan Shaqiri, the Swiss star has been granted freedom from his Sabena Strasse shackles. The deal is a transfer coup for Roberto Mancini and Inter; for Pep Guardiola, it's a massive mistake.
After tearing Manchester United apart in the Champions League with Basel in 2011-12, Shaqiri was one of the hottest young properties on the continent. "I have been watching him for a while now and am convinced that he can become an important player for FC Bayern," said Jupp Heynckes when a four-year deal with Bayern was agreed. And after making 39 appearances in his debut season - in which the club won an historic treble - it seemed the Allianz Arena was the perfect proving ground for his talents.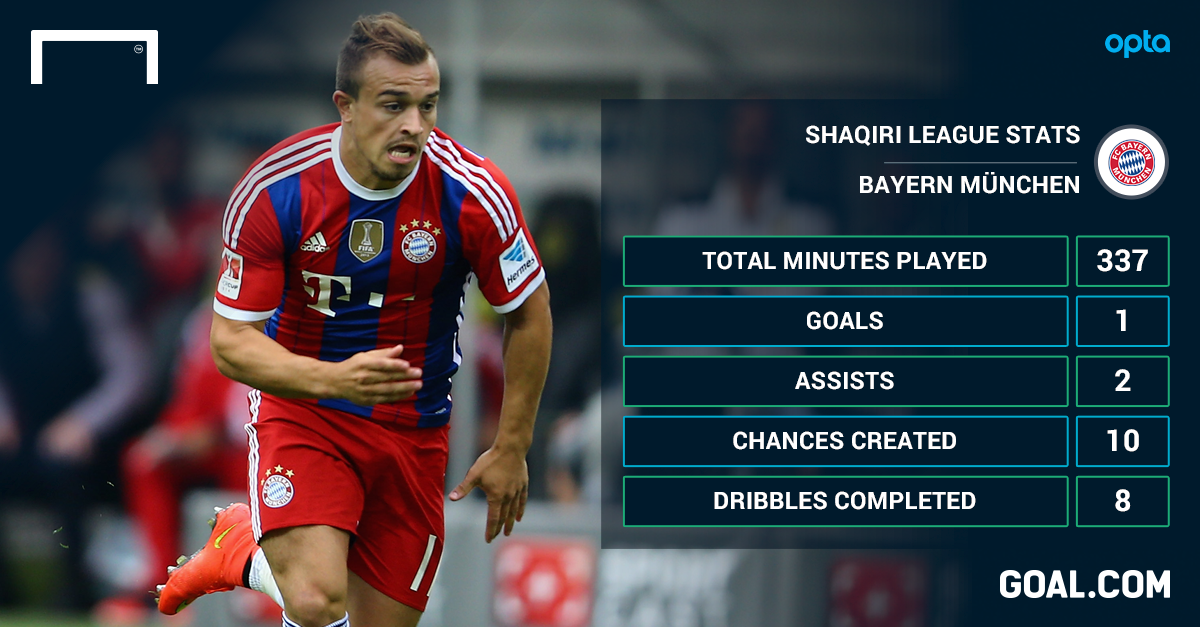 *2014-15 Bundesliga stats


But it was not to be. Guardiola's tactical shift towards a 3-4-3, the continued brilliance of Arjen Robben and Franck Ribery, and the 2013 signings of Mario Gotze and Thiago left Shaqiri looking on from the sidelines with increasing regularity. Publicly, he maintained Guardiola was the "perfect" Bayern coach and that he was enjoying life in Germany, but the longer he was left out in the cold, the more likely he was to look for an escape. His claim that he felt "more confident" under Heynckes did little to impress his new coach.
Shaqiri's memorable hat-trick for Switzerland against Honduras at the World Cup attracted covetous glances from across Europe, but Bayern remained defiant over his future. "I've never had a conversation because we are convinced he will have a good career with us," chairman Karl-Heinz Rummenigge said of interest from Italy and England, even though Shaqiri would later admit to
Blick
: "I wanted to leave Bayern in the summer. I had the feeling that it was better for me to try my luck elsewhere after the World Cup."
Shaqiri started the Super Cup loss to Borussia Dortmund and the DFB-Pokal win over Preussen Munster, but by the winter break he had made just three starts in the Bundesliga, despite Thomas Muller and Gotze returning fatigued from the World Cup and Robben, Ribery and Thiago all battling injury. His Bayern career had screeched to a halt; Guardiola's lingering hope that he could adapt to his tactics, and repeat his Switzerland heroics at club level, had vanished. "The time has come where it is best for Xherdan to leave the club. He needs a new challenge," his former national boss Ottmar Hitzfeld opined this week.
Inter's four-year deal offered the most promising escape route. It could be the signing of the window, and
Guardiola's biggest mistake since his tactical capitulation against Real Madrid
in last season's Champions League.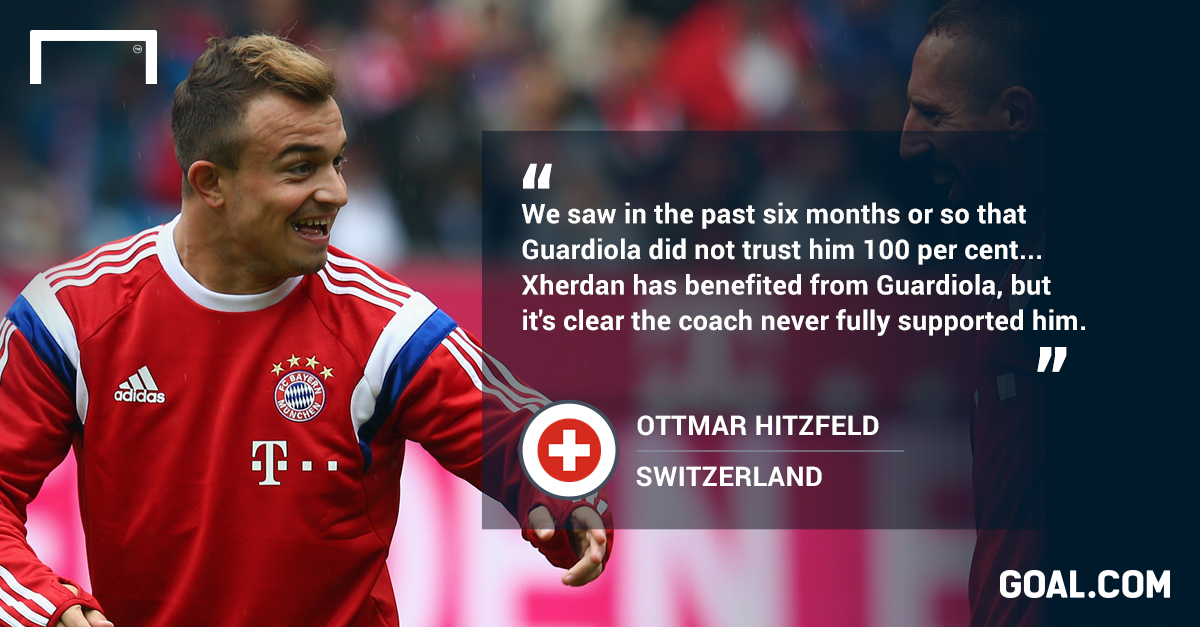 Shaqiri, most commonly a winger, also proved in Brazil how dangerous he can be when operating as a No.10 and the 'Alpine Messi' offers a dynamic threat in that position which Gotze and Muller do not. Roberto Mancini talked up this versatility before the transfer was confirmed: "We're looking for a player who can play both as a striker and winger, and Shaqiri plays both roles."
Guardiola, however, has never seemed convinced, consigning the player to a role as understudy to Robben and Ribery this term. "We saw in the past six months or so that Guardiola did not trust him for the full 100 per cent, even when Ribery and Robben were injured," added Hitzfeld. "Xherdan has also benefited from Guardiola's arrival, but it was clear that the coach never really supported him."
It's that kind of support that saw him rocket through the Basel system. From 2009 to 2012, under Thorsten Fink and then Heiko Vogel, Shaqiri was the lynchpin in attack despite his tender years. Positioned in front of Granit Xhaka and behind Alexander Frei, he was a relentless driving force behind two domestic doubles in three seasons. He bullied and beguiled the Super League's best sides. In the Champions League he faced Sir Alex Ferguson's United and Bayern themselves with the same bravado. Whether he is deployed out wide or at the tip of a front three, Mancini will have faith that he will recapture this confidence.
Meanwhile, Bayern's heavyweight attack suddenly looks a little light. Ribery has been declining as a player ever since the Ballon d'Or snub and back problems which plagued his start to 2014. Robben, still their tormentor-in-chief, is also the wrong side of 30 and played a full World Cup last summer. A long-term injury to either will leave Bayern short of options as they fight for silverware on three fronts, especially since any further pursuit of Dortmund's Marco Reus will not bear fruit until the summer at least.
Shaqiri should have been the future of the club - the man to lead their next generation of stars when Ribery and Robben move on. Bayern and Guardiola could come to rue their decision to place so little faith on his mighty shoulders.
Follow Joe Wright on