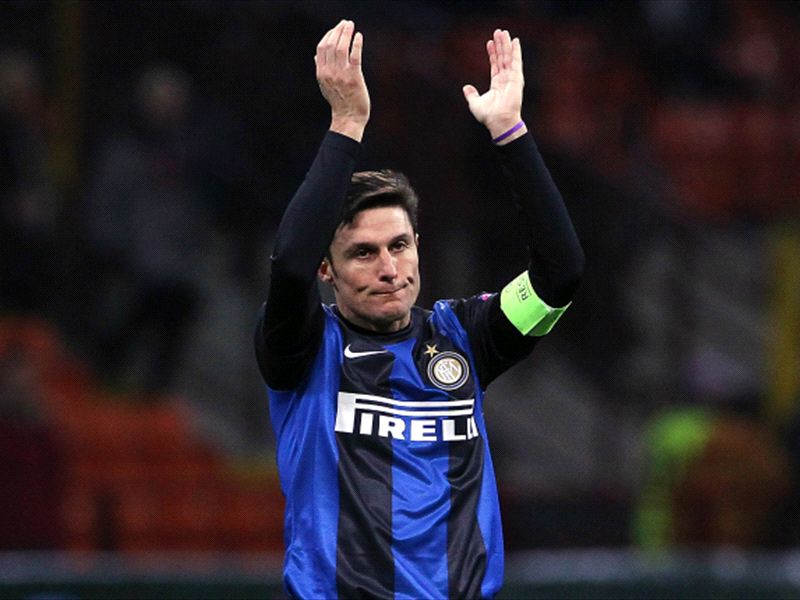 Inter
captain
Javier Zanetti
has vowed to do "everything" to return to first-team action after a successful operation on his Achilles injury.
The 39-year-old ruptured a tendon during the 1-0 defeat to Palermo last Sunday, leaving many to speculate that the veteran would be forced to call time on his glittering playing career.
However, the Argentine has reiterated his desire to return to the pitch and paid tribute to the support shown from supporters, some of whom held up banners outside
the

Policlinico

San Matteo
as he prepared for surgery.
"I'm fine. The operation has been completed and now my recovery is even closer than before," he told reporters before being discharged.
"I have to thank Dr. Benazzo, Dr. Combi and all the medical staff of the Policlinico in Pavia who have treated me very well and have made me comfortable here.
"Now the rehabilitation has already begun. I've received many messages of support towards me, not only from the world of football, but also from all over the world of sport.
"It's made me incredibly happy. Even when I went into the operating room I could hear the fans outside cheering me on, and they even had a banner for me.
"I was very struck by the warmth of the fans, especially since many of them weren't
Nerazzurri
supporters. During my career I've always tried to be respectful to everyone, and now this show of support bears witness to that.
"I want to come back because I feel I have the strength. I believe there's always something positive you can take from something negative.


"I've
always tried to restart immediately, and that will be the case now too. Messages from the Vatican? Yes, I've received some.
"The most important thing is to stay healthy and heal well, then we'll see how long it will take me to get back on the pitch. Work at a desk? My thoughts are on being with my team-mates, and now they'll have one more fan.
"I'll do everything to get back in action. This is the first serious injury of my career. It's come right now. But I have the strength to look forward and the desire to return to the pitch."
Zanetti refused to single out any single person for their show of support, although he did thank Roma captain Francesco Totti for the encouraging message he sent via his official website as he looks forward to a positive end to an unlucky campaign at Guiseppe Meazza.
"It wouldn't be right to single out one in particular. The show of support in these days by so many people has been very touching and emotional," he continued. "Francesco was very kind. We talked to each other. We've gone through so many battles together.
"Now I'll be right there beside my team, especially since so few games remain now and there are so many challenges ahead. I'm sorry I can't be on the pitch to lend a hand, but I'll be there for anything they need.
"It's been a difficult end of the season for all of Inter. I honestly can't remember such an unlucky season, but we'll take note of it and move forward with confidence as we try to change this trend."