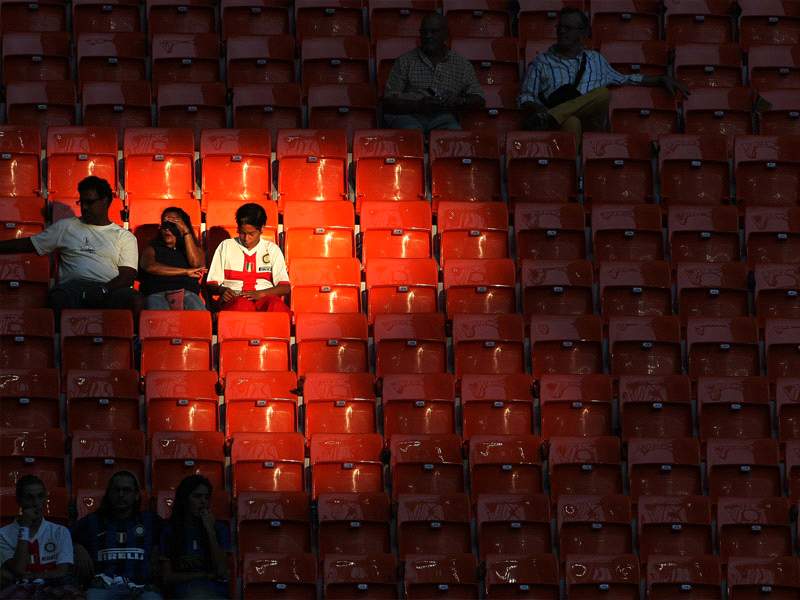 COMMENT
By Kris Voakes | Italian Football Writer
Some of the greatest names in football have played in it, the world's best coaches have taken part in it, and it remains to this day one of the most prominent fixtures on every football fan's list of "things to do before you die", but Sunday night's 211th Milan derby will be one like no other.
The game takes its Derby della Madonnina moniker from the statue of the Lady Madonna at the top of the spectacular Duomo in the heart of the city, but right now the golden figure is partly obscured by scaffolding as she receives much-needed restoration work. It couldn't be a more fitting metaphor for a fixture that has slipped completely under the radar due to the varying ills currently blighting its two participants.
While the umpteenth Clasico in two years takes centre stage, the derby has barely turned heads even in Lombardy. Whereas right up until recently it was nigh-on impossible to get your hands on a ticket without some sort of membership privileges or a sturdy disposition for standing outside a bank for two hours on the day of general sale release, this time around there are plenty going spare. And by plenty, we mean 20,000.
TALE OF THE TAPE
Recent Derby della Madonnina results

2002-03
2003-04
2004-05
2005-06
2006-07
2007-08
2008-09
2009-10
2010-11
2011-12
Milan 1-0 Inter
Milan 3-2 Inter
Milan 0-0 Inter
Milan 1-0 Inter
Milan 3-4 Inter
Milan 2-1 Inter
Milan 1-0 Inter
Milan 0-4 Inter
Milan 3-0 Inter
Milan 0-1 Inter
Inter 0-1 Milan
Inter 1-3 Milan
Inter 0-1 Milan
Inter 3-2 Milan
Inter 2-1 Milan
Inter 2-1 Milan
Inter 2-1 Milan
Inter 2-0 Milan
Inter 0-1 Milan
Inter 4-2 Milan
Very few people in the fashion capital have batted an eyelid at the mention of the derby until the last 48 hours. With various concerns over league form blighting both sides, there have been a million more pressing things to consider.
Inter are a work in progress, a club looking at ways to get the best out of a squad that has notable imperfections in every department. Results have taken an upturn after an original inability to win at San Siro, but there is the realisation that supporters, players and staff alike need to be in it for the long haul. Finances have dictated that there will no longer be expensive shortcuts on the road back towards the top, and little more than two years on from that magical Madrid night, the Nerazzurri are just about starting from scratch.
Over in the opposite curva, Milan are pretty much in tatters. Despite Wednesday's victory at Zenit St Petersburg, there is no masking what is a desperate situation at the moment. Question marks remain over the future of Massimiliano Allegri, with some believing he will face the chop if the Rossoneri lose on Sunday. At his disposal is a squad shorn of stars and senators so intrinsically linked with the derby that many have been left to reflect that this barely counts as a true Madonnina contest. For them, it just does not have the feeling of old.
The lack of a real challenge on leaders and champions Juventus from either Milan club means that there is less importance on this derby too. There are no title hopefuls on display this time, which also means there is no chance to play the spoilers. Just last season, Inter turned in a performance not in keeping with their general form as they clinched the Scudetto for Juve by beating their city rivals. Twelve months earlier, Alexandre Pato was inspired as Milan earned the bragging rights and provided themselves with a springboard to the title.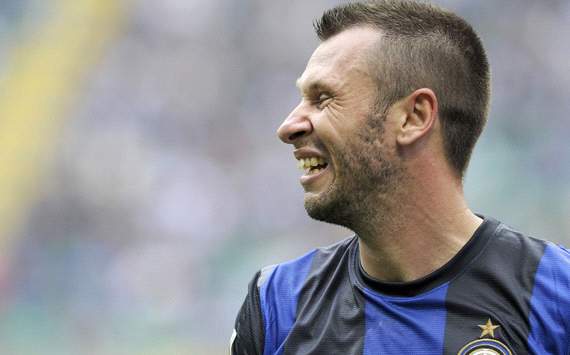 Cassano | His presence provides an ailing fixture its biggest headline
Right now, both sets of supporters seem resigned to the fact that victory will not be the start of something bigger, but rather a small crumb of comfort on a long and winding road. In a league which is suffering from lack of attention in terms of TV audiences, Uefa coefficients and on the terraces, the derby is not 'just another game' but neither is it what it used to be. As the Clasico seemingly gets only bigger despite the exhaustive nature of the calendar of late, the one-time prestige fixture in Milan is a mere afterthought, with the presence of Antonio Cassano in an Inter shirt about the deepest plotline.
Ten seasons ago, these same two clubs competed in a Champions League semi-final. Over 160,000 fans packed San Siro over the two legs, and it could have been 1.6 million had space allowed. On Sunday, there are unlikely to be that many even bothering to watch on TV in the city. In fact, if you're in a Milanese bar tonight, don't be surprised to see more heads tilted towards the screens showing the happenings at Camp Nou than those trained on events a couple of miles west.
There are no Gullits, Mattheuses, Shevchenkos or Adrianos to adorn the big occasion anymore, not even an Ibrahimovic or an Eto'o, while a 4-0 victory like Inter's of 2009 or a 6-0 win such as Milan's in 2001 will not have quite the impact of old. The bragging will be done on Monday and maybe Tuesday, but by Wednesday the focus will be back on the longer-term aim of restructuring.
In an encounter which was once the greatest of heavyweight bouts plus the most dramatic of Hollywood storylines rolled into one, this particular Milan derby is somewhere on the undercard. If 10 or 20 years ago, it was a real life Rocky Balboa v Apollo Creed, this evening's matchup is more David Haye v Dereck Chisora.