COMMENT
By Rami Ayari
Just as the world watches in horror at the unjustified lethal force being used against countless innocent civilians by the remnants of Muammar al-Gaddafi's regime in Libya, many across the Mediterranean sea are also scrambling to figure out the true extent of the oncoming ripple effect that the potential - and hopefully impending - freezing of funds belonging to the Gaddafi family will have on Italian businesses and, more specifically, some sections of the country's favourite sport.
While geographic proximity has dictated that Libya's historical ties with Italy go back hundreds of thousands of years, including a period of colonisation that lasted from 1911 to 1947, the football links between the two countries are much more recent. The most high profile deal occurred in 2002, when the Libyan Foreign Investment Company (Lafico) bought 6.4 million shares of Juventus, which equated to a 5.31 per cent stake in the Old Lady. The Libyan FA boss at the time told the BBC that "over the course of the next few years, we are seeking to hold 20% of the share". They never got close.
It's 2011 today, and, as exemplified by the current Lafico stake of 7.5% in the club, Juve fans should be relieved that that's all they own considering that the club's shares have fallen by 3.1% as the revolution intensifies and may continue to sink depending on how all of this unfolds.
This may seem like small fries when you consider that the unrest in the oil rich nation made world crude prices rise 8.5% in one day on Tuesday but one can be sure that this is no laughing matter to the Agnelli family, who own 60% of Juventus, and are currently trying to figure out what their next move will be. They may be thinking that they can buy back the Gaddafi controlled shares but one gets the feeling that this is not the highest priority for Libya's first family which is increasingly under siege in Tripoli. Luckily for the Agnellis, or now perhaps unluckily, Lafico chief and Libyan national Khaled Fareg Zentuti is currently a Juventus board member…
And it doesn't stop there. The Libyan Investment Authority (LIA) has acquired a 2.59% stake in Unicredit, an Italian bank which happens to be the one that is currently charged with selling AS Roma to a US Investment group. Libya's central bank is also a shareholder, with 4.9888% of its own. That brings the north African nation's investment to a total of approximately 7.57% (not to be confused with the 7.5% they own of Juve). As a colleague at unprofessionalfoul.com astutely wondered: "Will Unicredit have issues concluding the deal on its end" should the money freeze up? While Roma's problems may not be as big as Juve's, this is most definitely a matter of concern for both clubs.
Meanwhile, why did the Gaddafis take such interest in football in the first place? Aside from the obvious fiscal and commercial benefits that attract owners to clubs the world over, the answer to that question brings us back to the aforementioned former Libyan Football Federation President who is none other than Al Saadi al-Gaddafi, the third eldest son of the man who is currently desperately clinging to power in Tripoli. Autocratic regimes have a way of touching every sector of life and sports are no exception, especially the most popular one on the planet.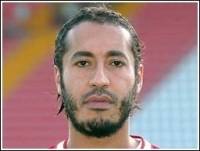 "Simply put, Al Saadi loves football and he's used his father's power and vast sums of oil money to boost his CV over the years"
Simply put, Al Saadi loves football and he's used his father's power and vast sums of oil money to boost his CV over the years. How else can one explain that he, listed as a "striker", managed to get signed by Perugia in 2003 when the only notable recorded playing experience prior to that were reportedly 74 appearances for Al Ahly Tripoli during which he scored a very meagre three goals?
Furthermore, it's worth noting that his signature with Perugia was preceded by him being a board member of Juventus and followed by him promptly failing a drug test after his one and only match played for the Grifoni. Thereafter he had stints at Udinese, where he also played just one game, and Sampdoria, where he played none at all. Amazingly, during his playing career he also managed to be named captain of the Libyan national team! His leadership skills must have sealed the deal because his goal per game stats, fitness level, and drug use couldn't have been what caught the eye of the Greens' tactician.
Now, with the Gaddafi's regime on the brink, the 37-year-old Al Saadi surely has much bigger concerns than his faltering football career. His funds, along with the rest of his family's assets, are likely to be frozen in the coming days if the Libyan revolution reaches fruition and the fallout is set to affect Juventus, maybe Roma, and perhaps even more sides in Italy – not to mention many other Italian companies.
The true scale of the economic impact is still unknown but sides around the world will be well served to take note of the situation and heed whatever lessons come out of this for future consideration. Unless of course there are other invaluable "strikers" with an entire country's treasury at their disposal out there ready for the taking!