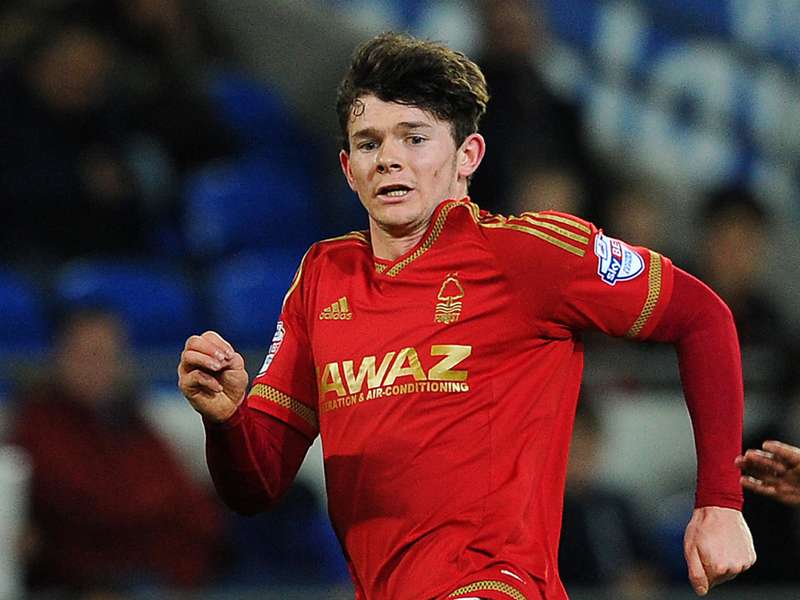 ---

PROFILE
---
Oliver Burke's record-breaking transfer to RB Leipzig caps a remarkable, whirlwind rise from Championship anonymity.
A year ago, only Nottingham Forest fans knew Burke's name. Even four weeks ago he was a relative unknown outside of the Championship, and in Scotland he was more of a curiosity than a familiar face.
And yet the 19-year-old, without having made his full international debut, is now the most expensive Scottish footballer in history.
RB Leipzig splashed £13 million to sign Burke on a five-year deal on Sunday. The roll call of clubs who were sniffing around him quickly escalated from Sunderland and Crystal Palace to Manchester United and Bayern Munich as his goalscoring performances catapulted him to star status.
It's easy to understand the hype around Burke when you watch him play. His goal against Leeds United this weekend – his fourth strike in five 2016-17 games – displayed all the attributes you'd desire from an attacker at the top level.
He left three Leeds players for dust as he powered into the penalty area with blistering pace and precision ball control, and his finish from an acute angle was one to be marvelled at (skip to 1:45 in the below video to see it for yourself).
Comparisons with the world's best British winger, Gareth Bale, were inevitable as people sought to describe Burke's talent. And the teenager tagged at the start of the year as the Scottish Bale only came into the national team picture by chance.
"I think I went along to see Tony Watt for Charlton and Oliver played and I thought: 'Who is this fella? He's different,'" Scotland coach Gordon Strachan said. "He is very quick, very strong. He likes playing wide. He has power that many young Scots boys don't have."
Now expectations are high that in-form Burke will get his first Scotland start in their World Cup 2018 qualification opener against Malta on Sunday.
After his stunning start to the season at the City Ground, Forest boss Philippe Montanier warned "it is important that he stays at Forest and I'm confident that will happen". But, despite giving Montanier assurances to the contrary, Forest owner Fawaz Al Hasawi accepted RB Leipzig's offer - much to the ire of furious Forest fans.
Ex-Forest boss Dougie Freedman spoke to Burke ahead of his decision to leave the Championship behind, and he believes the Kirkcaldy-born teenager has boundless potential.
"If Oliver plays regularly in the Bundesliga, the sky is the limit for him," he told the Scottish Sun. "I saw the flip side with Victor Moses… If you don't play then you stand still."
But not everyone has been supportive of Burke's move to Leipzig. Jermaine Jenas left Forest as an 18-year-old for Newcastle in a £5m deal in 2002, and he fears the winger is being manipulated to his detriment.
"I wasn't just surprised [by Burke's transfer], I was also extremely concerned," Jenas told BT Sport. "It's a transfer that stinks of an agent earning a lot of money out of it. Whoever is looking after Burke does not have his best interests at heart. Unless there is some kind of link that we don't know about between Leipzig and Bayern, for him to go there makes no sense whatsoever."
Jenas argues that RB Leipzig aren't a top team and he'd have been better off staying in England. But his argument is rooted in the typical British footballer's fear of moving abroad and a refusal to see the bigger picture from Burke's perspective. Because let's face it: Forest, Burke's agent and the player were all destined to make a boatload of money whomever he was sold to.
The reality is that RB Leipzig are a team very much on the rise. The club were only founded in 2009 and have risen to the Bundesliga from the fifth division in seven years, funded by Red Bull founder Dietrich Mateschitz's millions.
Burke won't be title challenging this campaign, but he will be playing week-in, week-out in one of the top leagues in the world. It's to his credit that he's ignored interest from Manchester United – how hard must that have been for a teenager with the world at his feet?
"He is an outstanding talent with an awful lot of potential," RB Leipzig director Ralf Rangnick told the club's website. "He fits with the high pace and way of playing very well and will make his next sporting development step with us."
Like Bale, Burke hasn't shied away from the prospect of success overseas, something almost all British youngsters evade. It will be fascinating to see whether he can shake off the Bale tag to make his own name in Germany.