COMMENT
By Paul Clennam
After the boom comes the bust. With Dortmund a little over 24 hours from their biggest game in 15 years, the unthinkable happened. The club announced their best player, Mario Gotze, is to join their biggest rivals, Bayern Munich.
In some ways, there was a feeling of inevitabilty to such catastrophic news for Jurgen Klopp's side. As Werder Bremen and Stuttgart will testify, Bayern do not take kindly to anyone challenging their supremacy within Germany and no one has done that more than BVB.
Not only have they bested the Bavarians on the pitch, winning five straight games against them and bagging back-to-back Bundesliga titles and a DFB-Pokal for good measure, but they also humiliated them in the transfer market, pipping them to the signature of Marco Reus.
Dortmund doom mongers can at least console themselves with the fact the club are being proactive in terms of seeking a replacement for the Bayern-bound Gotze.
Goal.com
understands Manchester City would be willing to accept an offer in the region of £22 million for Edin Dzeko, a striker with significant Bundesliga pedigree, who would be willing to take a pay cut in order to join Klopp's side.
Aside from Dzeko,
Malaga
starlet Isco, who impressed so much during his debut Champions League campaign, has also been heavily linked with the Champions League semi finalists. Both are accomplished players, but both are poor imitations of the real thing.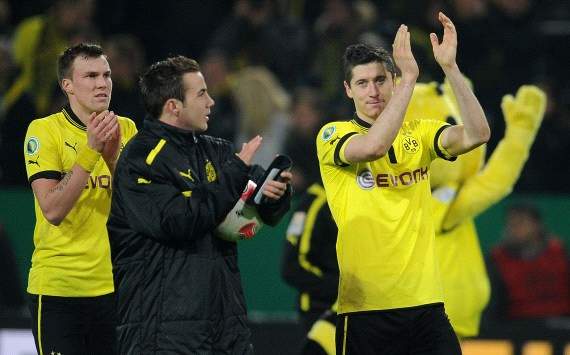 So long | Gotze & Lewandowski are set to leave BVB threadbare
Beyond that, with
Bayern leading the way from Mancheser United in the race to sign Lewandowsk
i, the already near-unbeatable team that Pep Guardiola is set to inherit will boast two more of the Bundesliga's best players.
Of course, Dortmund are not Arsenal - a team happy to trade their best players for money and settle for mediocrity. In Klopp, Michael Zorc and Hans-Joachim Watzke, the club are in the hands of genuinely ambitious men who want to do their best for the team.
Karl-Heinz Riedle, one of the heroes of the 1997 Dortmund team that won the Champions League, voiced his opinion that the current crop of players are better than the team in which he starred, and any player, regardless of their quality, will struggle to fit in a team built around Gotze.
The future now looks as dark for Dortmund as it did bright just two weeks ago. The hard work they put in for the purpose of challenging Bayern is now left in tatters.
And there are further threats on the horizon. Barcelona, eager to replace the ageing Carles Puyol, have been sniffing around Mats Hummels and Ilkay Gundogan (whose contract expires in two years) - the latter openly admitting that he would consider a move to either Spain or England.
Just when it seemed as though BVB were finally going to announce themselves on the big stage, they have been dealt a critical blow.
All they can do now is focus on the semi-final against Real Madrid. This team have one last chance to defy the odds as they have done so often before. Then, they can plan for the future and work out how to get around the loss of Gotze.
It would be tragic if they went the same way as Bremen, Hamburg, Borussia Monchengladach and Stuttgart.