COMMENT
By Daniel Buse
For the fifth successive year, the clubs comprising the top six places in the Deloitte Football Money League remain the same. Even though there's no movement in the top positions, there's plenty of room for changes elsewhere in the top 20.
From a German point of view, Bayern Munich are among European football's biggest money-making clubs, but their traditional black-and-yellow rivals are on the rise, too. Borussia Dortmund have not only won two Bundesliga titles and a DFB-Pokal in the past two seasons, but are the joint-biggest climbers in the Money League as well, climbing from 16th to 11th.
While Bayern still have a revenue nearly twice as high as Dortmund's with their €368.4 million (£311.6m) compared to BVB's €189.1m (£159.97m), the reigning German champions are clearly heading in the right direction. That they are capable of making so much money again a decade after the club almost went bankrupt can be classed as a miracle.
Dortmund boss Hans-Joachim Watzke recently stated in an interview with
FAZ
that the club was "a millimeter away from going bust". The
Schwarzgelben
have since made giant steps forward, though, and have found the path to success once more.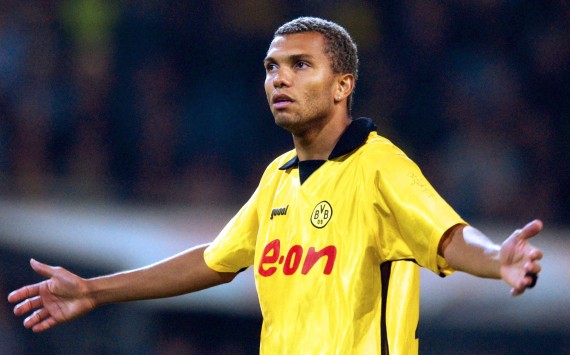 Amoroso | One of BVB's last big-money signings before their downfall
The threatening situation from 2003 and 2004 was mainly a result of miscalculation during the stadium renovation. They initially sold their ground in 2002, but when it became clear that they had to pay an annual rent of €17m (£14.38m), they re-purchased it in 2004 on better conditions.
OUT OF THE ASHES
BVB's recovery in recent years


Year
Revenue
Growth

2008
€108m
2009
€104m
-3.7%
2010
€105m
+1.0%
2011
€139m
+32.4%
2012
€189m
+36.0%
Additionally, the club's generous attitude when it came to paying hefty transfer fees and formidable wages played a big role in the club's demise. The signing of Marcio Amoroso was exemplary of Dortmund's policy in the noughties. He helped them to the Bundesliga title in 2002 having joined the club for €25m (£21.15m) the year before, but then picked up numerous injuries, and was eventually released some three years after his arrival without recouping any money.
The club's near-collapse slowly started after they failed to qualify for the 2003-04 Champions League. Dortmund had to settle for finishes in sixth and seventh position between 2004 and 2006. The sporting directors left BVB, and they made a fresh start with Watzke as the man in charge of proceedings at the Westfalenstadion. Wage costs were drastically reduced from €57m (£48.2m) in 2003 to a modest €25.8m (£21.8m) in 2006. A further drop in their performances was inevitable, resulting in ninth place in 2007, and 13th place the following year.
Dortmund's remarkable re-emergence began when Jurgen Klopp was named head coach in 2008. BVB won the Bundesliga again in 2010-11 with the youngest team - average of 24.2 - ever to win the domestic title. The following year, Dortmund not only successfully defended their league title, but they won the DFB Pokal, too, to make it an historic double.
Klopp formed a united team with young players such as Mats Hummels, Marcel Schmelzer and Mario Gotze, and the market value of the
Schwarzgelben
rose explosively. And the signing of Marco Reus last summer from Borussia Monchengladbach for a fee of €17m (£14.38m) is proof that Dortmund are financially healthy again, and can once more pay the kind of transfer fees from 10 years ago.