PROFILE
By John Brandi
The news of Michael Ballack's retirement from football will be a source of both sadness and nostalgia to many: the former Chelsea midfielder was certainly cut from different mould. One thing is for sure, though - the 36-year-old will not be pleased to leave the game after an illustrious, yet unfulfilled, career with Bayern Munich, Bayer Leverkusen and the Blues.
The story had to come to an end at some point, as '
Der Capitano
' himself admitted, and his decision was certainly the logical one. When his only real options were Qatar, Australia or the USA - the traditional homes of veterans - there is a sense that his career was effectively over.
Ballack will go down as one of the greats of German football, but the biggest titles always eluded the classy midfielder. He will leave unforgettable memories behind, despite a ignominious end to his career at the BayArena that saw him fall out with the club's hierarchy, and his exploits with the Germany national team will not be forgotten anytime soon.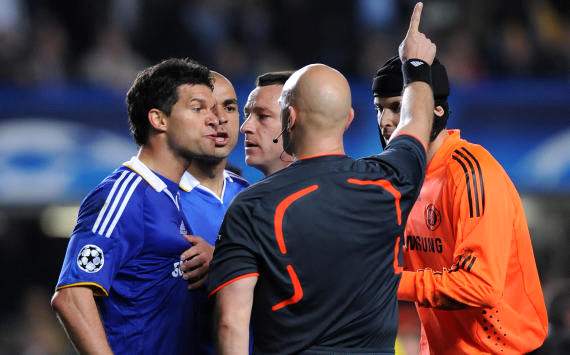 Incandescent |
Ballack never quite had luck on his side
His country's last great leader, he was sensational as Germany made a surprise run to the final of the 2002 World Cup, scoring three goals and making four assists, but suffered heartbreak when a yellow card in the last four ruled him out of the showpiece final, a 2-0 loss to Brazil.
His curse with finals was beginning to take shape at this point. Months before, he had been a runner-up with Leverkusen to Dortmund in the Bundesliga, Schalke in the DFB-Pokal, and finally Real Madrid in the Champions League. After the World Cup, he made the move to Bayern, and although he enjoyed success in the Bundesliga, he failed to advance past the quarter-finals of Europe's top competition.
The 2006 World Cup was another oh-so-near scenario. Germany were hosts of the tournament and, with Ballack as captain, Jurgen Klinsmann's side were progressing nicely until their traditional nemesis, Italy, inflicted a 2-0 semi-final defeat on
Die Mannschaft.
They beat Portugal to seal third place, but for Ballack, it was not enough. He had his heart set on winning the tournament.
And his lust for glory soon had him looking elsewhere. To achieve his goals, he made the move to England, and Chelsea, where he finally hoped to realise his dreams. He immediately stepped into a leading role on the pitch and was popular amongst players and fans in a more defensive role than he was accustomed to.
BALLACK'S NEAR MISSES

YEAR
COMPETITION
RESULT
2002
Bundesliga
Runner-up
2002
DFB-Pokal
Lost final
2002
CL
Lost final
2002
World Cup
Suspension
2006
World Cup
Lost semi-final
2008
CL
Lost final
2008
Euro
Injured for final
2009
CL
Lost semi-final
But his fortunes did not pick up in west London. Under the tutelage of Avram Grant, the Blues reached the Champions League final in 2008, but an untimely slip in the penalty shoot-out from John Terry handed the title to Manchester United.
He had an opportunity to put that disappointment behind him at Euro 2008, which turned out to be his last major international tournament, but once again his hopes were dashed at the final hurdle, with Fernando Torres' goal vanquishing Joachim Low's side.
A year later, a disastrous performance from referee Tom Henning Ovrebo in the Champions League semi-final second leg at Stamford Bridge saw Chelsea denied two clear penalties against Barcelona, who snuck into the final via a late Andres Iniesta strike. The apoplectic German looked as though he was on the verge of assaulting the Norwegian official.
It was slowly becoming obvious that he would never get his hands on the titles that he so craved, and perhaps deserved.
The 2010 World Cup could have provided one last chance for success. Now a veteran amongst youngsters, he had successfully led his country through qualification, but a cruel foul from Portsmouth's Kevin-Prince Boateng ruled him out of the tournament. Mesut Ozil was fantastic in his place, Philipp Lahm ousted him from the captaincy, and his international career was over.
Marginalised and scapegoated by Leverkusen, to whom he had returned to in 2010, Ballack struggled for fitness and form during his second spell at the BayArena.
In a cruel way, it is perhaps almost fitting that his career ended without one final flourish.