---

COMMENT By Duncan Castles

Follow on Twitter
---
What happens if you can't sign the tall, athletic, 22-year-old
France
midfielder that almost every major Champions League club has looked into signing from
Juventus
this summer? You turn your attention to the tall, athletic, 22-year-old France midfielder who appears certain to move away from
AS Monaco
this summer.
Paul Pogba and Geoffrey Kondogbia are the same height, play in the same area of the pitch, for the same national team, and almost share a birthdate (15-03-1993 and 15-02-1993).
The first is the prize of this transfer market, his agent amping up his next salary by bouncing negotiations around "the ones that can afford him - Real Madrid, Barcelona, PSG, Bayern Munich, Manchester United, Manchester City and Chelsea".
The latter has emerged as the back-up buy. Kondogbia doesn't have the same profile – when Mino Raiola walked Pogba out of Manchester United in 2012, Kondogbia was being shifted from RC Lens to Sevilla in a €3.5 million (£2.4m) deal financed by the third-party investment fund Doyen.
A year later, with Pogba established as a central figure for Italian champions Juventus, Kondogbia was asked after by Arsenal yet ended up becoming a homegrown recruit for Dmitry Rybolovlev's heavy spend at AS Monaco.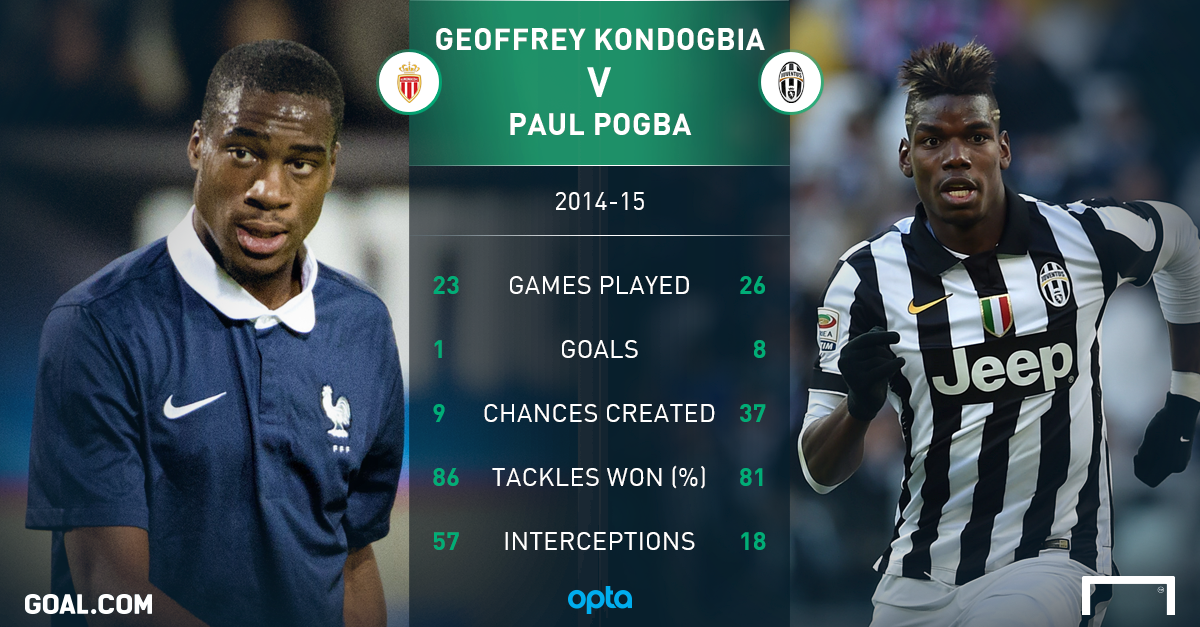 If Monaco have failed to keep the French title out of the hands of Qatar-backed Paris Saint-Germain and Rybolovlev put the brakes on his aggressive investment after just a single, politically turbulent, season back in Ligue 1, it is not the quality of their recruitment that has been at fault.
With their new players sourced by Luis Campos, formerly Jose Mourinho's preferred scout at Real Madrid, Monaco returned to the Champions League within a year. Then, with a considerably less expensive squad than the one that qualified for Europe's premier club competition, immediately reached its quarter-finals.
With Kondogbia shuttling between defence and attack, Monaco conceded just a single goal in their six group games. A 3-1 win at Arsenal in which the midfielder opened the scoring paved the way for a quarter-final meeting with eventual runners-up Juventus that was lost 1-0 on aggregate. More affluent clubs took note.
Kondogbia is unlikely to spend a third campaign in the principality. Tottenham have already offered a transfer fee of €28m (£19.9m) in the hope that such an early and substantial offer will allow them to secure the midfielder ahead of more prestigious suitors.
While Kondogbia is not against a move to White Hart Lane, he is also canny enough to realise that a wait should elicit other proposals. Barcelona, AC Milan and AS Roma have all expressed an interest. Those close to the player expect at least one of the elite clubs currently trying to land Pogba to move for Kondogbia once the younger of the French midfielders has selected a new employer.
Madrid have the financial advantage here due to a clause in Kondogbia's Monaco contract allowing him to move to the Santiago Bernabeu for €20m (£14.2m).
As for the emotional advantage, that lies in an unlikely place. Kondogbia, it is said, is "a huge Liverpool fan"; fanatical enough that an offer from Anfield might even sway his decision. Whether this Liverpool administration has the sense to find out is another matter entirely.