ANALYSIS
By Charlie Scott
Zlatan Ibrahimovic
completed his much-anticipated move to
Paris Saint-Germain
from
AC Milan
this afternoon, with the reported transfer fee of €23 million (£18m) reaffirming his position as the most expensive player of all time.
The total money spent on the Swede over the course of his career now totals €171.1m (£134.3m), further cementing himself as the footballer to have attracted the biggest fees over the course of his career. He beats Nicolas Anelka - another player previously signed for big money by PSG - into second place, with the Frenchman costing a total of €134m (£105.2m), and Hernan Crespo, who attracted €121m (£95m) worth of spending, into third.
PLAYER PROFILE: ZLATAN IBRAHIMOVIC PSG's new star signing

Ibrahimovic's €171.1m includes the €16m (£12.5m) Juventus spent on him at Ajax, the €24.8m (£19.5m) Inter paid Juve, the whopping €69.5m (£54.8m) total Barcelona splashed out, as well as the €24m (£18.8m) AC Milan used up.
As Paris Saint-Germain continue to bleed Serie A dry of its biggest names, Zlatan has joined his former AC Milan team-mate Thiago Silva, along with the likes of Ezequiel Lavezzi and ex-Palermo star Javier Pastore by moving to France.
The imposing striker's move comes at a huge cost to the Qatari-owned club, with his transfer fee complimenting an astronomical wage packet. Reports suggest that the player will be paid €13m (£10.2m) per year by the Parisian outfit.
The technically-gifted Swede inspires equal amounts of love and hate in the world of football, as his seemingly nonchalant attitude is often perceived as laziness, while his poor record against English sides (apart from Arsenal), has also seen him attract criticism.
TOP 10 MOST EXPENSIVE
PLAYERS OF ALL TIME

PLAYER


1. Zlatan Ibrahimovic
2. Nicolas Anelka
3. Hernan Crespo
4.

Juan Veron


5. Cristiano Ronaldo
6. Ronaldo
7. Fernando Torres
8. Christian Vieri
9. Robinho
10. Zinedine Zidane


FEE


€171.1m
€134m
€121m
€117m
€111.5m
€100.9m
€96.5m
€87.5m
€85m
€84m

Whatever your opinion of the striker, you cannot argue with his success. If you ignore that the Calciopoli scandal stripped Juventus of their two Serie A wins in the 2004-05 and 2005-06 seasons, before last season Zlatan had won eight consecutive league titles over the course of his spells at Ajax, Juventus, Inter, Barcelona and AC Milan.
Below, we consider how effective some of the other most expensive players of all time have been.
HIT
Cristiano Ronaldo
Cristiano Ronaldo ranks at number five, but has only moved on two occasions, from Sporting Lisbon to Manchester United, then from United to Real Madrid in 2009. The Portuguese attacker was fantastic at Old Trafford, but has risen to another level since his move to Madrid, scoring 146 goals in 144 appearances in his first three seasons at the club. While some raised eyebrows at the €94m (then £80m) paid to take the superstar to Madrid, his performances since have more than justified that pricetag.
MISS
Nicolas Anelka
Football's number one mercenary is number two on the list of most expensive players ever, having totalled transfer fees of just over €134m (£105.2m) during a career that has included stints at nine clubs, the latest of which is Shanghai Shenhua in China. Anelka looked set to become one of the best strikers i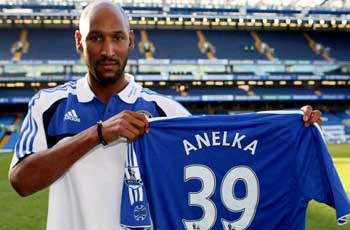 n the world when he lit up the Premier League as a teenager at Arsenal, and even though he has scored a lot of goals for a medley of clubs since, he never quite reached the heights people expected of him.
MISSJuan Sebastian Veron
The Argentine midfielder was influential during his time in Italy at first Sampdoria, then Parma and Lazio (as well as Inter in a later loan spell). In 2000, he was the driving force behind the brilliant Lazio team that won the Scudetto, the Coppa Italia, and the Italian Super Cup.
That form earned him a move to Manchester United in 2001, with Sir Alex Ferguson purchasing the player for €42.6m (then £28.1m) in what was the most expensive transfer in English football at that time. After two fairly indifferent seasons at Old Trafford, Veron moved to Chelsea for €22.5m (then £15m), but managed just 14 appearances during the 2003-04 campaign, thereby marking the end of a disastrous spell in the Premier League.
Success at his spiritual home back in Argentina, Estudiantes, has revived his career, but sadly many will remember the talented central midfielder for his failure at Manchester United and Chelsea.