As the league season in France approaches what promises to be a thrilling crescendo, attention is already increasingly turning towards the summer transfer window and the potential moves that could be made by the country's biggest sides.
Of course, it is not only notoriety and league position that determine who the likes of Lyon and Marseille can move for, but also financial clout.
For this reason, a report released by the DNGC – French professional football's financial watchdog – this week makes for particularly interesting reading and begins to tell a narrative of what the coming transfer window could hold.
Remarkably, the summer transfer window in France hasn't even been fixed yet. There are some presidents who are happy to wait for the traditional June start, but other clubs, anxious about their finances, are tellingly eager for the market to open as soon as the league concludes. Due to Fifa legislation, such a move would mean the window in France would slam shut with around a week of August remaining, potentially allowing foreign clubs to swoop into Ligue 1 and pinch players who could then not be replaced until January.
Olympique Lyonnais, one of the powerhouses of the game in France, are reportedly one of the clubs pushing for an early opening of the window, and the DNGC's report shows why.
Taking figures from the 2009-10 season, it is shown that French top-flight clubs amassed a loss of €130 million (£114.5m), nearly four-times the €34m (£29.9m) figure of the previous campaign.
With Uefa chief Michel Platini, ironically a Frenchman, pushing for financial fair play in the European game, such figures are alarming.
"The damage is profound," Frederic Thieirez, president of the LFP (French Football League), explained in his statement, though he was also keen to note that the English Premier League's performance in particular was "abysmal" – losing over €1 billion (£881m) – while even the much vaunted Bundesliga, often held up as a paragon of excellence when it comes to marketing, stumbled to a combined loss of €100m (£88m), having made a surplus of €30m (£26.4m) in the preceding 12 months.
The Problems
LYON'S WORRIES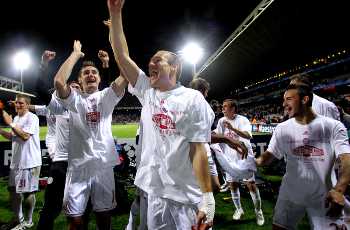 Lyon proved to be the big losers in Ligue 1 last season, building up a deficit of over €30 million, despite reaching the semi-finals of the Champions League.
France's relatively poor performance has been explained by the clubs' over-reliance on the transfer market. Just as the world economy toiled during the year, football clubs from the traditional Ligue 1 marketplaces of England and Spain were less inclined to buy expensive players. This is borne out by figures that show the total transfer income of Le Championnat fell €30m (£26.4m) below its projected value – hitting a four-year low.
Despite enjoying a season in Europe in which Lyon and Bordeaux were ranked fourth and sixth best performers on a continent-wide basis, France's clubs had been stung badly by the global recession, which had impacted on the volatile transfer market.
But there were other factors hindering top flight clubs too, most notably wage bills that were not tailored sufficiently. Nancy were one of the big losers due to their large squad, spending almost a figure equivalent to their entire income on wages, and though they were the worst offenders, they were by no means the sole culprits.
Ligue 1's balance sheets
2009-10
Profit (Loss)
(€m)
Lorient
2.8
Bordeaux
2.2
Montpellier
0.4
Boulogne
0.2
Monaco
0.01
Rennes
0

Toulouse

(0.2)

Lens

(0.4)

Marseille

(0.4)

Lille

(1.1)

Le Mans

(2.3)

Saint-Etienne

(2.6)

Grenoble

(2.9)

Auxerre

(4.6)

Nice

(6.2)

Valenciennes

(10.9)

Sochaux

(11)

Nancy

(13.5)

PSG

(21.9)

Lyon

(35.4)
Additionally, France's squads are at a competitive disadvantage to their continental rivals due to what UCPF president Jean-Pierre Louvel described as an "archaic" entertainment tax, meaning that clubs need to pay players a greater gross salary so that their take-home pay is equal to that they could receive in Europe's other big leagues.
The government did not help the situation in October 2009, when the rights to the collective image were stripped from clubs.
Further bad news could loom as the Ligue 1 television rights are auctioned later this year. Almost universally leagues are seeing their media revenue decrease, and with France's clubs reliant on this source of revenue to make up a huge portion of their budget, this represents worrying news. Championnat sides receive 55 per cent of their income from this source, according to Uefa, with only Italian sides more dependent on this stream.
This all paints a rather bleak picture for the future of the French domestic game, but the DNGC are eager to ensure that this is not the case. Euro 2016, which will be held in France, is a wonderful opportunity to regenerate the country's crumbling stadia, it is argued optimistically and repeatedly by the various contributors to the report.
Various other measures, including the playing of the Trophee des Champions abroad, are also having a very positive impact.
Moreover, clubs have already taken quick measures to cut their wage bills over the course of the last year, which would suggest that next season's report won't be quite so bleak, particularly as clubs get used to the newly frugal transfer market.
But what do these facts and figures actually mean for the average fan?
Lyon registered the heaviest losses of all the top flight teams and have already indicated that they won't be spending big over the course of the summer. Present title-holders Marseille have done likewise.
LILLE LOOKING HEALTHY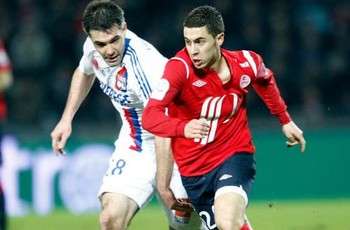 "

The arrival of a new stadium in 2012 will allow the club to fill its operating deficit and therefore establish its ambitious policy of balancing their books without taking into account transfers." - DNGC
Though Lorient, Bordeaux and four other sides all made profit, perhaps the club with the healthiest medium-term outlook at present is also the one topping the standings with seven matches remaining. Not only are Lille going along nicely on the field, they are also steadily positioned off it.
Losses of little over €1m (£880,766) are dismissed by the DNGC in the comprehensive report, largely thanks to the new stadium the Nord-Pas de Calais club are building ready for 2012.
Describing Lille's financial state as "healthy", a footnote suggests that the new stadium and the associated income will allow the club to "establish its ambitious policy of reaching economic equilibrium without transferring players."
This is particularly happy news for head coach Rudi Garcia as he approaches the summer transfer window with two of France's most sought-after talents. Only on Friday, Zinedine Zidane was advising former club Juventus to move for prodigious winger Eden Hazard, while flashy wideman Gervinho is attracting equal amounts of interest after a stellar campaign.
Lille, it would appear, will be under no obligation to allow their star players to leave this summer, and with the pair both tied down to long-term deals, it could be that they are both plying their trade for the northern outfit in the Champions League next season, which could only be a good thing for a side that has reinvented itself intelligently over the course of the last three or four seasons.
As Lille are a side growing, Lyon, previously credited with being France's shrewdest team in the business world, will seemingly continue to rely on the philanthropy of president Jean-Michel Aulas until they too have their new stadium.
It must be considered that these figures are somewhat muddied by the fact that the Rhone giants conducted an especially large investment in the transfer market in the summer of 2009, while Paris Saint-Germain, who lost nearly €22m (£19.4m), did likewise.
Arguably, it is teams like Sochaux, Valenciennes and most especially Nancy who have to cut their cloth more intelligently, as all made losses of over €10m (£8.8m), which are particularly alarming figures given the relatively modest size of these clubs.
The outlook overall is mixed. Medium-term concerns over clubs' ability to sell at a reasonable price, plus worries over wage bills are the greatest reasons for pessimism, though the latter of these issues is a problem that clubs appear to be getting a handle on after the relatively abrupt crash in the global financial markets caught teams with experienced players on large long-term deals napping.
These worries, however, are tempered by the long-term optimism that Euro 2016 is giving to France's Championnat sides, all of whom appear keen to meet the challenges of the future, though some, like Lille and Lorient, are better prepared than others.