EXCLUSIVE
By Greg Stobart
England
hero Sir Geoff Hurst believes that
Roy Hodgson
may have found the Three Lions' answer to
Thomas Muller
if
Harry Kane
can reproduce his club form for the national team.
The Tottenham striker is expected to make his England debut in the Euro 2016 qualifier against Lithuania at Wembley on Friday on the back of a breakthrough season in which he has scored 29 goals in all competitions.
Kane, 21, is joint-top scorer in the Premier League with 19 to his name and England legend Sir Geoff sees similarities with Bayern Munich and Germany star Muller.
"The player I really liken him to is Thomas Muller," Hurst told
Goal
. "When you first see Muller or Kane play, they look like the most unlikely footballer you have seen but they are so effective. Muller may look a bit clumsy but he is one of the best players in the world.
"Bill Shankly once said 'Peter Osgood is very deceptive, he's much slower than you think'. I feel the same when I watch Harry Kane. He's much better than you think.
"In the first 10 minutes of a match, he doesn't look like the kind of player who is going to cause you all sorts of problems but, for whatever reason, it works. He is a brilliant team player and that is the starting point because he works so hard.
"He has good technique and intelligence and, most importantly for a striker, he comes alive in the penalty box and he is a finisher. He scores goals from all sorts of angles and situations.
"In England I would also liken him to Teddy Sheringham in that he has that football intelligence. He may not have the pace but he is a yard ahead of the game with his thoughts."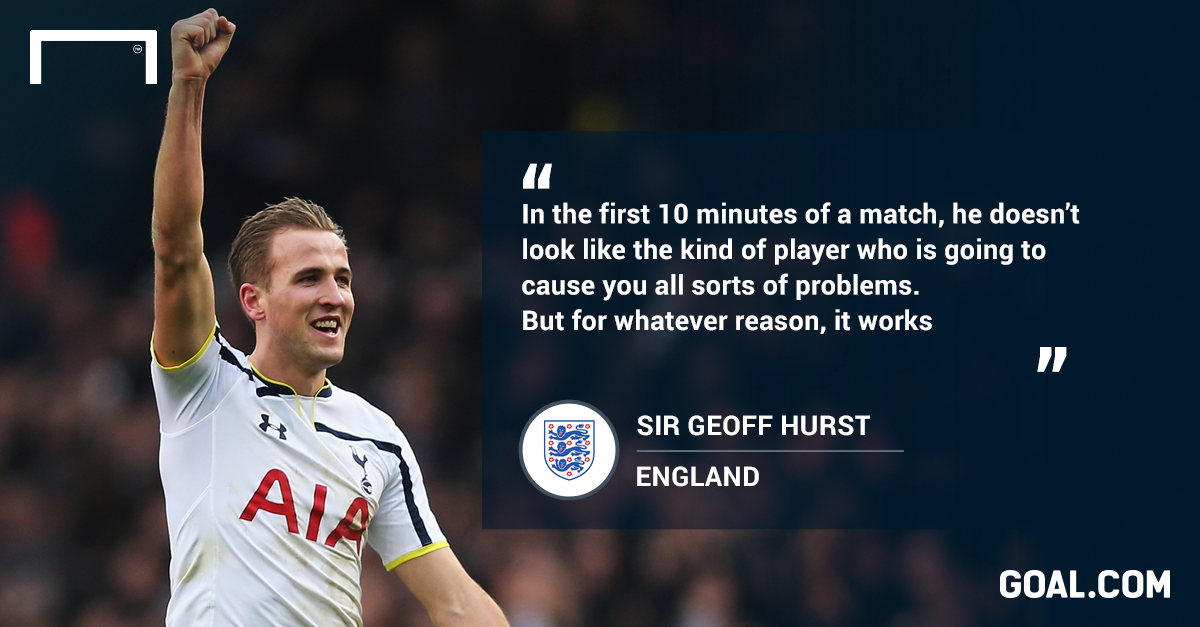 Kane is the latest young player to be called up to the squad by Hodgson and Hurst - England's hat-trick hero in the 1966 World Cup final - has been impressed by the team's progress since last summer's World Cup.
The Three Lions were eliminated from the tournament in the group stage but have bounced back with six victories in six matches since Brazil, with their qualification for Euro 2016 in France almost certain.
"I think the progress has been very good since the World Cup," Hurst added. "Kane is just the latest of a number of young and hungry English players now playing for their clubs regularly.
"In some ways it reminds me of the young squad we had in 1966 and so much of it comes down to attitude.
"We are some way off producing the quantity and quality of players as Germany but it's getting better and I think we can expect more progress. We should be looking at at least a quarter-final or semi-final place at the Euros."
Sir Geoff Hurst is encouraging communities to nominate a local #GrassrootsHero for the FA & McDonald's Community Awards. Nominations in England close Friday 27th March, to nominate visit www.mcdonalds.co.uk/awards