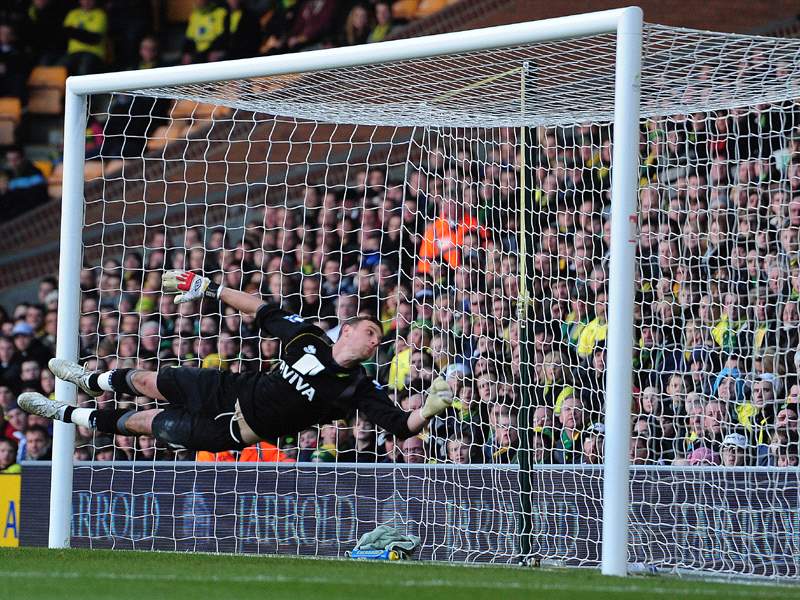 Norwich City
goalkeeper
Declan Rudd
could be in line to play for
England's Under-21
side at Carrow Road on Friday.
He was called up into the squad along with Birmingham's Jack Butland and could have a chance to face Serbia Under-21s at his home ground.
He told the club's official website: "It would be a great honour to play. Obviously we don't know the team yet, and nobody knows who is going to be playing and who is not.

"It'd be a great occasion for me if I could play, but we don't know yet and we'll have to see on Friday night.

"Obviously it will be a good crowd here supporting us and getting behind the team – they always are on a Saturday for the Norwich City team, so I'm expecting the same for the England lads as well.

"It'll be a good atmosphere and all the lads are looking forward to it.

"It's a massive thing, playing in the European Championships, and it doesn't really get much bigger than that for our age group, so it'll be a great occasion and a good possibility to be in a major tournament. All the lads are going to give their best to make sure we make it.

"It's great with the U-21s - I'm playing with the best players in my age group in the country, and the coaches are great too.

"Training is sharp and you learn a lot from the other players and their experiences. It's a great chance to be involved and I've got to enjoy every second of it."

Much like England, Serbia won their group and have an impressive team, but Rudd is concentrating on how good his side is.
He continued: "I think as long as we stick to our game plan and play as well as we are able to then we've got a great chance.

"We've a good group of players here with a good team ethic, and we're staying positive in the hope of getting a good result.

"We can see what's at stake – if we win this two-legged play off then we're in the European Championships in the summer, so there's a lot [riding] on it, but it just fires the lads on more to do well.

"As long as we stick to what the gaffer tells us to do, stick to our game plan and play to our full potential we've got a great chance.

"Obviously it would be great to go over to their place with a lead, but we'll give it our best and hopefully we'll get a result.
"I think we're just going to worry about our own game."
Should the fixture be level after both legs, Rudd has no qualms over who would win penalties and admitted he would not mind taking one himself.
He added: "I'm confident to get up and take one. But my main job is keeping the ball out of the net, so if I can do that, that's all that really matters.

"We practice penalties every day after training – everyone gets one penalty, although goalkeepers get more practice because we get to face more.
"It's good to get down and work on penalties, and it usually does come down to penalties with England. I think we're well prepared for it if it does come along and hopefully we can get through on penalties if we have to."