With a new album from The Hoosiers coming in March,
Goal
caught up with drummer Al Sharland to talk about his love of
League Two
's
Exeter City
.
Was there ever any doubt that you'd support your local team, no matter how lowly?AS:
I'm sure there's been plenty of doubt over the years! I was born in Exeter – I didn't grow up there but my dad was a big fan and I just got hooked. We'd go back to see the family and Dad would take me down. I was on his shoulders in 1989 and I got the bug since then. We haven't have many glory years, though.
Indeed – you hold the record for the most seasons in the third tier without ever going higher than that.
It's quite a record, that. We've been below, as well, in the Conference and we've popped into League One a couple of times in the last five years. It's not a glory club.
You've got manager Paul Tisdale who's been there for quite a while now – he's more or less your Alex Ferguson, isn't he?
Yeah, he is! I think he's in the top five longest-serving managers in England.
TISDALE: THE EXETER FERGUSON?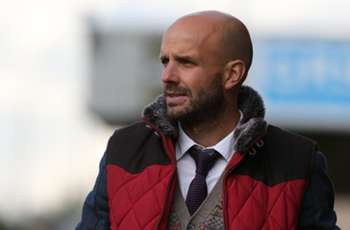 "Yes, he is! He's brilliant and it shows a bit of stability at the club. That's helped things"
He's up to second now [over seven years, behind only Arsene Wenger].
Second! That's crazy. He's brilliant and it shows a bit of stability at the club. That's helped things – when you're bouncing up and down, you should keep your manager because he knows the internal policies of the club better. I think it's a good thing – and he's a good man.
What's your favourite memory of following Exeter?
When we went up in 1989-90, I remember that quite vividly, but then, equally, I think when we went to the play-off finals - who did we beat? Cambridge! – to go up from the Conference. That was pretty good. There's loads of great memories recently but I would say the first one, 89-90, when we went up. When did the Premier League start? 1992 ... so that would have been getting promoted from Division Four to Division Three.
You're slap-bang in the middle of League Two at the moment, seven points off the play-offs. Is that more or less what you expected from this season?
[Thinks] Maybe ... but we've shown great promise and usually, under Tisdale, we have a bit of a burst in the second half of the season so I think we're poised to strike for the play-offs. There's hope but I'm happy with where we are as we haven't gone down and we lost a lot of players last year.
Yes, it seems like there's quite a lot of money troubles going on at the moment.
Yeah. It's just the way it is but it's not a bad place to be. We're winning as many as we're losing.
Who's the key man at the moment?
I must admit I haven't been to see us this year which is a shame as I would have usually seen us a couple of times by this stage but, I would say, we've got a youngster called Tom Nichols who's coming through, if he can sustain it, and we've re-signed Matt Gill [on loan]. He's a great player who's helped us a lot, give us some experience in the middle of the park. So let's hope them two fire.
SET FOR A CHARGE?

LEAGUE TWO TABLE

Team

1. Scunthorpe
2. Burton Albion
3. Chesterfield
-------
4. Rochdale
5. Southend
6. Fleetwood Town
7. Oxford United
-------
8. Newport
9. Morecambe
10. Dag & Red
11. Plymouth
12. Cheltenham
13. Exeter City
14. York City
15. AFC Wimbledon
16. Hartlepool
17. Mansfield
18. Wycombe
19. Bury
20. Portsmouth
21. Bristol Rovers
22. Accrington
-------
23. Torquay
24. Northampton

Played

25
25
24
----
25
25
24
24
----
24
27
26
25
25
25
26
25
25
26
24
25
25
24
25
----
26
25
Points

47
45
44
---
43
42
41
39
---
38
37
34
34
33
32
31
31
31
29
28
27
27
26
26
---
26
22
GD

14
6
18
---
7
9
9
13
---
7
-4
0
-3
-3
-3
0
-2
-4
-9
-3
-4
-9
-4
-8
---
-13
-14
I gather that you and Irwin [Sparkes, lead vocals & guitar] got into a football scholarship in America. Where did that come from?
We'd been doing the band since about 15 or 16 and then, while we are at school, it was easy to maintain. Then, once we finished our A-Levels, it was a bit of a conundrum about what we were going to do. We knew we wanted to keep playing with the band and we thought we'd try to go to university together. Irwin was a bit more brave and suggested that we try to go to America and we found that we could go and play football – which we could slightly blag! We managed to get a scholarship at Indianapolis – it was amazing, really.
Was there ever a dream to see how far you could push it and maybe go pro?
I suppose I had hope, while I was in America, but Irwin got bad asthma and I got shin splints and it just wasn't meant to be. We came back kinda with our tails between our legs after a year and a half, then went back to concentrating on the music. So I don't think there was any serious ambitions of it being more than a free ride to university in America.
Do you get a lot of time to play these days?
A little bit more now. We've calmed down since a few years ago, when we first got into the charts – that was pretty non-stop. On our days off, we'd arrange little five-a-side matches but it was only a kickaround. Now we play a little bit more on a Monday night and the boys do play occasionally but nothing too serious – we're getting a bit old, now, anyway.
Are you just a club man or do you get excited about England as well?
I do get excited for England. I went to Ukraine, actually, for Euro 2012.
What was that like?
Er ... [sounds like he's trying to put it politely] ... well, I'd been to Portugal [in 2004] and Germany [in 2006] and I absolutely loved it but Ukraine was just too big. The England fans were too spread-out to really get the atmosphere but we went to the Ukraine game in Donetsk and that was awesome, if slightly intimidating. It wasn't the best tournament I've been to, by far, but I'm glad I went.
How are you feeling for the World Cup?
I always get over-optimistic but I think, this time, the realism is that we'll struggle against Italy, who are such a good side, and then Uruguay's going to be even harder. The only positive, I feel, is that we're playing Italy in the first game so we might catch them cold but I don't know. How are you feeling?
I'm always very pessimistic. I'm already looking forward to the next tournament instead – mainly, as a Southampton fan, I'm just enjoying seeing some of our players in the squad.
Southampton? Oh, you guys are great, got some great youngsters down there. Adam Lallana's got to go [to Brazil], surely ... we played each other in League One a couple of years ago. I went to that game – you absolutely buried us.
Have you guys ever considered doing a World Cup song?
Actually, I made one with my cousin a while ago, so I have actually got one on the back-burner but I don't think the boys were up for being part of it – which is sensible, I think, to keep away from that type of thing. And certainly, if you're going to have a good World Cup song, you need a good team to go with it – like 1996. So let's wait. We'll wait until England get better and then we'll write a good World Cup song.
You left your label a couple of years ago so you're putting this album out yourself – how much of a challenge is that?
It's a challenge but there's ups and downs to not having a major label looking at you and analysing everything. It made the second album process really sterile, second-guessing every song and every chord-change, and it put pressure on us. So to leave that behind and just get back to writing songs that we really, really like – and recording them in a way that we really enjoy – can only make for a better album.
The challenge, then, is that we miss that big major-label money, which is obviously key to getting on the radio and in the press but, given our situation, that we've already got loyal fans, it works well for us. So we'll see how it goes but I think the album's much better for it.
The Hoosiers will release their brand new album 'The News From Nowhere' in March 2014.