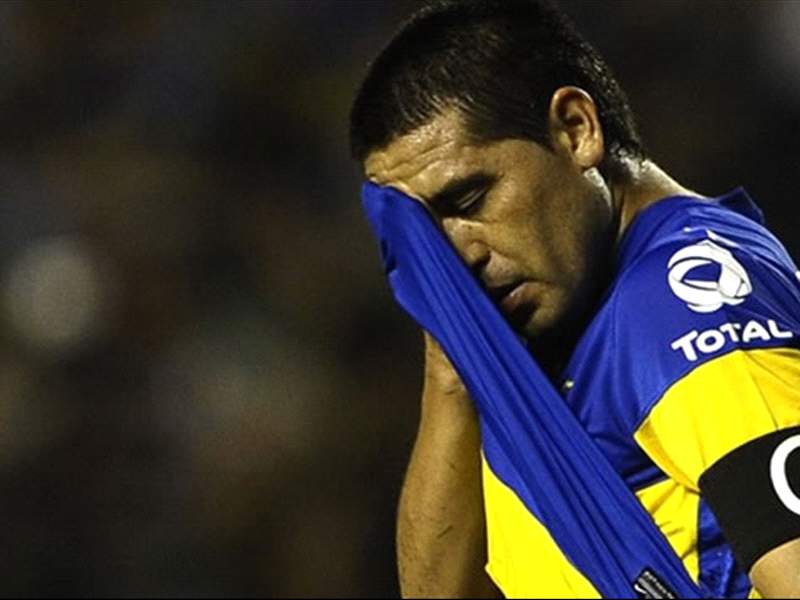 COMMENT

By Tom Webber
Juan Roman Riquelme returned to Boca after spells with Barcelona and Villarreal, where he failed to match the two Copa Libertadores' and three league titles he had already won. Nevertheless he was a huge success in Europe and drew continuous praise for his craft, vision, and array of passing.
His homecoming to La Bombonera, having earlier had a brilliant first spell at the club between 1996 and 2002 during which he humiliated Real Madrid in the Intercontinental Cup, made an instant impact as the
Xeneize
won another Libertadores in 2007, Riquelme's third, with the veteran being named the tournament's best player. But five years later, despite an impressive campaign, at 34 years old, the final proved too large of a task and now he has called an end to his time at the club, insisting he has nothing more to offer.
It was a slow start to Boca's Libertadores campaign with a goalless draw against Venezuelan outfit Zamora. Unhappy at coach Julio Cesar Falcioni's cautious approach, Riquelme voiced his displeasure and their disagreements led to suggestions of the trainer resigning from his position. He did not leave the club, but the turnaround was not quite as dramatic as one would have hoped, yet it was the former Barca man who led the way.
The playmaker had a far better time in front of his own crowd and was at the heart of all things positive for Boca in their next game against Fluminense. For all his creativity the end product was lacking and even though Leonardo Somoza slotted home after his free kick hit the post, the game ended in their first home loss after 20 games undefeated in all competitions.
But after three wins on the bounce, two coming against compatriots Arsenal and the other in Rio de Janeiro against Fluminense, qualification was secured. Riquelme scored his first goal of the tournament in the final fixture versus Zamora but his best was still to come.
Bane of Chile | Riquelme produced his best displays against two Chilean sides
The last 16 tie against a dangerous Union Espanola side proved to be his crowning moment. He opened the scoring in the first leg by finishing a disguised one-two with Dario Cvitanich with an exquisitely-placed cross-goal effort. With a 2-1 advantage going into the second leg, Riquelme only improved and offered a No.10 masterclass.
It was a display that entirely encapsulated him as a footballer. Firstly, as a genius. His inventive floored pass from a free kick wide on the right, 25 yards from the byeline, curled right in behind the defenders for Juan Manuel Insaurralde to slam home, beautiful in its simplicity. Secondly, as a creator. Riquelme won the ball off the last defender in the Chilean area and after standing the keeper up he pushed the ball to his side for Pablo Mouche to slot home.
The thrill Riquelme attained from that assist was demonstrated as he ran the opposite way to the goal scorer, celebrating in his own right. Then, finally, as a goal scorer. After the hosts had pulled one back he raced forward to join a counterattack and upon receiving the ball he shifted inside of two defenders, held off a third, and then picked out the bottom corner.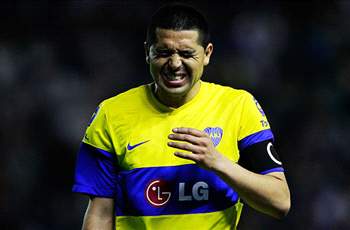 "The relationship I share with Boca is great, I'm a fan of this club but now I have reached the end of the road"


- Riquelme calls it a day at La Bombonera
In the semi-finals he was at it again, once more against Chilean opposition as Boca came up against 2011 Copa Sudamericana champions Universidad de Chile. Known for their free-flowing, attacking football, Boca managed to completely stifle them. Riquelme was ruthless, spraying consistently impressive passes throughout both legs as the Argentines refused to allow
La U
to play their own game. He was at his metronomic best and he completely outshone his counterpart for Universidad, Marcelo Diaz.
Their triumph over
La U
had them as favourites to lift the trophy in the final against Corinthians, but for as much as the Chileans are renowned for their attacking play the Brazilians are known in equal measure for their defensive resoluteness. Tite has crafted a tight-knit team that work hard for each other, despite not possessing a 'star' individual or talisman of the likes of Riquelme. They are also one of very few teams who play without a recognised striker, instead using two speedy wide players and two attacking midfielders in between the lines.
However it proved a step too far for Riquelme as Boca failed to make the most of the lion's share of possession in a 1-1 first-leg draw. In the return fixture they never looked like finding a way past the stalwart Brazilian defence, even with Riquelme in the side. With the militant Ralf watching him closely across the pitch he could locate the space to work his magic as Boca found chances to score at a premium.
After the game, Riquelme admitted he would quit Boca as he had nothing more left to give, exhausted. It was clear he had given his all for his side. It will be for the performances away to Union Espanola, along with the unbeaten 2011 Apertura title success, that he will be remembered for at the club.
One of the world's greatest playmakers, Riquelme's love for the game was displayed in every pass. A selfless player, assisting was another means of scoring a goal and he took equal pride and pleasure in it. There is no doubt that Boca, and their fans, will miss him.
Hopes of a triple crown are over. All that is left is the Copa Argentina final against Racing for the
Xeneize
to salvage some silverware from. But they will have to do it without their heartbeat, without their idol. Riquelme may take a break from football but defeat to Corinthians will not soil his memory as one of the greatest players to have ever taken part in the game.
Follow Tom Webber on