SPECIAL
By
Jamie Dunn
Two allegations of racist abuse, snubbed handshakes, stamping on heads – there has been far too much hostility in football in recent weeks.
But, thankfully, it is Valentine's Day, and love is in the air – or at least the greeting cards manufacturers would have us believe it is - so what better time to remind ourselves of the good side of the game?
So, before you rush out for a last-minute gift for your loved one, here is a look at some of football's finest partnerships, or couples if you'd prefer.
Fabio Cannavaro and Alessandro Nesta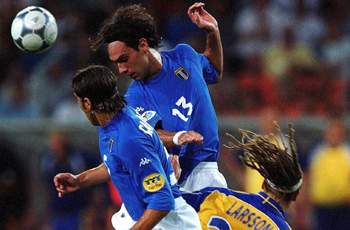 They may have been rivals for Serie A titles at club level for several years, but for country, Cannavaro and Nesta were consistently central defensive partners.
The pair played together for the first time against Moldova in 1997 and played alongside each other in several major international competitions, right up until the 2006 World Cup in Germany, for which both defenders had been solid in qualification.
Unfortunately an injury in the group stages cut Nesta's tournament short, but Cannavaro would go on to star for Italy as they lifted the World Cup, and he would later win the Ballon d'Or. What more romantic way for this proud nation to put the Calciopoli match fixing scandal behind them.
Cannavaro is Italy's highest capped player with a massive 136 appearances, while Nesta has played 78 times for his country. The Milan man would surely have featured many more times had he not struggled with injuries and subsequently rejected approaches to come out of international retirement from both Roberto Donadoni and Marcello Lippi in 2006 and 2010 respectively.
Nesta has largely recovered from injuries and continues to feature for Milan, though he is due to retire later this year, while Cannavaro hung up his boots following a stint with Al Ahly in 2011.
So synonymous with each other are the midfield pairing of Xavi and Iniesta that it seems impossible that there was a time when one played without the other – rarely is one name mentioned without his midfield partner following in the same breath.
Xavi and Iniesta became mainstays in the Barcelona first team around 2004 and have barely looked back since. During that time, the Catalan club has won five La Ligas, a Copa del Rey, three Champions Leagues, two European Super Cups and two Club World Cups, thanks in no small part to this methodical duo.
"It was Iniesta... he changed the match. When Andres has the ball at his feet, you know something different is going to happen."





- Xavi salutes midfield partner after Spain beat Chile

And the pairing has shone at international level, too. Xavi and Iniesta have been instrumental in Spain's period of dominance, during which they have won both Euro 2008 and the 2010 World Cup. It was Iniesta, of course, who scored the winning goal in the final in South Africa against the Netherlands.
Competition for places in the Spain team has been strong for a number of years with the likes of David Albelda, Marcos Senna, Xabi Alonso and Cesc Fabregas all vying for places over various periods, but there has always been space for Xavi and Iniesta.
Barring a disaster, the same rule will apply when Spain look to defend their crown at Euro 2012 in Poland and Ukraine.
Johan Cruyff and Johan Neeskens

POETRY IN MOTION

John Toshack penned this ode to Kevin Keegan during a prolific spell together at Liverpool:

"The scourge of defenders all over the land,
He relied upon me to lend him a hand,
We worked together; a perfect pair,
Down on the ground and up in the air,
Though we played two entirely opposite roles,
Six seasons together brought two hundred goals,
We were never short of a trick or surprise,
We were once mistaken for Morecambe and Wise,
Yet some of the time we couldn't agree,
From up in the stands that was easy to see,
But we'd soon work it out and get back in the groove,
What do they say? True love never runs smooth,
But the friendship we've forged forever will last,
There was one major reason that brought us our fame,
A genuine love we possess for our game."
Two of the protagonists of a hugely celebrated period for football, Cruyff and Neeskens were a part of one of the most decorated national teams in history.
Cruyff was a forward and Neeskens adopted a deeper role but, within the Netherlands side of the 1970s, neither player was limited to one rigid position.
Both players were key proponents of the Dutch philosophy of free-flowing, interchanging Total Football, having carried it into the national side from their club, Ajax.
The Amsterdam side were Europe's most dominant force in the early 70s, with Cruyff and Neeskens both at the club, winning two league titles, two Dutch Cups and three European Cups among other accolades.
But at the 1974 World Cup, the Netherlands were beaten in the final by West Germany, despite having previously laid waste to Argentina and Brazil. That Dutch side is still considered to be the best team to never win the World Cup.
Cruyff had previously departed Ajax for Barcelona and Neeskens would follow shortly after, though together they could not replicate their success in the Netherlands in Spain and claimed only the Copa del Rey in 1978 as a pair.
Neeskens - nicknamed 'Johan the Second' due to his former team-mate being the first to join - would go on to play at the 1978 World Cup, without the retired Cruyff.
The Dutch would fall at the last hurdle once again in a final defeat to Argentina.
Andy Cole and Dwight Yorke

Already a two-time Premier League title winner, Cole must have thought the arrival of Yorke at Manchester United in 1998 would spell the end of his stay at Old Trafford, especially when coupled with his famously frosty relationship with Teddy Sheringham – the two barely uttered a word to each other and still haven't to this day.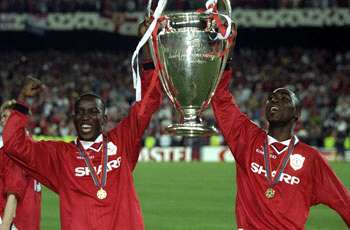 "It may well have been Sir Alex's intention to replace the former Newcastle man. But instead, Yorke and Cole went on to forge a deadly partnership."
It may well have been Sir Alex Ferguson's intention to replace the former Newcastle man in the starting XI with his Aston Villa acquisition.
But instead, Yorke and Cole went on to forge a deadly partnership.
Within one season together, Cole and Yorke had almost won the lot for United.
The Premier League, FA Cup and Champions League were secured during the treble-winning campaign of 1998-99, as the strike duo contributed a glut of goals to the club's cause.
Cole and Yorke would remain prolific in two further successive title-winning seasons, but their importance to the side was slowly dwindling and, with their first-team appearances more and more limited, both would eventually leave the club.
The pair would later reunite for an altogether shorter and less prolific spell with Blackburn Rovers.
Jose Mourinho and Ricardo Carvalho

IN PERFECT HARMONY

HODDLE AND WADDLE

In 1987, Glenn Hoddle and Chris Waddle took a break from playing for Tottenham to make a brief foray into the pop charts. Under the clever monicker 'Glenn and Chris', Spurs' midfield pairing released 'Diamond Lights', which reached the heady heights of No.12 in the official charts. Shortly after, both players moved to France, with Monaco and Marseille respectively.

Ever since Mourinho took over at Porto in January 2002, this player and coach partnership has been largely inseparable during a period spanning over a decade.
After working his way into the Porto first team, Carvalho became a dominant figure for the Portuguese side under Mourinho and the pair first tasted success together in 2003, claiming a Portuguese Premier League title and Uefa Cup double with a victory over Celtic.
Greater success would follow the season after as Porto would defend their league title and almost entirely unexpectedly win the Champions League.
Mourinho had garnered plenty of attention by this point and arrived at Chelsea in the summer of 2004. The Special One was born, and Carvalho would soon follow as Roman Abramovich began spending his millions on making Chelsea a force in world football.
The Portuguese pair would claim more silverware during their time together at Stamford Bridge, including two Premier League titles, an FA Cup, two League Cups and a Community Shield before Mourinho's unceremonious departure.
Mourinho would conquer Italy with Inter, winning two Serie As, a Coppa Italia, a Supercoppa and another Champions League without Carvalho, who remained at Chelsea.
But it wasn't long before the pair were reunited at Real Madrid where they now look more and more likely to add another league title to their impressive joint trophy haul.