COMMENT
By Stefan Coerts | Dutch Football Editor
Only days after
Guus Hiddink
stressed that he was not interested in the position of CEO at
Ajax
because of the ongoing unrest at the Amsterdam ArenA, the former
Turkey
boss was proven right by the club's supervisory board.
Four out of five members opted to appoint Louis van Gaal as the club's new chief executive, but they did so behind the back of the fifth, and most influential, associate - Johan Cruyff. Understandably, the Dutch legend was not amused and the decision has led to uproar.
Cruyff returned to Ajax earlier this year when he took a place on the supervisory board in an attempt to turn things around at the club and help them back to the European top table. However, the legendary No.14 has had a difficult relationship with fellow commissioners Edgar Davids, Steven ten Have, Paul Romer and Marjan Olfers right from the start, and his planned revolution is going a lot less smoothly than the 64-year-old was hoping for.
His plan to appoint former Ajax winger Tscheu La Ling as the club's new CEO was vetoed by the rest of the supervisory board some four months ago and the club had since been looking for a suitable candidate. All five members seemed to agree on Marco van Basten in October, but the former AC Milan striker's appointment fell through after Cruyff insisted on additional conditions that would limit Van Basten's freedom.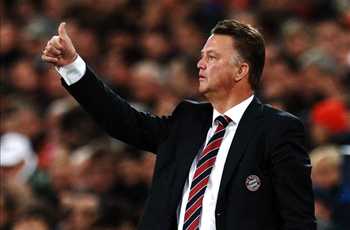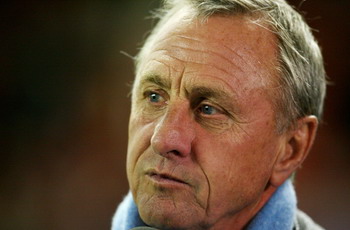 Van Gaal vs Cruyff | the Ajax legends maintain a long-standing feud
Cruyff continued to bring up La Ling as his ideal candidate and the former attacker's stubbornness didn't go down too well with his colleagues, who had had enough and felt it was time to appoint a new chief executive.
So when Cruyff boarded a plane back to his home in Barcelona on Tuesday evening, the remaining four members of the supervisory board called together a meeting without the former Netherlands international and decided to name Van Gaal as their new CEO on Davids' initiative.
"We have tried to use Cruyff's expertise to find a new director, but he still insisted on La Ling after all this time. We feel that La Ling is not the right man for the job, so that's why we decided to take action," Ten Have was quoted as saying.
His colleagues' decision to go behind his back was already enough reason for Cruyff to become furious, but the fact that they appointed one of his biggest rivals in the football world only further infuriated the former Ballon d'Or winner.
Very little is known about the exact reasons behind the hostilities between Van Gaal and Cruyff, but one things is very clear: the two are sworn enemies.
The former Bayern Munich boss has hinted more than once that the problems between the two started after an incident during Christmas 1989. However, this has always been denied by Cruyff. Another possible explanation behind their feud is that Van Gaal's successes with Ajax in the 1990s were met with a certain jealousy by Cruyff. Unlike the Barcelona advisor, Van Gaal did manage to win major European trophies with the Amsterdam giants and this allegedly hurt the proud Cruyff.
Either way, with Van Gaal and Cruyff not on speaking terms, a successful collaboration between the two seems very unlikely, regardless of the cause of their feud, especially considering the No.14's latest comments on the issue.
"One thing's for sure, though, Cruyff and Van Gaal don't go together after everything that's happened"





- Johan Cruyff

"I initially thought it was a joke, but that turned out to be not the case. A lot of people have been made a fool of with this decision, including myself. Let's not get ahead of ourselves, though, and wait for what the club really want. One thing's for sure though, Cruyff and Van Gaal don't go together after everything that's happened," Cruyff stated on Wednesday.
Nevertheless, despite basically ruling out collaborating with Van Gaal, Cruyff also stressed that he has no intention of stepping down as a member of the supervisory board just yet, resulting in a rather remarkable situation.
Van Gaal is due to start his new job in June 2012 as he is still under contract with Bayern Munich for seven more months. However, the 1995 Champions League winner already knows that the most influential person at the club does not want to work with him and there does not seem to be a foundation for him to do his work properly.
When Cruyff returned to Ajax earlier this year, he expressed his desire to help the club back to the top. Nevertheless, the Amsterdam giants appear to be heading exactly the opposite way following the latest developments.
The Eredivisie champions' faithful can only hope that the duo somehow manage to resolve their differences. If not, Ajax seem be on their way to a disaster, despite the presence of two club icons like Van Gaal and Cruyff.
How do you stay up to date with football when on the move? With http://m.goal.com – your best source for mobile coverage of the beautiful game.