Welcome to Goal.com - Know Your Rivals for World Cup 2010!
In this special series we bring you the local knowledge of the world's leading football tournament. With our worldwide team of experts, each one based in the country in question - from Brazil to North Korea - you'll hear first-hand the latest team news, exclusive interviews, and fan opinions of your World Cup opponents.
In this edition of Know Your Rivals, Goal.com's Michael Hansen takes a look at
Denmark
's progress ahead of the World Cup in South Africa.
Strengths
The midfield looks strong and there are many players to choose from. In the two friendlies the midfielders have had a lot of possession of the ball and they have combined well together. With a mixture of both defensive and attacking midfielders in the squad we should be well covered in that position.
Weaknesses
If we look at Morten Olsen's tactical approach, which is basically a 4-5-1 formation with two wide wingers and a lone striker, then we have a weakness with so few options up front. If Bendtner is injured, then Tomasson will act as his replacement and for a number of years he has normally played behind Bendtner. Tomasson is not the target man he used to be for Denmark and in the last two friendlies he has not delivered.
We are too reliant on Bendtner to be fit and in goalscoring form. Without him we have a problem scoring goals. Morten Olsen's stubbornness can be a problem if he does not change the formation when we need to score goals. It is also nice that young Christian Eriksen has been given a few outings before the going gets tough. He has looked promising and much is expected from him.
Positives
In the two friendlies we have seen Malaga's Patrick Mtiliga, a surprise inclusion in the squad, in the left-back position where there has been many doubts about which player to use. He has done well and it looks like he will be Morten Olsen's preferred choice. He has adapted well, despite being new in the national team, so this has been a positive thing.

Negatives
Central defender Simon Kjaer was injured in the Senegal friendly and there is still a question as to whether he will be fit enough to play. Alongside Kjaer are two other injured players, Thomas Sorensen and Nicklas Bendtner. These players are key and Denmark's chances depend a lot on the fitness of these three players. Up front Tomasson cannot do it alone and as Thomas Sorensen is the first choice goalkeeper we need our first choice options to be ready for the finals.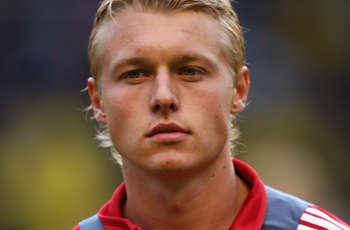 Simon Kjaer | One of three critical injuries
Prognosis
Based on the first two preparation matches against Senegal and Australia the omens are not good. Even though Senegal were beaten without too much effort, the team did not play like a team that would go far at the finals, and in the game against Australia we were very poor. In the absence of Nicklas Bendtner, Tomasson played as the lone striker in both matches but his goal efforts were few and far between, and when he did get the chance to score he couldn't find the net.
The first match was the last chance for Morten Olsen to decide on which 23 players would go to South Africa so it was more like an experimental side, with six substitutions also being made during the match. In the Australia friendly, Morten Olsen had the chance to see how the fielded players would perform in what was, on paper at least, a relatively easy game. But it was obvious that the starting XI were not the side to be preferred come the finals as Australia won 1-0 and most of the players had an embarrassing afternoon. Optimism hasn't been improved much after the team's 1-0 defeat at the hands of South Africa in the final warm-up game either.
Therefore Denmark must work hard to go through the first round stage and should we achieve this then we must hope for a an easy tie when the knock-out stages start if we are to go any further. But, even if that stage is reached, I'm afraid the World Cup dream will be over for Denmark - although I am of course hoping I will be proved wrong.
No trip to South Africa is complete without a visit to its most beautiful and sunniest city. Durban offers much more than sandy beaches, safaris, casinos and the World Cup, for information on what to do and see, please click here.
Become a fan of Goal.com UK's Facebook fan page for all the latest news and insight into everything related to the beautiful game!