---

COMMENT By Ewan Roberts

Follow on Twitter
---
Sunday's League Cup final has grown in importance for
Chelsea
and
Tottenham
in recent weeks. Both knocked out of the FA Cup on the same day, the Blues by a side ranked 49 places below them, both toiling in Europe, both losing momentum at just the wrong time. Once raucously free-scoring, the Premier League leaders have only netted seven times in their last six games. Spurs, meanwhile, are winless in four.
Jose Mourinho has freshened up his options by signing Colombian livewire Juan Cuadrado, desperately searching for that early season spark again. Tottenham, as they have so often done, must look to a once unlikely hero for inspiration: Harry Kane. Only one player, four-time Ballon d'Or winner Lionel Messi, can claim to be more prolific than the soon-to-be England international in 2015, whose extraordinary run of form started back on New Year's Day against a familiar foe, Chelsea.
The 21-year-old, who displays an irrepressible enthusiasm more akin to a puppy leaning out the window of a moving car than a professional footballer burdened by pressure and expectation, bagged a brace at White Hart Lane to help Spurs become only the second team after Pep Guardiola's peak Barcelona side to put five goals past Mourinho. It would also be the first of nine goals in seven league games that marked Kane out as more than just a local-boy-done-good, but the real deal.
Remarkably, he is the joint-third top scorer in the division – while his strikes have won more points (16) than any other player – yet his first goal came only in November, a deflected free-kick against Aston Villa. It rather set the tone for Kane's season, a 90th minute winner, a lone ray of light in an otherwise gloomy performance.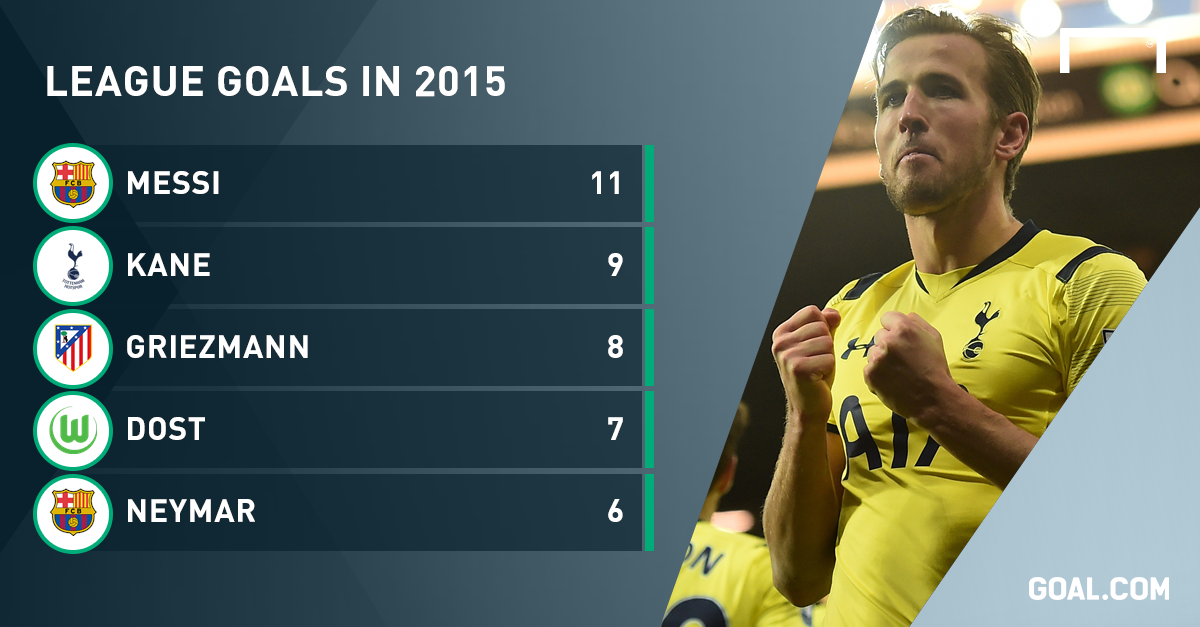 The rest of the Spurs side have caught up with their new talisman somewhat since, playing with more of the intensity and verve that Mauricio Pochettino expects and which culminated in a dominant victory over north London rivals Arsenal. Every player contributed that day, but, with two goals, it was Kane who once again stole the headlines, and it is he who Chelsea must try to stop at Wembley.
Kane was virtually unplayable against the Blues at the turn of the year. Displaying drive, determination and a boundless, intoxicating energy – a zest that is becoming ever more in contrast with the lethargy beginning to seep into Chelsea's play – he was instrumental as Spurs put as many goals past their opponents as they had conceded in the previous 11 games, making a mockery of a centre-back partnership that had been hailed as the best in England.
The first step to avoiding a repeat of that mauling has already been taken, though, with Kurt Zouma seemingly usurping Gary Cahill as Mourinho's preferred partner for John Terry, certainly in matches where he expects to dominate possession.
The French youngster is a better foil for the veteran, bringing the searing recovery speed the Chelsea back-line has craved for so long – he posted the fastest time, 34.1km/h, of any player on either side in a recent league clash against Everton – while he keeps the most error-prone player out of the side (Cahill has committed twice as many errors leading to shots, four, as the next worst culprit). Zouma even wins a higher percentage of duels and completes more tackles per 90 minutes.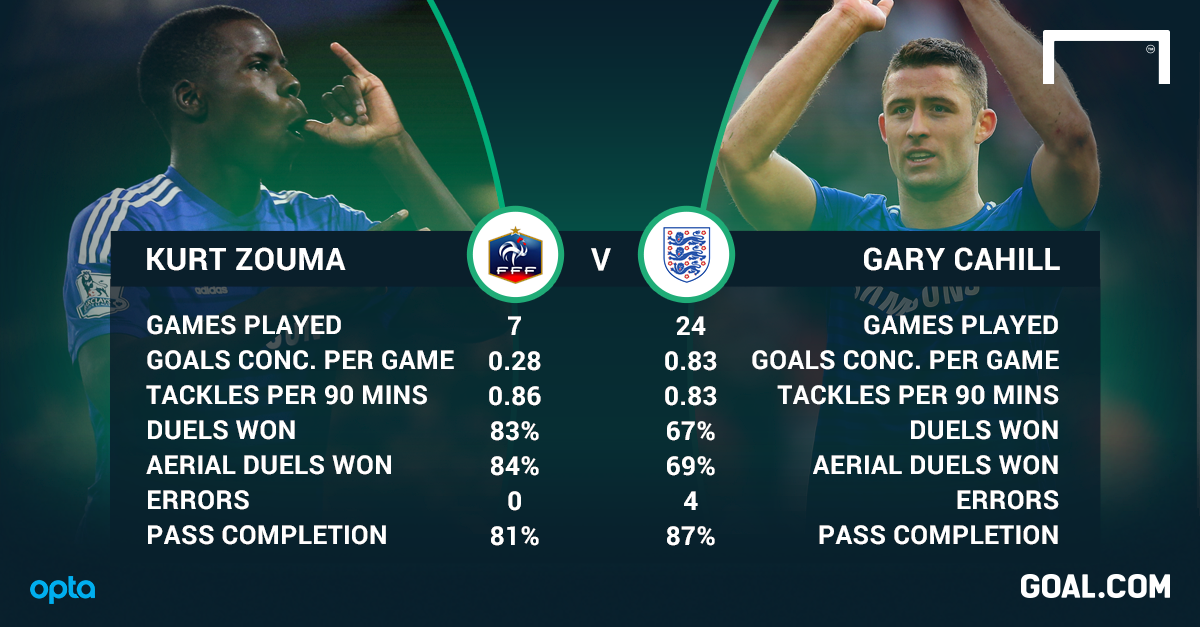 Chelsea might also look at how West Ham recently dealt with Kane's threat, swallowing him up as soon as he had the ball and blocking passing lanes into him. "Supply is one way of stopping him," mused Sam Allardyce beforehand, "as well as making sure the defenders are aware of his capabilities." For the first 75 minutes, Kane was frustrated and, despite his late goal, ended the match with the lowest outfield pass accuracy (71 per cent) and having lost possession more times than any other Spurs player (19).
Were he available, Nemanja Matic would undoubtedly have played a key role in Mourinho's plans to stop Kane – at White Hart Lane, the Serbian often felt like a lone force desperately fighting the fires the Tottenham striker was starting and covered more ground than any other player that day. His suspension, therefore, makes Chelsea's task even harder.
Matic has been colossal for the Stamford Bridge outfit since returning to the club from Benfica and is arguably the team's single most important player – so much so that Mourinho has dubbed Spurs favourites to lift the cup due to the midfielder's absence. The one league game he missed this season saw Chelsea's 23-game unbeaten run come to an end at Newcastle, while the side's win percentage drops from 70% to 33% when he is missing.
The control he offers in midfield cannot be underestimated, completing the most tackles, interceptions and second-most passes of any Chelsea player this season. With Cesc Fabregas looking weary – his slack has been picked up by Matic in recent outings – suddenly the Blues are not quite as domineering in midfield. Against Burnley, they lost any semblance of control after the 26-year-old's red card, with the Clarets having 56% possession from that point onwards.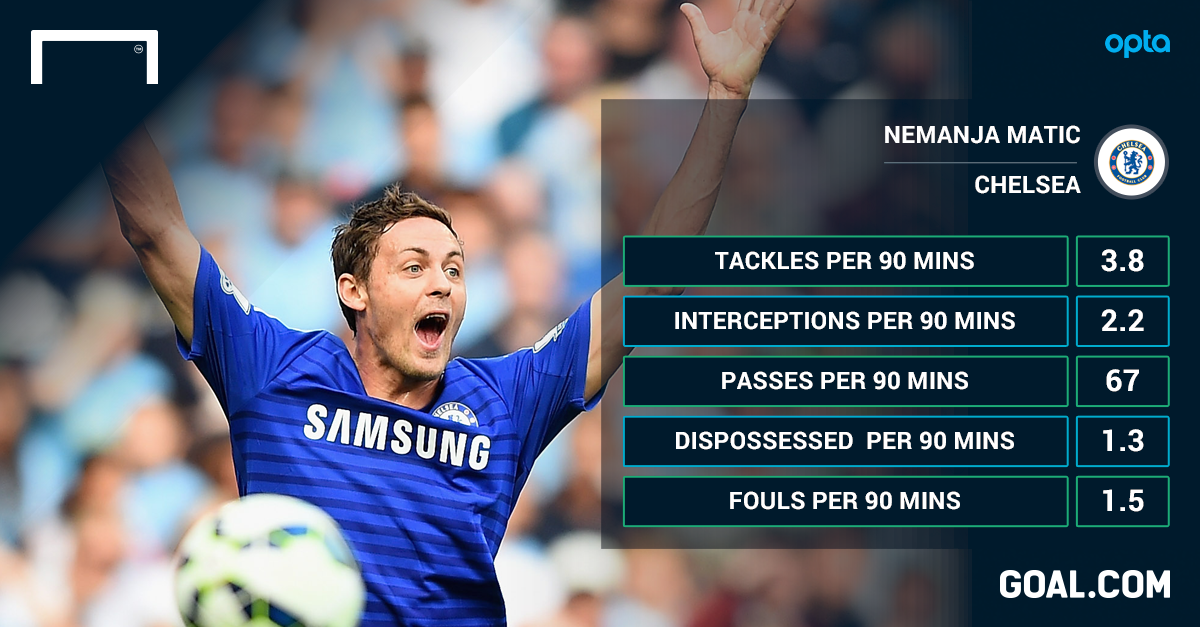 The alternatives feel ill-suited to shutting down the supply into Kane – Ramires lacks the tactical discipline needed, while John Obi Mikel has little of the raw intensity and authority of the giant Serb – but their shortcomings could force Mourinho to rearrange his midfield, push Fabregas higher and fielding both the Nigerian and Brazilian together, and that could very well be the ideal basis to beat Spurs.
Pochettino's side have struggled enormously to break down deep, organised defences and have shown a real vulnerability to pace on the break – that was evident on New Year's Day, when Eden Hazard's own havoc-making was rather overshadowed by Kane, and then, more recently, against Fiorentina in the Europa League. Yet Mourinho did not revert to the pragmatism that would have been so perfect two months ago, shunning his usual 'big game' tactics and instead having Fabregas as one of his two midfield pivots which invited an open, breathless contest.
Sitting deep and stifling Spurs before hitting them on the break – Mohamed Salah terrorised the back-line in Florence but isn't half the player Hazard is – could be profitable, especially against a Tottenham team who have regularly suffered from European hangovers this season and have gone to the extraordinary measure of staying an extra day in Italy and training at Coverciano to try to fight the fatigue.
Sunday's final, then, could be determined by how the Portuguese envisions this new Chelsea. Can they be both successful and swashbuckling, or will he revert to his customary defensive mindset and ensnare Kane? Mourinho knows only too well the importance of a first piece of silverware – the League Cup was the first of many trophies back in 2005 – but Pochettino will be looking to kick-start his own reign, though he may need to rely on more than just the talents of his explosive young striker.
Follow Ewan Roberts on