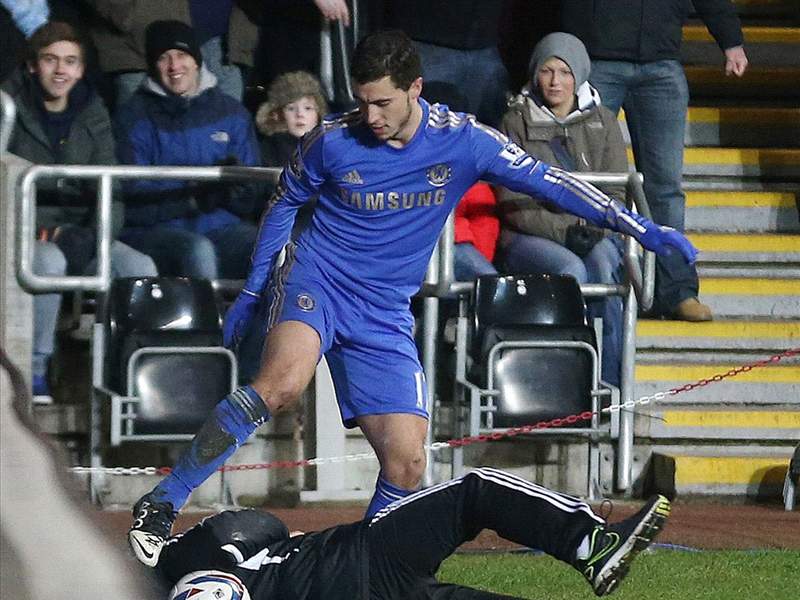 EXCLUSIVE
By Russell Stoddart
The Football League has defended the role of ball boys after a former
Chelsea
star warned Wednesday night's incident in the Capital One Cup semi-final at
Swansea
could cast doubt on their future.
Pat Nevin told
Goal.com
that the ball boy was to blame for failing to release the ball to Blues midfielder Eden Hazard and also disputed that the Belgian made contact with his kick, for which he was dismissed.
While both the player and the ball boy have since apologised for their involvement, and both clubs wish to draw a line under the incident, Nevin is furious that Hazard could still face a lengthy ban.
The former Chelsea and Scotland winger claims this is the latest in a number of flashpoints involving ball boys and suggests it is perhaps time to review the need to continue with them.
Earlier this season an Oldham player was at the centre of racism allegations after losing his temper at a Sheffield United ball boy after he failed to hand the ball to him.
However, the Football League is standing by the ball boys employed by its clubs, according to John Nagle, head of comminications.
"The Football League has no plans to review the future of ball boys at our fixtures," he told Goal.com.
"Incidents of this kind are few and far between. What happened last night is such a hot topic because, thankfully, it is so rare.
"Ball boys are used at most games and their presence insures the ball is in play for as much of the 90 minutes as possible.
"They make games better spectacles because of it but they never get any credit for that.
"It is regrettable when a ball boy is put in such a spotlight, but what happened at Swansea will have no bearing on the continued use of ball boys at Football League games."
The Football Association and the Premier League refused to comment.