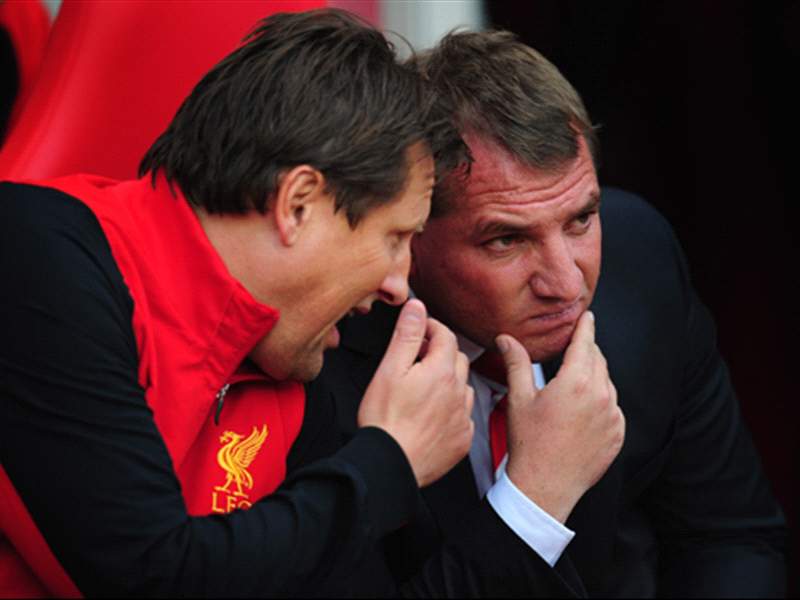 Liverpool
boss
Brendan Rodgers
has admitted his side were beaten by the better team following
Swansea
's 3-1 victory at Anfield in the
Capital One Cup
.
A much-changed Reds side fell two goals behind after a Chico header and a Nathan Dyer breakaway goal handed the visitors a deserved lead.
Luis Suarez gave the hosts a chance, finishing from fellow substitute Steven Gerrard's free-kick late on, but the Swans wrapped it up as Jonathan De Guzman swept home.
And Rodgers had no complaints with the result, insisting the south Wales side were good value for their win.
He told reporters: "I thought the best team won. We were too slow, no tempo first half and Swansea were bright, creative and very good.
"It took the introduction of Steven [Gerrard] and Luis [Suarez] to up the tempo for us in the second half and then we looked like we could but just couldn't get the goal and got done on two breakaways."
The Northern Irishman also lamented the failure of the club's fringe players to grasp their chance, with both Samed Yesil and Joe Cole being hauled off at half-time after poor showings.
He added: "We've got a very small squad and a thin squad and like what I've done in the other games I've rotated players, looked at young players and fringe players and given people the opportunity to come into the Premier League team.
"But I thought we needed an injection. Obviously second half we were much brighter and had chances but couldn't score them, and it's no good if you don't score. It was disappointing to lose and be out of the competition but I don't think we can have any complaints.
"I know the size of the job here and I know a lot of the work. That again is another lesson for me tonight in terms of where we're at.
"[We've] given players the opportunity to come in and shine and that is all you can do, it then becomes quite easy [to judge players] then but the problem is that your squad is even thinner. I can't keep playing Steven Gerrard and Luis Suarez is our only striker.
"Jamie Carragher was outstanding, Joe Allen was virtually playing on his own in midfield in the first half and obviously young Raheem coming added brightness but it's another game for me to analyse the group."
The 39-year-old went on to hint at Cole's performance in particular as a cause of concern, with the attacker having rarely featured for the Reds in recent times – despite his rumoured salary of around £100,000 per week.
"Joe had an opportunity. The club have invested an astronomical amount of money on a player who is talented.
"Obviously he has been back fit now for a couple of weeks and the opportunities have been limited for Joe but then you've got to see the opportunity. I thought it was difficult for him just like it was for the team in the first half.
"We were too slow. It wasn't what I'd want and expect from a team that we're trying to setup to be dynamic so I think it was a difficult night for him."
Meanwhile, Rodgers' opposite number Michael Laudrup was understandably delighted with his side's performance, as the Swans posted their first-ever victory at Anfield to progress to a maiden Capital One Cup quarter-final.
He said: "I think we played a great game. For the first ten minutes we didn't have the ball and Liverpool started well, dominating, but then we came into the game and had a couple of chances.
"We had a big one – a one-on-one with De Guzman – and from there I think we played a great game. For my first time ever at this stadium I think I've started well.
"To win here is very difficult and for our club it's a fantastic achievement to beat Liverpool at Anfield and to be in a quarter-final for the first time in the history of the club."
The Dane went on to underline his desire for the Swans to do well in cup competitions, even at the expense of resting players ahead of a trip to Chelsea.
He added: "I said before we played Barnsley at home, I always like the cup competitions. The league is always the most important thing but the cup is a pure competition; one win or one loss and you go on or go out and if you look at it from a smaller club point of view it's the surest way to success.
"Now we're in a quarter-final and you never know what could happen, especially for a club like Swansea.
"Everybody has that dream of going to play a final and our players – when will they play a final? They won't play a final in the Champions League or the Europa League or a World Cup or European Championships so it's the surest way.
"We have the dream and the belief that it's possible. Even resting five or six doesn't give me the guarantee that we will have a bigger chance on Saturday.
"We have Chelsea, the European Champions so it will be difficult but this win will give some of my players – even if they have tired legs after two difficult games – extra strength."