EXCLUSIVE
By
Rob Stewart
Former
Liverpool
and
Manchester City
midfielder
Dietmar Hamann
believes Blues midfielder
David Silva
could still revive his depleted team's Wembley ambitions even if
Mario Balotelli
misses the clubs'
League Cup
showdown through suspension.
Hamann, who helped Liverpool win the FA Cup in 2006, has insisted Silva rather than the controversial Balotelli is crucial to City's chances of overcoming a one-goal first-leg deficit before the semi-final reaches its conclusion on Wednesday night at Anfield.
The former German international remains certain that City could still reach next month's final even if they have to cope without the Italian striker who is facing a four-match ban after being charged with violent conduct for apparently stamping on Tottenham's Scott Parker.
In an exclusive interview with
Goal.com
, Hamann assesses where the semi-final second leg could be won and lost as Liverpool aim to return to Wembley for the first time in 16 years.
Andy Carroll v Stefan Savic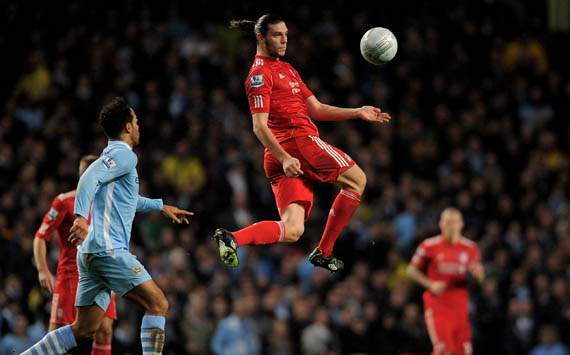 "Stefan Savic had a poor game against Tottenham and every time the ball came to him he was looking like an accident waiting to happen and Andy Carroll will fancy his chances of getting the better of him," Hamann said.
"He will need to make the most of Vincent Kompany and Kolo Toure not playing and the thing with Carroll is that I expect Liverpool to defend pretty deep and I think that is when they are at their best – defending deeply and hitting opponents on the counter-attack with their quickest players.
"It is a long pitch and if you turn over possession in your opponents' half you have to make 50, 60, 70 yards but pace is not Andy Carroll's biggest strength and so if the ball comes to him he has to make sure it sticks.
"That is because he will need to bring the midfielders and the wingers into play because it is very important that they don't give the ball back to City easily or the pressure will mount and it will be even harder to contain them. So when they do have the ball they have to make sure they use possession wisely."
Stewart Downing v Micah Richards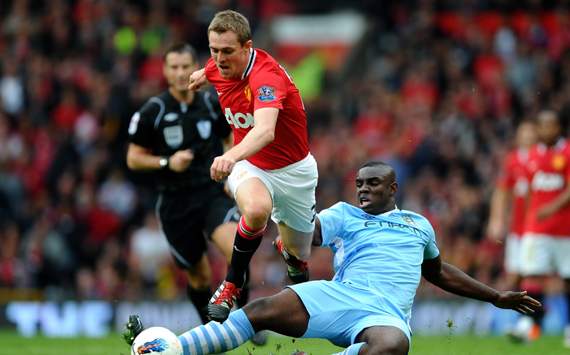 "I don't know whether there is a better athlete in the whole of the Premier League than Micah Richards. With his pace, his power and the way he leaps, Micah has all the attributes you need to be a top-class player but now he is a bit older, a bit more mature and a bit more experienced than he was when I was at City. Now he is putting in the performances every week that he used to produce once or twice a month.
"It is because he is producing top-quality performances on a regular basis that makes him one of the best right-backs in the Premier League. There is a lot of competition when it comes to playing for England so it is a shame he hasn't got caps but Micah has always been a terrific athlete and now he has got that consistency
"It will be hard for Stewart Downing because it is very difficult to beat Micah for pace and so he will have to work out other ways to go past him and try to outfox his opponent but he hasn't really got the option to go inside because his right foot is not that strong so maybe it will be a matter of making combinations with his team-mates work.
"Jose Enrique has a job to do to help him by maybe creating two-against-one situations."
Steven Gerrard v Nigel de Jong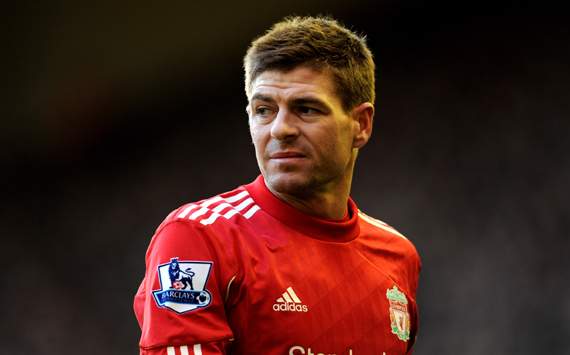 "I expect to see Steven Gerrard given an advanced role and I would imagine that he would be freed up to call the shots just behind Andy Carroll should he or Dirk Kuyt play, and he will give Liverpool the drive they need to put the tie beyond City.
"Everyone knows just how valuable he is to Liverpool and he always seems to rise to the occasion for the really important games. City could have done with Yaya Toure who is on Africa Cup of Nations duty because he could have given them the drive they need in midfield to gain the upper hand.
"But with James Milner they have someone with the energy to try to make up for Yaya being unavailable and he also uses possession brightly, and so will be the player who can knit play together in midfield.
"They will need Stevie to be on top of his game because it will be tough for Liverpool as confidence could be an issue for them after what happened at Bolton.
"They have found goals hard to come by, especially at home this season while City had a great result against Tottenham and they will be flying high and that will have brought the two sides even closer. It makes for as terrific game as Liverpool try to defend their lead and City try to claw things back."
Jordan Henderson and Charlie Adam v David Silva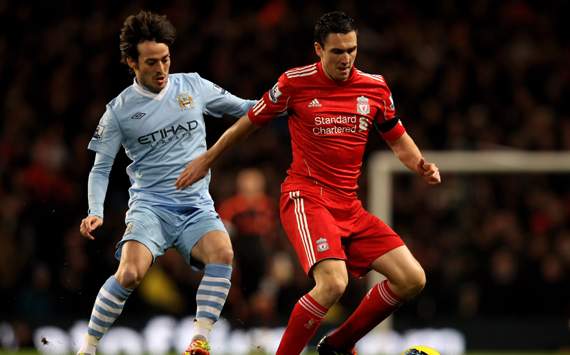 "I won't be the first person to say it and I won't be the last, but the main threat from City will come from David Silva and so Liverpool will have to make sure that they contain him or otherwise there could be a problem.
"Roberto Mancini might not have Balotelli if he accepts his four-match ban but it won't necessarily be the end of the road for them when he is missing with Silva around, and because they have the pace of Sergio Aguero up front and Edin Dzeko, who will probably start, they should not be written off.
"I don't know what was going through Balotelli's mind against Tottenham but what I do know is that Silva showed just how dangerous he is with that goal from Samir Nasri because he is excellent at spotting team-mates running off the shoulder and keeping him in check will be the key to getting the result they need to win a place at Wembley.
"I don't think there will be a single player who will be given the task of looking after him. It will be interesting to see how Liverpool shape up in midfield and whether they bring in Jay Spearing if he is fit or whether they have Jordan Henderson playing alongside Charlie Adam. It will be down to them to stop Silva.
"It will be a shared responsibility so I wouldn't be surprised to see if there are two central midfielders with Stevie playing behind a striker to give them more stability in the middle of the park."
Craig Bellamy v Gael Clichy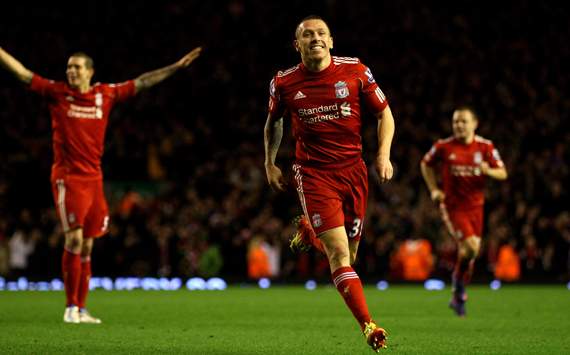 "Craig Bellamy has done really well since he came back to Liverpool and we saw against Bolton last weekend that he is excellent at running off the shoulder of defenders and finishing really well. He got Liverpool back in the game against Bolton and with him around they could get some joy down the right-hand side.
"Gael Clichy is a fine player especially when it comes to attacking but he is probably not as good a defender as Micah Richards, and as well as having to cope with the Bellamy, he will also have to deal with Glen Johnson who loves bombing forward and in the final analysis that could prove to be a critical area.
"City will know all about the potential danger Bellamy poses with his speed because of the time he spent there but on the other hand, Liverpool will have to watch out when Clichy gets forward because he likes to support his winger, he is a very good crosser of the ball and he has a good shot on him.
"I wouldn't like to call it but Liverpool are slight favourites but I feel that they will have to break City down and score at some stage. It will be tight but I am hoping for a draw and for Liverpool to go through."
The Didi Man: My Love Affair with Liverpool, by Dietmar Hamann (Headline) is released on February 2.
Follow Rob Stewart on