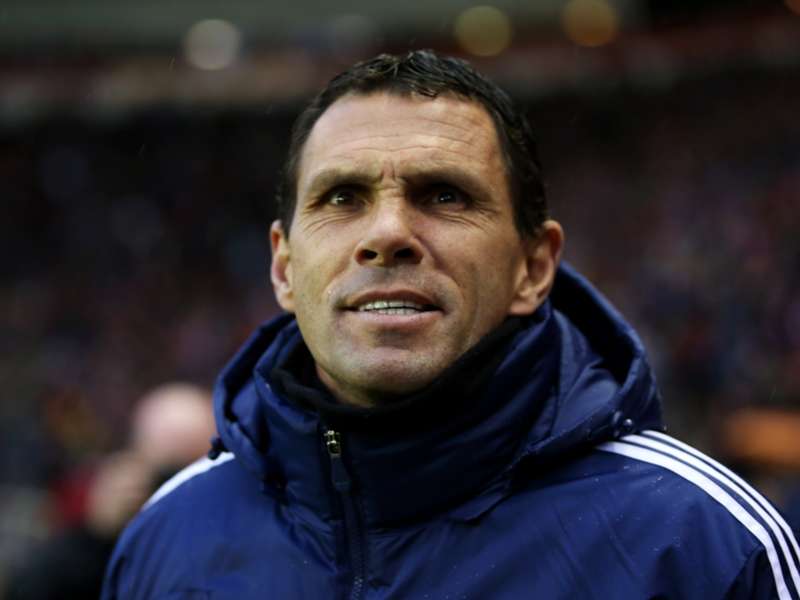 Gus Poyet
claims that his
Sunderland
team do not fear
Manchester United
ahead of the sides'
Capital One Cup
semi-final on Tuesday.
The Black Cats are bottom of the Premier League after a dismal start to the season, but have thrived in the cup competitions.
Poyet's side have knocked out MK Dons, Peterborough, Southampton and Chelsea on their way to the semi-final and the 46-year-old insists that his side do not fear anyone.
"No, I don't think so, no," said the Uruguayan when asked if his side were scared of United. "Seriously, no, because it's not about being scared or not.
"I have got different experiences against Manchester United - with Chelsea, we were pretty good against them, and with Tottenham, we were not good enough, and I don't think we were more or less scared.
"I went on the pitch with the same attitude, just to do my job and help my team.
"But overall, they are normally better than you, so you need to make sure you are spot-on."
The Black Cats have endured a miserable start to the Premier League season, sitting four points adrift of safety, but Poyet is happy for some of the pressure to be relieved by the club's extended cup run.
"It's the nice part, the nicest. It's nice to come here and talk about a semi-final and not talk about points and relegation," continued teh Sunderland boss.
"I would like to say it's the nicest part of the season because the rest has been a nightmare with the position in the table, so let's try to enjoy this one and go on and do something important for the club."