COMMENT
By Carlo Garganese
When Antonio Conte was appointed as the new coach of Juventus in May 2011, the
Bianconeri
were at rock-bottom. Italy's most successful domestic club had just limped to a second successive seventh placed finish with a squad featuring Armand Traore, Leandro Rinaudo and Jorge Martinez.
Having been crippled by the
Calciopoli
-enforced relegation to Serie B in 2006, there were serious concerns whether the Old Lady would ever be restored to her former beauty. But the instant transformation brought about by Conte was extraordinary. In his competitive debut on the bench, the
Bianconeri
thrashed Parma 4-1 at the new Juventus Stadium – overwhelming their opponents with relentless pressing and a modern, high-tempo style that would become the coach's trademark.
It was immediately clear that the Old Lady had indeed been reborn - and it was all thanks to one man. The coach had mentally transformed Juve into a team of warriors, built in the image of Conte the player but supplemented by the extra quality of an Andrea Pirlo or Alessandro Del Piero.
Juve's subsequent results in Serie A have been statistically comparable to almost any Italian side in history. They strolled to the 2011-12 Scudetto without losing a game, becoming the first to do so in a 38-game season. The unbeaten run eventually lasted for 49 matches, allowing them to comfortably retain their title the following term. This campaign, Juventus continue to obliterate the rest of the field. In 28 Serie A matches, they have won 24 and lost just once. Only Bayern boast superior statistics from Europe's major leagues in 2013-14. With a 14 point lead over Roma, a hat-trick of
Scudetti
is inevitable.
IN NUMBERS
Antonio Conte's European woes

0
Cups won by Conte as a coach. All of his titles have been leagues
1
Number of victories in Conte's last eight Champions League games
13
Goals conceded by Juve in these eight games, failing to keep a clean sheet
35
Conte's win percentage in the Champions League as a coach
86
Conte's win percentage in Serie A this season, with 24 wins from 28 games
352
The coach's favourite formation that has failed to convince in Europe
But for all his domestic dominance, Conte has so far failed to crack the European scene. In two seasons of Champions League football, Juventus' win/draw/loss record reads: 6/6/5. This term they were humiliatingly, if somewhat unfortunately, eliminated in the group stage despite being drawn in a negotiable pool with Copenhagen and a crisis-hit Galatasaray. Under Conte, they have won just one of their last eight Champions League games. The 1-1 home draw with Fiorentina in their Europa League last 16 tie a week ago only further underlined Conte's struggles in Europe.
So what is the problem?
First of all, it is important to recognise that the dynamic of cup football is very different to league football. Over a long, gruelling league season, in a survival of the fittest-type environment, the strongest and deepest squad is usually the best placed to win the championship.
That is not to say that there aren't many other important factors, but in continental and international play - where there are contrasting styles, knockout matches and tournament variables such as away goals - tactics and strategy take on an added importance. Some coaches are just far more suited to league football – the single-minded Fabio Capello being one such man. Others, who snub tactics, like Arsene Wenger have also underperformed. This is an area where Conte has undoubtedly failed over the past 18 months.
Leading 1-0 at home against Fiorentina with 15 minutes to ago - and in total control - Conte inexplicably removed an attacker, Pablo Osvaldo, for a midfielder, Paul Pogba. Had Juventus been suffering, this substitution would have been understandable. Instead, Fiorentina were handed the initiative and equalised through Mario Gomez. Tactically, Conte got it all wrong and his reaction to conceding this vital away goal was even more bizarre – using up his final substitution by introducing defensive midfielder Simone Padoin for attacking wingback Mauricio Isla.
Conte is well known for his meticulous preparation before matches, but making proactive and reactive changes during games is equally important in tournaments. During the 4-0 aggregate defeat to Bayern Munich in the Champions League quarter-finals last year, Conte was far too slow with his substitutions. In the first-leg he waited until the second goal in the 64th minute before replacing the completely ineffective strike-duo of Fabio Quagliarella and Alessandro Matri. In the return match in Turin, Conte again failed to make a change until Mario Mandzukic had killed off the tie midway through the second half.
These Bayern and Fiorentina clashes, like so many others in Europe, illustrate that Conte has either been too tardy in altering his tactics and personnel or he has made the wrong changes.
Or, as is the case with his regular formation, Conte has failed to make a change altogether. Over the last two seasons, Conte has stuck religiously to his 3-5-2 system.
But, as this piece explains in detail, the formation is not suitable to succeeding in Europe
. It is predictable and susceptible to width and pressing.
Maurizio Pistocchi, one of Italy's most controversial footballing personalities, blasted on
Mediaset Premium TV
after the fatal 1-0 loss to Galatasaray: "Conte must abandon the three-man defence. It's not acceptable to concede a goal with five minutes to go like the one in Istanbul - a 40-metre pass, with three men marking Didier Drogba and no one taking care of Wesley Sneijder. The 3-5-2 only wins in Italy."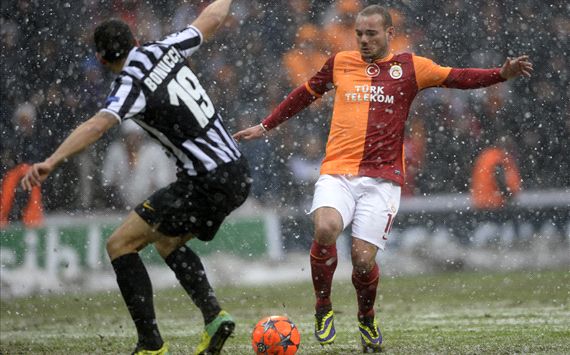 European turkeys | Conte and Juve were eliminated from Champions League in Istanbul snow
On just two European occasions has Conte strayed from the 3-5-2 – in the double-header versus Real Madrid. With a four-man backline, Juve played their best two Champions League matches of the last year and deserved far more than the one point they obtained. In Conte's defence, it seems he has finally recognised the need to switch to a 4-3-3 and will use the summer transfer market in order to do so.
But the 4-3-3 will only help if Conte learns to rotate his squad better. Heavily criticised for leaving out key players versus Fiorentina, the Italian responded by stressing that "a third Scudetto is my priority". That excuse doesn't wash when it comes to the Champions League, a competition where Conte has regularly fielded almost identical XIs just days after Serie A matches.
In time, Conte's management of resources will surely improve. When it comes to tactics, though, this is something that generally cannot be taught in football. All the coaching courses and experience in the world will not create a master tactician. It has to come from within.
It is still too early to write Conte off in this regard. Gianluigi Buffon has described Conte as "the best coach I've worked with" - and he has worked with Marcello Lippi, Carlo Ancelotti and Giovanni Trapattoni - while Pirlo has labelled his boss as a "genius" and compared him to Arrigo Sacchi. These words certainly count for something and one must remember that this is only Conte's second season in European competition and - as he recently reminded Pep Guardiola - his financial budget pales in comparison to the likes of Bayern Munich, Real Madrid, Barcelona and PSG.
Nevertheless, there is no doubt that the jury is out on Conte's European credentials. Juventus are far too talented a squad to have performed this poorly outside Italy. A victory against Fiorentina on Thursday will go a long way to convincing the doubters.
Follow Carlo Garganese on