COMMENT
By Tom J Doyle
It feels strangely apt that on the day designated as the most romantic of the year, the cracks in
Fernando Torres'
relationship with
Chelsea
seemingly fractured beyond repair to leave precious little hope of reconciliation.
In a game utterly bereft of invention and class, Oscar's delightful finish past Thomas Vaclik eight minutes from time
to win the Europa League tie 1-0
stood out like a shining beacon for a Chelsea side worryingly devoid of ideas up front.
The fact the young Brazilian had been on the pitch for less than 60 seconds before latching on to Eden Hazard's impudent back-heel and coolly slotting home a vital away goal is as much a testament to his prodigious talent as it is an indictment of Torres' fall from grace, as he struggled badly throughout.
TIRED OF TORRES?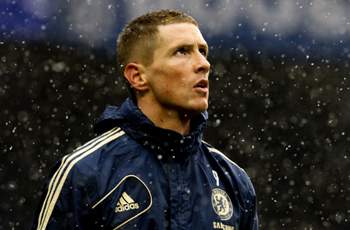 PLAYER RATING VS SPARTA




His positioning was acceptable enough but his conviction in finishing was sorely lacking. Desperately timid with the ball at his feet; the Blues badly missed Demba Ba.
FROM OUR LIVE! COMMENTARY


Dear me. Swift Chelsea break and the ball falls to Torres, who stabs his shot straight at the goalkeeper having been in plenty of space. Weak.
There was nothing on show from the striker to suggest he can trouble more distinguished opponents later in the competition if Chelsea are to also keep up their chase for a top-four finish and Champions League qualification.
Torres' form at Chelsea makes for sobering reading; with 14 goals in 72 Premier League appearances for the Blues, his strike rate is a paltry 0.19 per game. When compared with a commendable 75 in 174 (0.43) in La Liga for Atletico Madrid and a prolific 65 in 101 (0.64) for Liverpool, the stats do not lie in this case.
In fairness, it's a legitimate argument that a 1-0 victory under any circumstances in European competition is a result to be pleased of, regardless of the performance. But given that this side was on its way to Champions League glory this time last season, Roman Abramovich must have been squirming as his side plodded through a Europa League tie in this manner.
Torres in particular must be of particular concern to the owner, and to Rafa Benitez. While the Spanish coach boasts a great European pedigree, it is widely regarded that one of the main motives for bringing him in to replace Roberto Di Matteo was to reignite the career of the £50 million striker after the pair's relationship reaped dividends at Liverpool.
However, Benitez has been unable to coax the form of yesteryear from Torres, with his performance against Sparta being a painful watch for all concerned. He squandered presentable chances on three opportunities, even falling over at one point when trying to finish in the first half.
The moment when he ran into Marko Marin when the German was bearing down on goal summed up the fact that he and Chelsea are simply not made for each other - it is a expensive, lamentable - even tragic - failure.
The forward's exit from the Bridge looks all but assured - which surely by association leaves the interim manager's future in question.
With Manchester United the Premier League champions elect and, following the Blues' shock Capital One Cup semi-final exit to Swansea, Benitez must win at least one trophy from the Europa League and FA Cup to ensure a contract extension - but even silverware may not cement his stay in west London beyond the summer.
If the Spaniard is to survive into next season, he may have to bite the bullet, admit defeat in his attempts to rehabilitate the fallen star and opt for January signing Demba Ba in his quest for trophies - but whether Abramovich will let him ditch his prized signing is another matter altogether.
With Romelu Lukaku free-scoring and waiting in the wings at West Brom and the club casting flirtatious eyes towards Edinson Cavani and Radamel Falcao, the sands of time are ticking down on this poisoned affair as the likes of Oscar and Juan Mata prove that they are the future of Stamford Bridge.
But of more immediacy for the club and the player is that during a desperately disappointing season such as this in which every game is becoming a battle, Chelsea can ill-afford such blatant passengers as Torres has sadly become; after the pain of a disastrous Valentine's Day, it is surely time to say goodbye.