---

EXCLUSIVE
By Luke Matthews
---
As a Goal columnist, Carlo Ancelotti will provide his expertise and insight on this season's Champions League through an exclusive series of columns and videos.
Carlo Ancelotti feels that
Chelsea
's shocking start to the new season is due to a loss of motivation among the players - but he does not believe that
Jose Mourinho
will pay the price for their dramatic dip in form.
The Blues cruised to the Premier League title last term, finishing eight points clear of second-placed Manchester City, but they are languishing in the bottom half of the table this time around.
Chelsea have already been moved to give Mourinho a vote of confidence and Ancelotti believes that the Portuguese will survive, as long as he manages to reinvigorate his players.
"I don't think Mourinho will be sacked, absolutely not," the Italian told
Goal
. "He has changed little from last season and he's at a club that he knows very well. Plus, the club knows Mourinho very well.
"Jose is one of the top coaches of all time and if anyone can turn it around he is the person.
"I believe that it's mainly a problem of motivation at Chelsea. From a technical point of view, the team is the same as the one that dominated the league last year. But their motivation levels have dropped.
"They had a terrible start and they need to rediscover their drive. The Champions League, in this instance, can help them, because it could give them an injection of confidence and help them rediscover the right determination."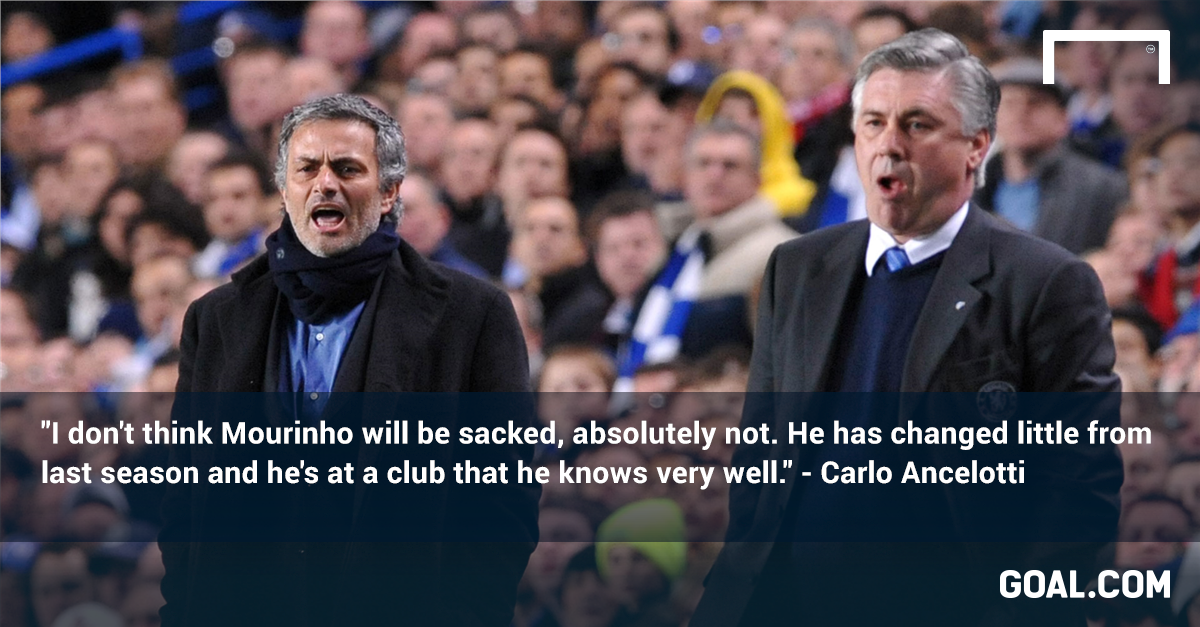 Ancelotti was infamously sacked by Chelsea in 2011 - just a year after leading the club to a league-and-cup double - but he said that he does not hold any grudges, against either the club or owner Roman Abramovich.
Indeed, the former AC Milan and Real Madrid boss says that he enjoyed his time in England, as he found it a far less pressurised environment in which to work.
"I was at Chelsea two years and there were no major problems or big debates," the 56-year-old insisted. "Then, after two years, they decide to change coach.
"But I must say that in the UK the pressure is a lot lighter. We can say that working in England is much easier because while there is pressure, it's much less than elsewhere."
There has been a big inquest into English clubs' faltering form in Europe in recent years, with not one Premier League side managing to make the quarter-finals of last season's Champions League and all four representatives in the current competition having lost at least one of their opening two fixtures so far.
Ancelotti agrees that standards have fallen and feels it will take some time for the country's finest to re-establish themselves among the continent's elite.
"The reason for the decline is that the big English sides have overhauled their squads a lot, apart from Chelsea, who have experienced players and leaders," he reasoned.
"The others, like Manchester United, have taken young players of less experience. Therefore, they have revamped their sides and there have been difficulties. They must wait a couple of years to be competitive in Europe again."