By Kris Voakes, Carlo Garganese, Ben Hayward and Enis Koylu
Real Madrid became the last remaining 100 per centers in this season's Champions League as the group stage neared its end this week, while Lionel Messi smashed Raul's goal record in an easy Barcelona win.
Elsewhere, 10-man Bayern Munich were beaten late on by Manchester City as England's hopes of having four teams in the knockout stage were given a huge boost.
Just five spots in the last 16 remain up for grabs though, as Chelsea, Arsenal, Bayer Leverkusen and Shakhtar Donetsk were among the teams to have booked their places in the next phase.
Galatasaray were eliminated from Europe altogether after losing at Anderlecht and it will likely result in their coach Cesare Prandelli losing his job in the coming days.
Goal takes a look at the five main things we learned from the Champions League on matchday five.
Prandelli can't blame others for disastrous Galatasaray reign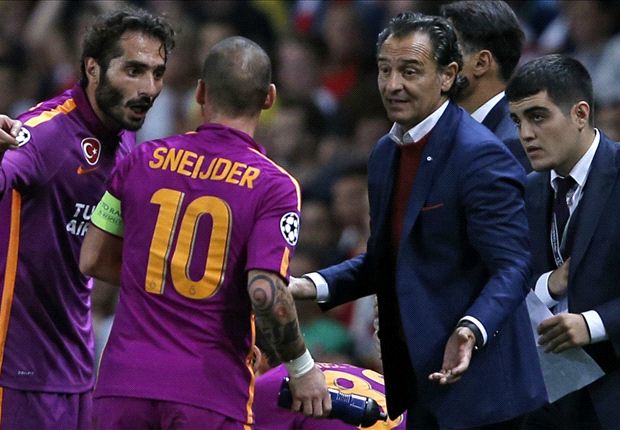 Galatasaray have been the worst team in the Champions League this season. Their 2-0 defeat to Anderlecht on Wednesday evening not only dumped them out of the competition, it means they can't qualify for the Europa League either.
In five group games they have collected just one point – courtesy of a 91st minute equaliser at home to the Belgians on matchday one – and have conceded a whopping 15 goals. Dortmund (twice) and Arsenal have both put four goals past them.
Cesare Prandelli has been on the brink of the sack for weeks and it is now only a question of when and not if he will receive his marching orders. The only thing standing in the way of an imminent divorce is his release fee for being dismissed.
On Tuesday Prandelli released a statement in which he complained that promises made to him when he took the job in the summer had been broken. This included a host of transfer targets such as Alexandre Pato, Joel Campbell and Alex Song who failed to arrive at the club.
There is no doubt that internally there have been problems in Istanbul, with the president who hired Prandelli, Unal Aysal, replaced by Duygun Yarsuvat and a new board in October. Members of the squad have not been paid their wages, while there are problems in the dressing room. According to Goal's sources, Felipe Melo has many enemies, while Wesley Sneijder is disliked by some team-mates.
But, despite these issues, Prandelli must accept responsibility for a pathetic European campaign. There is more than enough quality in his squad to at least be beating teams like Anderlecht. Even domestically, Galatasaray are struggling and they have a negative goal difference after losing 3-0 at home to Trabzonspor at the weekend.
Prandelli puzzlingly escaped a lot of blame for Italy's dismal World Cup first round exit despite making countless technical and tactical errors - including tinkering with 10 different formations after Euro 2012. Prior to the World Cup, the Azzurri had gone nine months without winning a game and they then humiliatingly failed to escape a group with Costa Rica, Uruguay and England.
It is pretty clear that Prandelli has not been performing well for a long time - and when he is put out of his misery at Galatasaray he can't just shift the blame onto others.
Only Barcelona can stop Messi scoring a century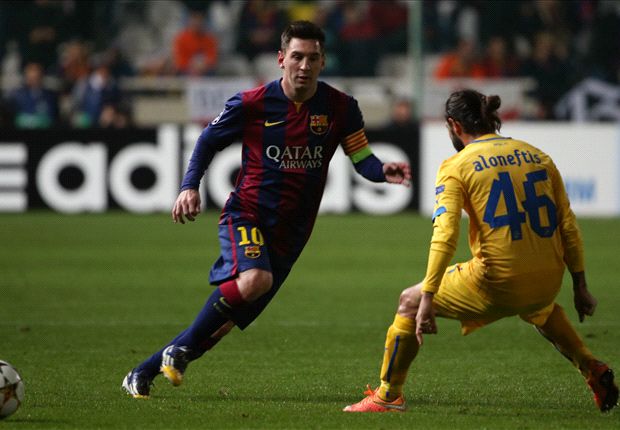 Lionel Messi became the Champions League's greatest ever goalscorer on Tuesday and immediately set about extending his own record. His eventual hat-trick in Barcelona's 4-0 win at APOEL took him to 74 goals in the competition.
And while there can be little doubt that Messi has been some way short of his blistering best of seasons past this year, the little maestro has every chance of breaking through the 100 mark before too long.
Still only 27, the Argentine has time on his side. More than that, he is playing for a club that has regularly made mincemeat of some of the Champions League's lesser adversaries. Tuesday was just the latest example of Barca's spell-binding ability to dismantle the continent's cannon fodder.
Moreover, the Argentina captain is the very best at it. Of his 74-goal total, 60 have come before the quarter-final stage. Where minnows go, Messi goals follow.
Next season, Uefa are set to change their seeding system to favour league champions over collectors of meaningless coefficients. That could work against the Catalans if they fail to win back the Primera Division title this term. But even then, they will likely be ranked at least second in their group and be matched up with teams of the ilk of Ajax and APOEL once more.
And that can only boost Messi's quest for three figures, just so long as Luis Enrique's long-term vision does not step on his star man's toes. Last week, the player himself refused to rule out a move away from the Camp Nou, and the club must do their utmost to ensure they dance to his tune off the pitch so that they can get the best out of him on it.
If Barca can keep Messi happy, Messi can keep on scoring.
Cavani cements his reputation as Ibra's wing-man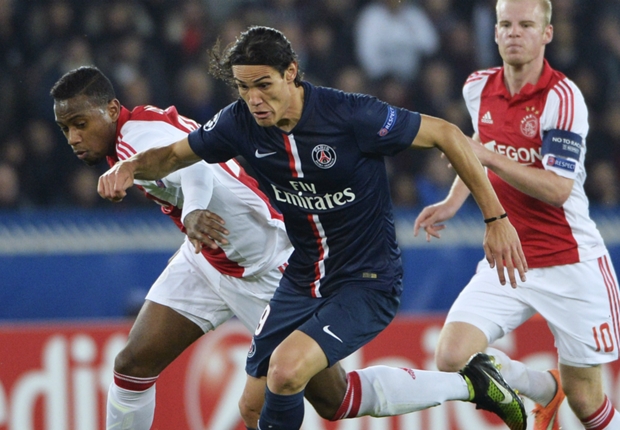 Normally, a couple of goals in a big Champions League fixture would boost the hopes of any striker looking to prove a point. But unfortunately for Edinson Cavani, that boat has long-since sailed.
A brace against Ajax on Tuesday helped to ensure that Paris Saint-Germain head into matchday six needing only a point to top their group. Yet Cavani has done his quest for recognition as a centre-forward few favours.
On the face of it, the Uruguayan's record when playing as a number nine in the recent absence of Zlatan Ibrahimovic wasn't at all bad. In eight starts he netted four goals, including two in the three Champions League matches the Swede was forced to sit out due to a heel injury.
Yet for the most part, Cavani looked nowhere near as sharp as he was required to be at the head of the French champions' system and appeared somewhat weighed down by the extra attention defenders were able to afford him with no Ibra to worry about.
On Tuesday the two were back in tandem, with Cavani starting on the left of the front three. And it was from that spot that he snuffed out two goals. First he tapped home from Ezequiel Lavezzi's clever run, then he pounced on Niki Zimling's error to round off a 3-1 win.
But even then it was Ibrahimovic who took the headlines after his deadly finish to put PSG back in front shortly after Davy Klaassen's second-half equaliser. Cavani has been quickly reminded that the centre-forward position isn't big enough for both him and Ibra.
Mandzukic is making a distant memory of Diego Costa

Mario Mandzukic may not be everyone's cup of tea, but the Croatian striker is going from strength to strength at Atletico Madrid and looks like the ideal replacement for Diego Costa.
His fitness in doubt ahead of Wednesday's game at home to Olympiakos and with question marks over his work-rate in tough away matches, Mandzukic can still improve under Diego Simeone but is starting to look like the real deal at the Vicente Calderon.
Having already netted twice in the Champions League this term, bagged the goal that gave Atleti Supercopa success against Madrid and also added five in La Liga, the 28-year-old hit a clinical hat-trick to help his side to a 4-0 win over the Greek champions on Wednesday.
Two well-placed headers and a finish from close range showed the Croatian is the perfect poacher and Simeone's shrewdness in signing the striker from Bayern Munich is paying off nicely at this point.
"Yesterday and all this morning we were thinking about whether to play Mandzukic," Simeone said afterwards. "In the end, it worked out well."
Better than that. A fitness doubt before the game, the Croatian made light of his back injury and scored three of the four goals that take Atleti into the last 16.
At this rate, nobody will be missing Costa for too much longer.
Bundesliga teams still have much to learn

There was a night two years ago when Borussia Dortmund overcame Real Madrid 2-1 and Schalke became the first foreign team to win at the Emirates Stadium with a brillaint 2-0 win over Arsenal. Finally, it seemed, the rest of the Bundesliga was catching up with Bayern Munich and, sure enough, that season ended with an all-German final.
The last two days, though, have shown how much Germany's finest need to grow. Bayern were hampered by going down to 10 men early against Man City, conceding two late goals to lose the game in the dying minutes.
The Bavarians remain among the favourites for the competition but the outlook is bleaker for their fellow German teams. Bayer Lerverkusen failed to seal top spot in their group, losing 1-0 to a distinctly average Monaco team shorn of their top talents earlier this summer, while BVB were made to look ordinary by Arsenal in a 2-0 defeat.
By far the most harrowing of all four German losses in Europe this week was Schalke's 5-0 humiliation against Chelsea on Tuesday. S04 barely looked up to the task from the off and folded within the opening minutes, with their calamitous defence conceding calamitous goals.
Three Bundesliga teams have already qualified for the latter stages, with Bayern top of their group and B04 and BVB likely to seal first place, while Schalke will be quietly confident of progressing. But the fact remains that, Bayern aside, none of the German contingent can truly expect to reach the very latter stages of the competition.