COMMENT
By Kris Voakes | International Football Correspondent
It all started at 19:45 GMT on Tuesday with a green pitch, a white ball and the hope of a Champions League barnstormer to come. It ended at 14:19 on Wednesday with a browny-white pitch, an orange ball and a continent of short-changed football fans.
Galatasaray qualified for the last 16 of the Champions League thanks to the 1-0 win they earned from their extended trip to Istanbul, while Juventus will believe that their shot at the knockout stage was massively compromised, and rightly so.
After Tuesday evening's abandonment in the 31st minute, it was obvious that Uefa would want the remainder of the game to be completed as soon as possible. Had the final hour been postponed until next week, there would have been the risk of Monday's draw being affected, amongst other things.
The pressure on referee Pedro Proenca to see the game to its end on Wednesday afternoon left fans across Europe watching a poor imitation of the match that had been so anticipated. These were two teams primed to play the most important game of their seasons, but upon the resumption they were simply taking part in an absolute farce.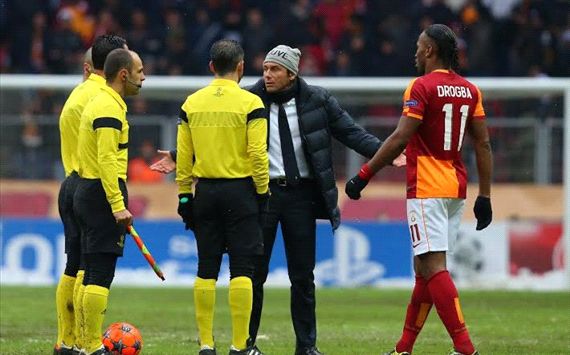 Appeal | Conte made his feelings known to Proenca at half-time
With an icy base, the pitch played like a local park surface that had seen all four seasons in the space of an hour. In some of the corners the ball ran true, but elsewhere it was impossible to read the roll of the ball at all. Within seconds of the restart, it was clear that the players were simply hoping to get the game over with and get out of there, such was the difficulty in judging passes correctly. This was not what big-game European football should be about.
When the game reached half-time – nearly 18 hours after kick-off – Galatasaray's Didier Drogba and Juve coach Antonio Conte immediately approached Proenca. "This is not football," Conte appealed, and he was exactly right. The hail may have stopped, but the pitch conditions were even worse on Wednesday than they had been at the time of the original abandonment the previous night.
This season, we have seen Benfica-Olympiakos played on a pool of water and now Gala-Juventus carried out on an icy quagmire. For a competition that is meant to showcase the very best that football has to offer, it does a fair old job of undermining the sport at times.

Galatasaray have now progressed with seven points and a minus-six goal difference.
The Champions League is meant to be better than this.