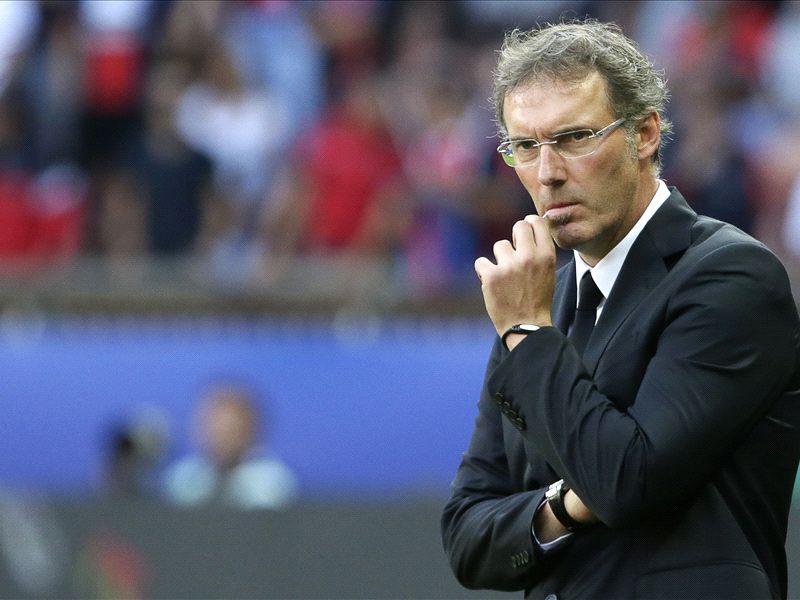 Laurent Blanc
hopes his
Paris Saint-Germain
side can make further strides in this season's Champions League and reach the semi-finals, though he admits it will be challenging.
Les Parisiens
reached the quarter-finals of the competition last season after being eliminated by Barcelona.
However, their coach has set the bar higher for them this year as they get set to kick off Group C action against Olympiakos in Greece on Tuesday - where he expects there to be a "hot" atmosphere.
"Every match is different but our aims remain the same – to win," he told reporters.
"Their fans will create a hot atmosphere. I remember them from when I came here with Bordeaux and also during my playing days.
"We will stick to our natural game, retaining possession regardless of what tactics Olympiakos adopt. If we keep the ball, we minimise the risk of conceding.
"To do better than last season would mean to reach the semi-finals, which will be a challenge.
"However, first of all we need to navigate the group, get as many points as possible and win tomorrow."
The coach revealed they will also be without defender Marquinhos and says he will wait to decide who will replace him.
"Marquinhos is not ready to play 90 minutes," he added. However, things have changed without Alex. There are two players that can cover in his absence, but this is a decision I will make after the last training session.
"Olympiakos are an attacking team who score freely. They are also very good from set pieces."
PSG goalkeeper Salvatore Sirigu backed up his coach's comments, admitting they should not be favoured for an easy win when they travel to the Karaiskakis Stadium for the first meeting between the two teams.
"This match is entirely different than any of the French league," Sirigu added. "A French side against a historic club from abroad, in a foreign stadium packed with fervent supporters.
"There are no easy games and I do not agree with us being labelled by the press as favourites in this group.
"We are strong but we respect our opponents. We are playing against the Greek champions, who have a consistent presence in the competition. It will be a tough match in their home ground, in this atmosphere, for me especially, it will be hard."
Olympiakos coach Michel is aware of the threat the visitors pose, but insists he will not change his tactics to accommodate the French side.
"Although we have had a significant turnover in players, the same can be said of PSG, who will also be going through a transitional period. We know them very well. They have great players and this is an exciting challenge for us.
"We won't change our tactics from game to game because our team has been built to play a certain way. It's about being strong at both ends of the pitch. Our style of play has yielded some impressive results on the domestic front and we hope to carry that form into Europe.
"My players have the necessary experience to cope with such encounters. This is a match for glory and they need to channel their emotions in the best possible way. They are motivated, ambitious and can't wait to start."
The match kicks off at 20:45 CET, while in other group C action, Belgian side Anderlecht travel to Portugal to take on last year's Europa League runners-up Benfica.