Bayern Munich were crowned the best side in Europe last season and the rest of the continent's leading lights will look to usurp them from their Champions League throne this term.
Goal
asked our resident experts to examine the task facing each side in the group stage of the competition on the back of Thursday's draw, with some tricky hurdles to overcome for several big clubs.
Group A
Manchester United
Greg Stobart
: "Manchester United boss David Moyes would have hoped for an easier debut in the Champions League, but he will be reasonably satisfied. Sociedad are an unknown quantity and Shakhtar will be a stern test."
Shakhtar Donetsk
Peter Staunton
: "Shakhtar have not yet fully integrated their latest batch of overseas players but will be reasonably confident of progressing provided they can get their act together in time for the group stages.
Leverkusen
Florian Teichert
: "The
Werkself
have convinced so far in the league and will probably fight with the Ukrainians and Sociedad for second place. It could've been much worse - the knockout stages are feasible."
Real Sociedad
Miguel Churruca
: "Sociedad were undoubtely one of the teams to avoid in the fourth category. The knockout against Lyon showed how the squad is really well connected and how dangerous the could be for any rival."
Group B
Real Madrid
Alberto Pinero
: "Real Madrid are big favourites to win Group B
.
It's a much easier draw than last year. The game against Juventus could be very exciting."
Juventus
Sergio Chesi
: "It's not a bad draw for Juventus. It will be a fascinating clash versus Real Madrid, but the
Old Lady
cannot fear Galatasaray or Copenaghen."
Galatasaray
Hasan Ozkan
: "Gala have a harder draw than last year but a stronger team. Drogba and Sneijder had a great pre-season and Chedjou was added to the squad."
Copenhagen
Seran van Gemert
: "Copenhagen must simply enjoy their games against top opponents. They survived the group stage alongside Barcelona in 2010, but progress seems impossible against Madrid and Juventus."
La Decima |
Ronaldo will hope to fire Madrid to a 10th Champions League title
Group C
Benfica
Nicolas de Marco
: "Benfica have a very good opportunity to end among the 16 best teams in Europe. With no continental champions to face, the Portuguese side should beat Olympiakos and Anderlecht to get second place."
PSG
Naim Beneddra
: "Like last year, PSG have done quite well here. The Ligue 1 champions have a very negotiable group - the three clubs have pedigree but cannot compete with the likes of Ibrahimovic and Cavani."
Olympiakos
Peter Staunton
: "Benfica are one of the weakest Pot one teams so Olympiakos will count their blessings that the big guns from there have been avoided. However, the presence of PSG complicates prospects of progression."
Anderlecht
Seran van Gemert
: "Anderlecht will be happy to find themselves in Group C. The French champions are expected to be out of their league, but the Belgian outfit can battle for second place with Benfica."
Group D
Bayern Munich
Daniel Buse
: "It would come as a huge surprise if Bayern did not make the next round. The title holders will fight Manchester City for first place and should be able to hold off CSKA and Plzen to advance quite easily."
CSKA Moscow
Peter Staunton
: "Not a good draw for CSKA. Someone had to draw the defending champions and it is the Russians who have done so. Moscow in the winter is not an enticing prospect for any side, however."
Manchester City
Greg Stobart
: "It's not quite the Group of champions that was so disastrous last season, but Manchester City supporters' hearts would have sunk when they were drawn alongside Bayern Munich."
Viktoria Plzen
Sergio Chesi
: "It'll be a miracle if Viktoria Plzen qualify for the next stage in a group that Bayern Munich and Man City should dominate. However, the Czech side fully deserved their place thanks to a great team ethic."
Group E
Chelsea
Greg Stobart
: "Chelsea will be happy to have avoided all of the really dangerous sides in the other pots and after their early exit last season, they should cruise to victory in Group E."
Schalke
Hassan Talib Haji
: "This is certainly a manageable task for Schalke if they can finish this group in second place behind Jose Mourinho's Chelsea."
FC Basel
Peter Staunton
: "A tough looking group for the Swiss champions but they did show last season they were a match for Chelsea. Two wins against Steaua will be vital as teams under Jose Mourinho tend not to drop many points in the group stage.
Steaua Bucharest
Kornel Pracki
: "Qualification for the Europa League should be the first objective. Chelsea and Schalke are stronger but Steaua showed great spirit in the play-offs and with similar performances, a surprise is possible."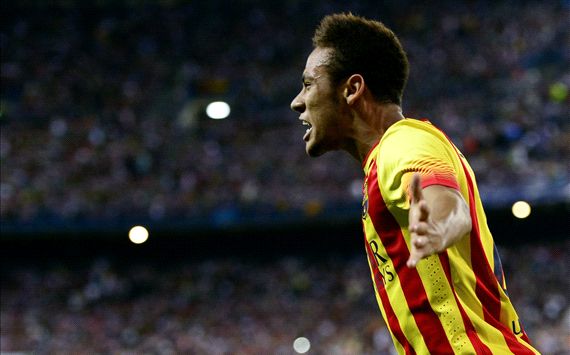 Barcelona's year?|
Neymar will grace the Champions League for the first time
Group F
Arsenal
Greg Stobart
: "For the second time in three seasons, Arsenal find themselves drawn alongside Marseille and Borussia Dortmund - and Napoli's inclusion in the final pot has given them a nasty looking group."
Marseille
Naim Beneddra
: "For Marseille, this looks very complicated. Although this is not the 'Group of Death', we can say that OM could not have drawn a worse selection, including Napoli from pot four."
Dortmund
Stefan Doring
: "The group is much easier than last year and the club can look forward to old rivals; two years ago Borussia played Arsenal und Marseille. Napoli is a great match for the supporters."
Napoli
Sergio Chesi
: "Everyone at Napoli knew that this would be a tough draw - and it was. But it's not an impossible mission for Rafa Benitez's side to go through."
Group G
Porto
Iago Lago
: "Porto will battle against Atletico Madrid one more time in the Champions League; they won their encounter a few seasons ago, but this time the outcome could be different."
Atletico Madrid
Adrian Boullosa: "Atletico

have

a relatively

good

group.

T

he

trip to

Zenit and

playing against

a champion like

Porto

are important

tests, but Diego Simeone's side are strong enough to beat both rivals this year

.
"
Zenit St Petersburg
Peter Staunton
: "There is talent in the Zenit ranks and they have a point to prove having been unimpressive in their recent campaigns. The games against Porto and Atletico Madrid will decide the fate of Spalletti's team."
Austria Vienna
Fabian Biastoch
: "Austria does not have a high-class roster but surviving the group is not unlikely! They can trouble the favourites and have a realistic chance of finishing in at least second or third place."
Group H
Barcelona
Pilar Suarez
: "Barcelona's first obstacles will be AC Milan and Celtic, two old foes whose defensive walls seem to be the biggest threats to the Catalan side in a not-so-scary Group H."
Ajax
Yannick Vos
: "'It can't be heavier then last season', said Frank de Boer. But after being drawn in a group with Real Madrid, Borussia Dortmund and Manchester City, Ajax again face an extremely heavy pool."
Celtic
Greg Stobart
: "Celtic put in so much work to win their qualifier last night - and this is the reward they get. You fear they will finish bottom of Group H."
AC Milan
Sergio Chesi
: "At the Milan headquarters, they will be crazy after being drawn alongside Barcelona again. It's the third Champions League in a row in which the
Rossoneri
will face Messi & Co.