COMMENT
By Kris Voakes in Nyon
There is something strange about the final tie drawn from the pot in any football draw. Whereas the earlier match-ups are met with either a sigh, a murmur, a gasp or a giggle, the exact make-up of the last fixture seems to take some time to set in with the assembled dignitaries as they work out which two teams remain undrawn.
Friday's Champions League quarter-final draw here in Nyon had a very different feel, though. The very second Barcelona were drawn out, it took those present all of a millisecond to realise that, while Paris Saint-Germain had been handed the toughest draw of all, what was left was the most fascinating contest of all.
The clash between Bayern Munich and Juventus is truly one that will represent a modern rivalry of epic proportions. While FC Hollywood stand for the burgeoning force that is the Bundesliga, they are also a reminder of the German failures of recent times. Beaten finalists after underwhelming performances in both 2010 and 2012, their squad contains a handful of players who have also made a habit out of promising much and delivering little with the German national side.
On the other side of the fence are Juve, a club whose embarrassing 4-1 home defeat to Bayern in 2009 was a sign of where the club was at the time. Pavel Nedved sat in the stands that night with his head in his hands, his eyes fighting back tears. On Friday, the Czech was amongst the Juve delegation which met the news of their Bayern re-match with the confidence that this is a very different
Bianconeri
beast to the one dumped so unceremoniously out of Europe by
Die Roten
three seasons ago.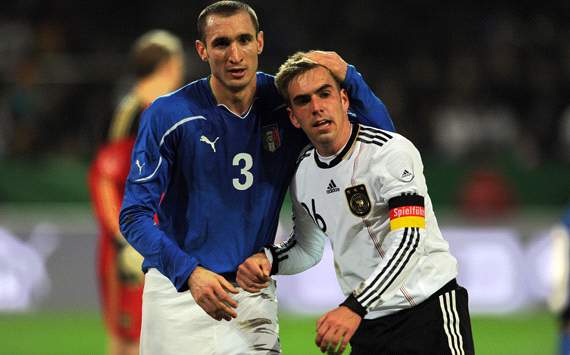 Better luck next time? | Lahm has suffered on the big stage regularly
And there is plenty of reason for the former Juve winger to believe, given the fascinating link between the club and Italy's national side over the years too. The current incarnation of Antonio Conte's club is just the latest to have their successes reflected by those of the Italian national side. As the
Azzurri
have risen from the ashes of their 2010 World Cup disaster, so too has the Old Lady recovered from her state of ill health just a couple of short years ago.
Never was this better exemplified than last summer, when Juve's
Scudetto
triumph was followed up by an unlikely run to the final of Euro 2012 for Cesare Prandelli's Italy side, which just so happened to be heavily-laden with Juve players. And it was in their semi-final victory over Germany that they showed the greatest signs of just how good they can be.
That result also crowned a hugely dissatisfying period for
die Nationalmannschaft
's Bayern contingent who had been tipped to topple Spain in the final. Just weeks earlier, those same players had suffered the heartache of a defeat in the Champions League final to Chelsea. They were overwhelming favourites, they were on their home turf, they were meant to be reaching the crescendo they'd threatened for so long, and yet they fell short yet again. It was like Germany's 2006 World Cup campaign all over again, when Italy snatched a win with two goals late in extra-time in the Dortmund semi-final.
A Bayern side that has combined wonderful attacking football with clever pressing, the intelligent use of pace and real heart still has very little to show for it, while Juventus have quickly returned to the top of Italy's tree. Juve have what Bayern want: that ability to grind teams down when it really matters. The
Bianconeri
may not have shown it for a while, but there's no denying it's in their DNA. Bayern have been playing well for a long time, but come the big night they have always found themselves wanting.
However, psychology works in two ways. You either just can't win (like Spain prior to 2008) or you just can't lose (like Spain ever since). Bayern have so much in place, and all they appear to be missing is their threshold moment; that result which proves both to themselves and to the wider world that they can rise to the big occasion. Yet Juve have that Italian knack of standing tall at the most important moments, offering Bayern one of the toughest tests they could have been given in the last eight.
The two clashes will provide a fascinating insight into the psyche of Bayern Munich, and may give the clearest indication yet as to whether
die Roten
are finally ready to shake off their nearly-men tag. This will be the last eight's most enlightening fixture by some distance.