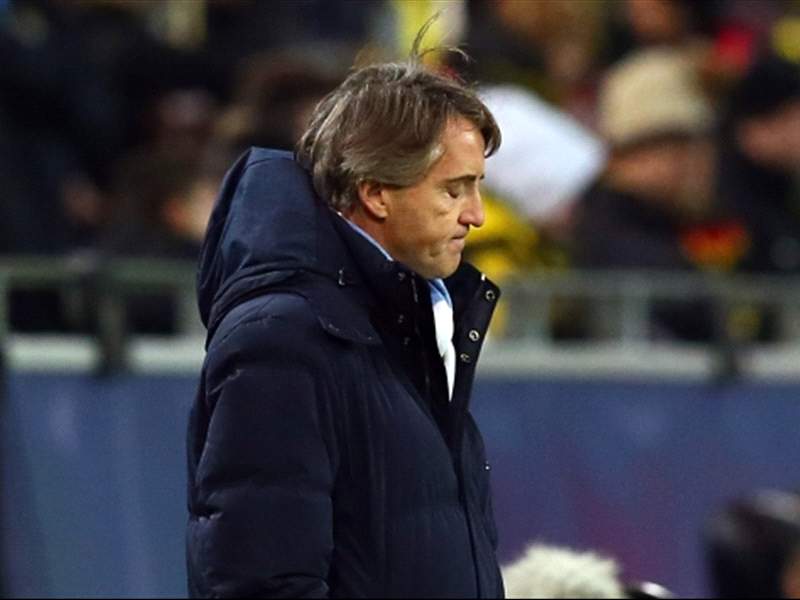 Manchester City manager Roberto Mancini has bemoaned his side's inability to qualify for the Europa League following Wednesday's 1-0 defeat to Borussia Dortmund.

A second-half strike from Julian Schieber was enough to see off the Premier League champions, who finished bottom of Group D without a win and a total of just three points from six games.

Mancini insisted that he told his team to go out and win the game and ensure they remain in European competition in the New Year.

"Yeah, we wanted this [to qualify for the Europa League] but we have to score." Mancini told Sky Sports.

"Tonight we tried but we are missing more players. We had chances but in this moment we can't score, if you don't score it's difficult to win."

Elimination from Europe could be a blessing in disguise with City currently three points behind rivals Manchester United as they attempt to defend their Premier League title but, when put to Mancini, the Italian was keen to focus on an underwhelming Champions League campaign.

He added: "In this moment we cannot think about this, we should think that we are not in the Europa League and for this we should be disappointed.
"Clearly, this can help us for the Premier League because we dont play in the Europa League but we want to play in it, it was our target tonight."
Mancini highlighted the improvement of opponents Borussia Dortmund in this season's competition from last year and drew comparison with his own side, adding that City side can make a fresh impression next term.
"Champions League is really difficult and strange", he added.
"Borussia Dortmund went out of the group last year in fourth position like us, and this season they can win the competition."