 The following is taken from Jose Mourinho's post-match press conference:
"
Let me be clear on this, we're talking about a fantastic team here [Barcelona].
"However, I don't understand why he [referee Wolfgang Stark] did what he did today in an evenly balanced game.
"It's the referee's job to make sure that both sides are treated equally so that the best side wins.
"Yes, we're basically out of the Champions League after this loss. Sometimes, it's disgusting to live in this world, but this is apparently our world.
"We'll go to Barcelona filled with pride, but we have to make do without Pepe, who didn't do anything wrong, without Sergio Ramos, who didn't do anything wrong, and without the coach sitting on the bench.
"The second leg will not just be very difficult, but it will be more like 'mission impossible'.
"We need an early goal in Barcelona to get back in the tie, but even if we manage to do that, they'll just kill our chances again.
"[Wednesday] once again showed that you don't stand a chance against Barcelona.
"Uefa doesn't allow any team to really do something against them. I really don't know what's behind all this.
"Maybe it's their ties with Unicef or maybe it's because they just find Barcelona a sympathetic club. I've been wondering about this all my life and I'll get an answer one day.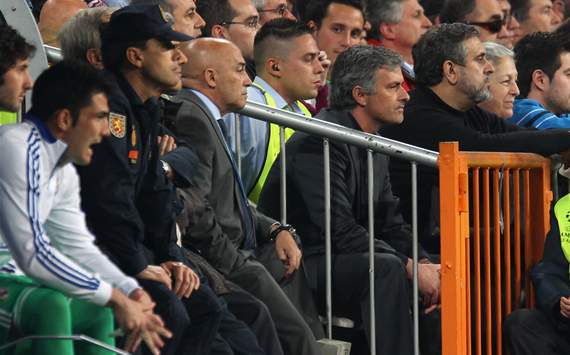 Clasico mayhem |
Jose Mourinho watching his team from the stands
"I don't know why the referee sent me to the stands. I just laughed and applauded his decision. That's all I did.
"My career will probably be over if I tell him and Uefa how I feel about all this.
"I have only one question and that's: 'Why?' We could have played for three more hours and would not have conceded. We couldn't lose this game with our tactical plan.
"[Didier] Drogba was punished for the semi-finals [in 2009], while both [Thiago] Motta and [Jose] Bosingwa couldn't play in finals because there were both dismissed.
"The same thing happened to [Arsene] Wenger, who had to deal with the suspension of Samir Nasri after their encounter. This time, I was the one who was punished and I shouldn't even be here [in the press room].
"I hope for Pep [Guardiola] that he will win the Champions League without any incident at one point.
"I've won two Champions League titles with teams other than Barcelona. I won the tournament with Porto, a team from a country that doesn't usually win, and I won the Champions League with Inter, who hadn't won the trophy for 50 years [sic] and weren't even among the favourites.
"We won those trophies with hard work, pride, effort and sweat.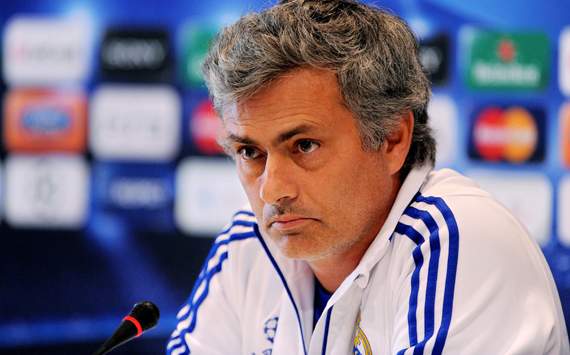 Furious |
Jose Mourinho looking far from happy at the press conference
"Guardiola is a great coach, but I'd be embarrassed if I'd won the tournament like that after the scandal at Stamford Bridge [two years ago].
"If he wins the competition this year, it will be marred by the events at Santiago Bernabeu.
"He deserves to win the Champions League in normal fashion. You'd want him to achieve that, because he's a great person and I have a lot of respect for him.
"We had four good years together. I respect him as a coach and as a person and didn't mean to disrespect him when I called him Pep instead of mister Guardiola.
"The people of Barcelona are honest and know perfectly well what happened here.
"It's easy for them because they can hide, but I know that a lot of Catalans won't be proud of how they won this game.
"We won the Copa del Rey because Real Madrid are a great club.
"It was our plan to keep a clean sheet and start attacking when the opposition was getting frustrated. It was our plan to replace Lassana Diarra with Kaka for the final 25 minutes of the game, but we had to change our plans because of the red card.
"