By
Amar Singh
Who is Alberto Undiano Mallenco - the Spanish referee who was the man in the middle for the crucial
Champions League
clash between
Chelsea
and
Manchester United
?
MORE...
The answer, it would seem, depends on who you speak to.
Bullish boy from Pamplona
To understand this man, let us first start at the beginning. Alberto Undiano Mallenco was born in Pamplona, the city famous for its Running of the Bulls festival, in 1973 and played football throughout his childhood until the allure of refereeing took hold.
In an interview with
Goal.com
before the World Cup last summer he recalled: "A friend of mine mentioned it to me once. At first I told him, 'You're crazy! What, me, being a referee?'
"But finally I decided to try it for one match, and I really enjoyed it and have carried on ever since."
Mallenco worked his way through the ranks and impressed along the way. He finally got his break, at the age of 26, when he was assigned to a La Liga match in October 2000, becoming the youngest Spanish referee ever to be in charge of a top flight game.
He was a regular referee in Spain's top division for four years, and in 2004 he became a Fifa referee, taking charge of Uefa Cup matches and qualifiers.
He has since gone on to officiate in 130 matches in La Liga, 21 matches in Copa del Rey, two Spanish SuperCopa and 33 international matches.
Spain's top official - but watch out for those handballs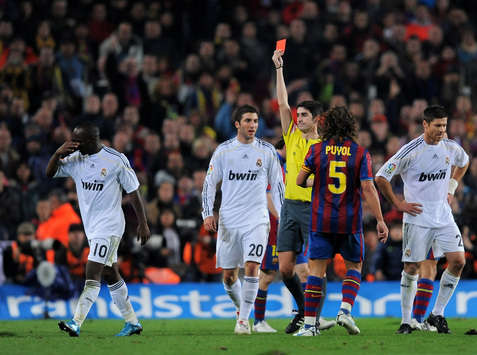 Lass and move |
Mallenco gives Diarra his marching orders at the Nou Camp
Within Spanish football, Mallenco has no shortage of admirers and over the years he has regularly been selected to take charge of the biggest matches, including four El Clasicos.
There were few complaints when he reduced both Real Madrid and Barcelona down to 10 men in one match at the Nou Camp in 2009.
Lassana Diarra's reckless kick on Xavi and Sergio Busquets' needless handball were both valid reasons for Mallenco to dish out a second yellow to both men - and attracted no gripes from the opposing managers.
More recently Real Madrid's Alvaro Arbeloa suffered a similar fate after being given a second yellow card in his team's 3-2 away win over Getafe in January.
The last match he took charge of was Espanyol's 2-1 home defeat at the hands of Racing Santander on Sunday.
He awarded a penalty to the home side after Domingo Cisma handled the ball in the penalty area, leading also to the inevitable caution.
Sergio Aguilera of
Goal.com Spain
opines: "Mallenco is one of the most reputed referees of Spanish football.
"He is usually designated for the biggest matches of the Spanish domestic competition and has received several of the most important awards of Spanish refereeing such as the Trofeo Guruceta and Trofeo Vicente Acebedo."
Branded a card-waving clown at the 2010 World Cup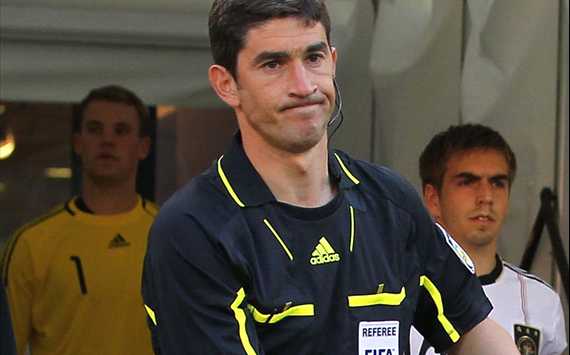 German inquisition |
Mallenco was branded a 'clown' after sending off Klose
Last year Mallenco received the honour of being his country's refereeing representative at the 2010 World Cup.
Ominously, he flew to South Africa after dishing out four red cards in four La Liga matches at the end of the 2009-10 season.
An excited Mallenco told
Goal.com
last year: "When I was told I was selected I just felt fantastic.
"When you start to referee you don't really imagine that one day you will officiate in a World Cup. It was a huge and a very nice surprise, and I think it's going to be a fantastic World Cup and one that I hope I can really enjoy."
But at the World Cup, where he would officiate three matches, Mallenco would find himself in the spotlight for all the wrong reasons.
He also suffered the ignominy of being branded a 'clown' by Mick McCarthy - the Wolves boss moonlighting as a TV pundit - after sending off Miroslav Klose in Germany's 1-0 defeat to Serbia where he also dished out eight yellow cards and awarded a contentious penalty.
Further criticism came from the Germans with defender Arne Friedrich telling reporters after the game that the referee was too quick to brandish his cards.
He said: "With almost every foul he pulled a yellow card. There are few players who didn't get one."
Even the usually calm Germany coach Joachim Loew pitched in: "Klose just tried to kick the ball away and then was unlucky to hit the opponent's leg.
"There were a couple of tackles where I felt the yellow cards were justified but there were many yellow cards given for tackles that weren't malicious at all and could have been avoided."
The following week, Mallenco presided over a cardless 3-0 win for the Ivory Coast against North Korea and also officiated in the Netherlands' 2-1 round of 16 win over Slovakia, awarding a penalty to the Slovakians in injury time after Netherlands goalkeeper Maarten Stekelenburg had tripped Robert Vittek.
The night he gave Chelsea the blues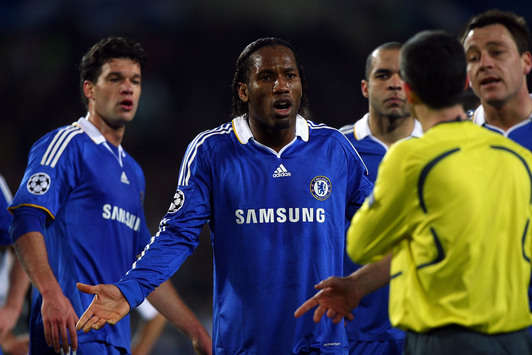 A Drog's life | Chelsea striker pleads with Mallenco after seeing his shot cross the line
It's unlikely however that Didier Drogba's abiding memory of Mallenco will be for him being the man in the middle during the Ivory Coast's stroll against North Korea.
March 2009 saw Mallenco officiate a hotly contested 2-2 draw between Chelsea and Juventus.
His performance in the Stadio delle Alpi that night led to questions about whether he was experienced enough for the big games with one report branding him a 'referee so far out of his depth he was drowning'.
During the match he sent off Giorgio Chiellini and awarded a contentious penalty which triggered a 15 man-melee - for yes, you guessed it, a handball.
Infamously he waved play on after Didier Drogba's free kick appeared to comfortably cross the line before being scooped up by Gigi Buffon.
It led to vociferous appeals from Drogba, John Terry and Michael Ballack whilst later an angry Guus Hiddink, Chelsea's manager at the time, called for the introduction of video technology in football.
Follow Amar Singh on